The best gazpacho I ever had was in a little town on the Andalusian coast of Spain. It arrived at my seaside table in full ceremony with little bowls of chopped tomato, cucumber, red bell peppers, onion, and crusty croutons—the same ingredients that comprised the soup. It was icy cold, creamy, and instantly satisfying, creating a rush that drove me to spoon and slurp until all I could do was wipe the bowl with bread, and then ask for another (por favor).
I've tried so many different ways to replicate that gazpacho. What's important, I've learned, is to use good-quality ingredients, especially the olive oil and tomatoes, and make sure you chill it overnight. You don't have to add breadcrumbs (I don't always), but it's a traditional addition for thickness and texture, and a handy way to use up stale bread. The perfect ratio of ingredients is debatable—but this one stays true to the classic my memory holds; and it always has me coming back for more.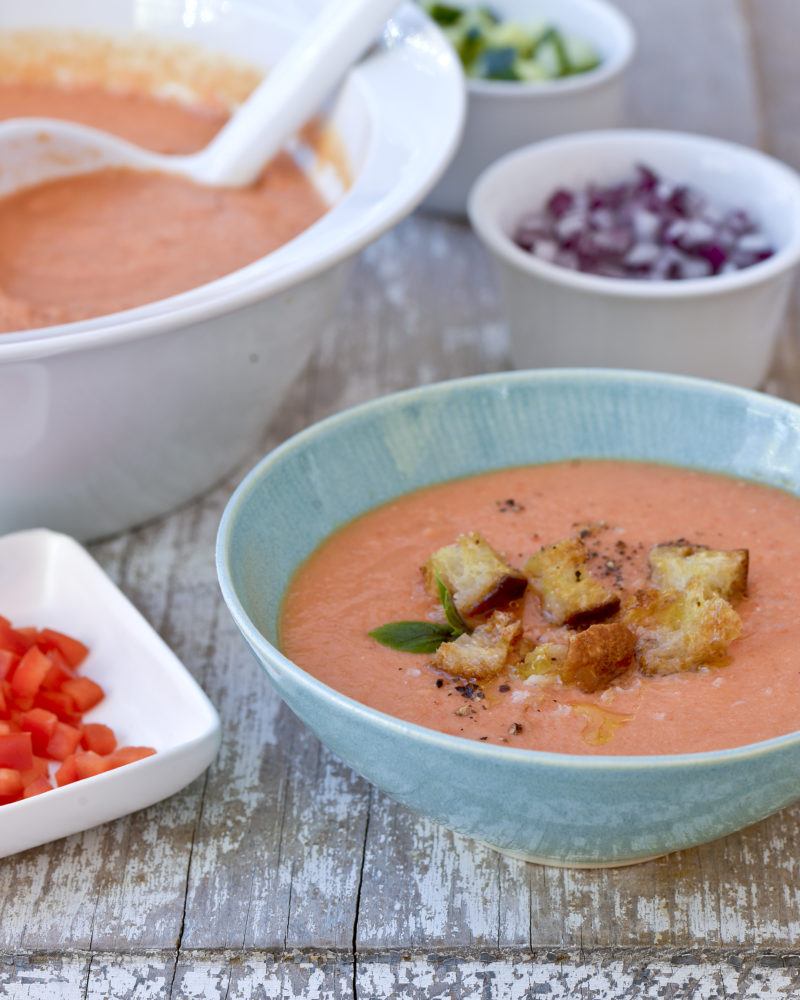 Serves 4 to 5
Ingredients
1 garlic clove
3 pounds (5 to 6) medium-large ripe tomatoes (any kind), cored, seeded, and quartered
1 small cucumber, peeled, seeded, and coarsely chopped (about 3/4 cup)
3 slices firm white bread, crusts removed, torn into 1-inch pieces (about 1 cup; optional)
1 teaspoon fine sea salt, plus extra as needed
1/2 small red onion, coarsely chopped (about ½ cup)
1 red bell pepper, stemmed, seeded, and coarsely chopped (about 1 cup)
1 to 2 tablespoons sherry vinegar or red wine vinegar, plus extra as needed
1/2 cup extra-virgin olive oil
1/4 teaspoon freshly ground black pepper
Your best extra-virgin olive oil, for serving
Toppings
1/2 small red bell pepper, stemmed, seeded, and finely diced
1/2 small red onion, finely diced
1/2 small cucumber, seeded and finely diced
1/2 medium tomato, cored, seeded, and finely diced
1 cup Hand-Torn Toasted Bread (page 303) or coarse breadcrumbs (see page 19)
Chopped fresh basil (optional)
Crumbled goat cheese or feta cheese (optional)
In a high-speed blender (for the smoothest outcome) or a food processor, finely chop the garlic, then add the tomatoes and cucumber and puree. Pulse in the bread, if you are adding it, and the 1 teaspoon of salt. Let the mixture stand for 15 minutes, allowing the bread to soak.
Add the onion, bell pepper, and 1 tablespoon of the sherry vinegar and blend until smooth. With the motor running, gradually stream in the olive oil through the feed tube. Transfer to a large bowl, cover with plastic wrap, and refrigerate for at least 4 hours, ideally overnight.
Taste the gazpacho and add more salt and up to 1 tablespoon of sherry vinegar if needed. Stir in the freshly ground black pepper. Serve with a drizzle of your best extra-virgin olive oil on top and small bowls of the toppings alongside.Notes: Gazpacho is an excellent showcase for tomatoes that have become a little too ripe to use in a sandwich or salad.This recipe is flexible; feel free to use a mix of tomatoes and use the amount that you have.
Check out the book for more recipes! 
About the Book: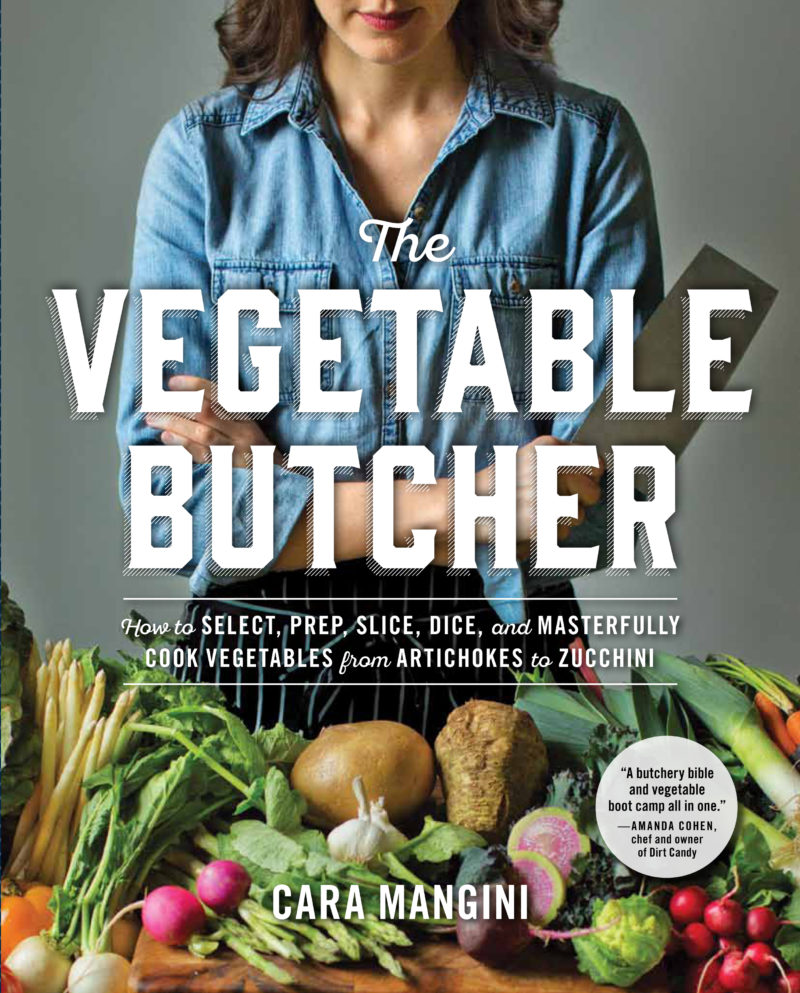 Winner, IACP Cookbook Awards for Single Subject and People's Choice.
The skills of butchery meet the world of fresh produce in this essential, inspiring guide that demystifies the world of vegetables. In step-by-step photographs, "vegetable butcher" Cara Mangini shows how to break down a butternut squash, cut a cauliflower into steaks, peel a tomato properly, chiffonade kale, turn carrots into coins and parsnips into matchsticks, and find the meaty heart of an artichoke. Additionally, more than 150 original, simple recipes put vegetables front and center, from a Kohlrabi Carpaccio to Zucchini, Sweet Corn, and Basil Penne, to a Parsnip-Ginger Layer Cake to sweeten a winter meal. It's everything you need to know to get the best out of modern, sexy, and extraordinarily delicious vegetables
Buy the Book
Amazon | Barnes & Noble | Indiebound |Workman