In researching their celebrated book Hot Sour Salty Sweet, award-winning authors Jeffrey Alford and Naomi Duguid followed the Mekong river south, through the mountain gorges of southern China, to Burma and into Laos and Thailand, eating traditional foods in villages and small towns. Over the course of their travels, as they learned techniques and ingredients from cooks and market vendors, they came to realize that the local cuisines share a distinctive culinary approach: Each balances, with grace and style, the regional flavor quartet of flavors that gives this stunning book its title.
From Hot Sour Salty Sweet, here's a recipe for spicy chile-oil tofu from Yunnan.
Spicy Chile-Oil Tofu
Serves 3 to 4 with rice and one or more other dishes
"A kind of Yunnanese mapo doufu, this dish of fresh tofu flavored with a little pork, Sichuan pepper, and a generous dollop of chile oil is a great midwinter standby. Not only is its hot and spicy warmth welcome on a cold winter day, but we think of tofu as an ideal food at a time when our selection of fresh seasonal vegetables is limited. Sichuan pepper, common in Yunnan, gives a pleasant numbing heat, while the chile oil is hot in a different way. You can increase the pepper to ¼ teaspoon, or more if you wish. Serve with rice and a vegetable dish."
1 tablespoon peanut or vegetable oil
3 scallions, trimmed, smashed flat with the side of a cleaver, cut lengthwise into strips, and then cut crosswise into 1-inch lengths
1⁄4 cup (about 2 ounces) ground pork
4 blocks fresh tofu (about 11⁄2 pounds), cut into 3⁄4-inch cubes
2 to 3 tablespoons Hot Chile Oil (page 310 or store-bought)
1 teaspoon salt, plus a pinch
1⁄8 teaspoon freshly ground Sichuan pepper, or more to taste
1 teaspoon cornstarch, dissolved in 1 tablespoon water
Place all the ingredients near your stovetop . Heat a wok over high heat. Add the oil and swirl to coat, then toss in the scallions, reduce the heat to medium-high, and stir-fry briefly. Add the pork and stirfry, breaking up any clumps with your spatula, until it has all changed color, about 1 minute. Pour off any water that has drained out of the tofu cubes and add the tofu, chile oil, salt, and pepper to the wok. Raise the heat, turn the ingredients gently to mix well, and cook for 30 seconds to 1 minute. Stir the cornstarch paste, add to the wok, stir to blend, and cook for another 20 to 30 seconds until the sauce thickens.
Turn out onto a plate or into a shallow bowl. Serve hot or at room temperature, to accompany rice or noodles.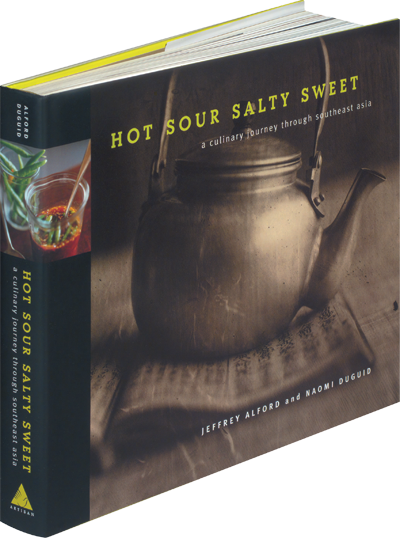 A culinary journey through the mingling traditions of Southeast Asia, Hot Sour Salty Sweet is the celebrated cookbook that started it all: 175 accessible recipes elegantly balancing the title's four flavors and authentically showcasing the region's bright, fresh cooking.
Winner of the 2001 James Beard Foundation Cookbook of the Year Award.
GET THE BOOK: Amazon | Apple | B&N | Kobo | Google | Sony