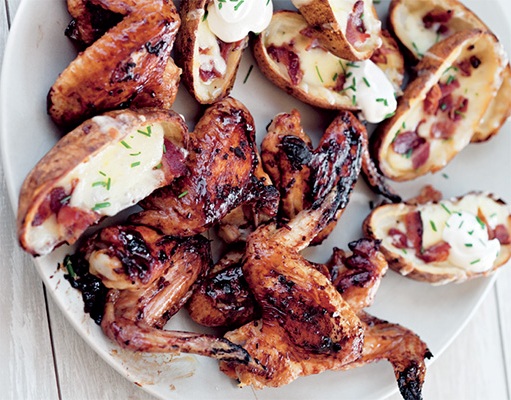 Lucinda Scala Quinn is at the forefront of the movement to bring back the family meal. The Executive Director of Food and Entertaining at Martha Stewart Living Omnimedia, she appears regularly on NBC's Today Show, hosted Mad Hungry with Lucinda Scala Quinn on the Hallmark Channel, and co-hosted Everyday Food on PBS for six years. She and her husband have three grown sons, who still come home to eat—even when they're the ones doing the cooking. Lucinda is the author of four cookbooks, most recently Mad Hungry: Feeding Men and Boys and Mad Hungry Cravings, from which these tailgate-ready recipes are excerpted.
THE WINGS
"I'm a wing girl—always have been—and for the longest time that was never a family conflict. With any given roasted whole chicken dinner, there was no dispute: Mom got the wings. But over the years, my family caught on to the skin-crunch-meat-bone wing attributes, and now they all want the wings. So we buy large pallets of them in the grocery store for home cooking. For a straight-up collegiate-style chow-down, serve with Loaded Potato Skins."
Serves 4 normal people or 2 college students
2⁄3 cup low-sodium soy sauce
11⁄3 cups sake or dry white wine
1/4 cup mirin
One 1-inch piece ginger, peeled and minced
2 garlic cloves, minced
2 tablespoons sugar
2 pounds whole chicken wings
1 tablespoon vegetable oil
1/2 teaspoon coarse salt
1. Preheat the oven to 375°F with a rack in the center position. For the glaze, combine the soy sauce, sake, mirin, ginger, garlic, and sugar in a small saucepan and boil until reduced to 1/2 cup, about 15 minutes. Transfer to a bowl and let cool to room temperature.
2. Toss the wings with the oil and salt in a bowl and transfer to a rimmed baking sheet. Bake for 30 minutes, then brush generously with the glaze. Bake for 15 minutes, basting and turning every 5 minutes until the wings look caramelized.
Wing Variations
Hot wings, garlic wings, honey-mustard wings, barbecue wings, and teriyaki wings are being scarfed down all over the country. Analyze your favorite take-out tastes and replicate the flavors at home, using the basic cook time given here. For instance, honeymustard-glazed wings are easy: whisk equal parts of honey and your favorite mustard, add some lemon juice, and you're set. When using most glazes, you want to get the wings cooked and golden before adding the glaze, or it will burn before the chicken is cooked through—and the result won't be as crunchy.
THE TATERS
"When my oldest son, Calder, went off to college, I was a little nervous about how he would fare foodwise. My suspicions were realized by the first culinary report I got describing the previous night's "amazing" dinner—take-out chicken wings and delivery pizza. I thought living off this type of food sounded disgusting but tried my best to understand his newfound habits—and I realized that even though college students can hardly be considered to have discriminating palates, they're onto something. Familiar foods that make us happy transport us back to our earliest tastes of deliciousness, memories often associated with pleasure and peace. So I started making this sort of recipe whenever he came home, based on ingredients like chicken and potatoes. Needless to say, this potato-based dish is hedonistically delicious, and only an active someone the age of a college student could handle a steady diet of these calories."
Makes 12 potato skins
6 large russet (baking) potatoes (about 3 1/2 pounds), scrubbed
6 slices bacon
1⁄3 cup extra virgin olive oil
1 teaspoon coarse salt
1/4 teaspoon white pepper
4 ounces sharp white cheddar cheese, shredded
4 ounces Monterey Jack cheese, shredded
1 cup sour cream
1/4 cup chopped fresh chives
1. Preheat the oven to 375°F with a rack in the center position. Prick each potato several times with a fork (see Note) and bake for about 1 hour, until the potatoes can be easily pierced with a toothpick. Remove from the oven and raise the oven temperature to 450°F.
2. Meanwhile, cook the bacon in a large skillet until crisp. Transfer to a paper-towel-lined plate to drain. Chop the bacon and set aside.
3. When the potatoes are cool enough to handle, halve them lengthwise and scoop out most of the flesh, leaving a 1/4-inch-thick layer of flesh attached to the skins. Reserve the scooped flesh for another use, such as mashed potatoes.
4. Brush the skins with the olive oil and season with the salt and pepper. Place skin side down on a rimmed baking sheet and bake for 18 to 20 minutes, until crisp and golden.
5. Scatter the cheeses and bacon over the skins and bake 5 minutes more, until the cheese is melted and bubbly. Dollop with the sour cream and chives and serve.
Note: Prick the potatoes in order to avoid a possible explosion. As I've learned the hard way, raw potatoes really have to be pricked before baking.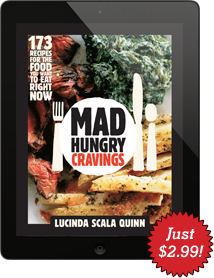 Mad Hungry Cravings is just $2.99 this month, and it's the perfect solution for back-to-school dinners, lunches, and snacks.
For more eCookbook news and deals, make sure to check out the Artisan Cookbook Club, featuring new and classic cookbooks from celebrated, award-winning chefs.
GET THE BOOK: Amazon | Apple | B&N | Kobo | Google | Sony