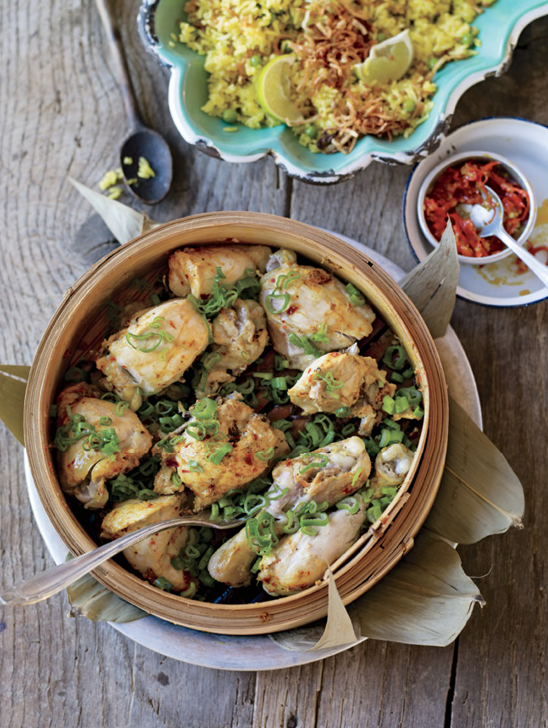 Kachin Chicken Curry from Burma
Bordered by China, India, Thailand, and Bangladesh, Burma has been a crossroads of Asia—and a place of fascinating layers of food culture—for centuries. With its long coastline, huge rivers, and generous monsoon rains, Burma is a land of rice, fish, and fruits and vegetables of every kind. Intrepid traveler and culinary ethnologist Naomi Duguid uncovers the wonders of this country in her award-winning cookbook Burma, and answers some of our burning questions.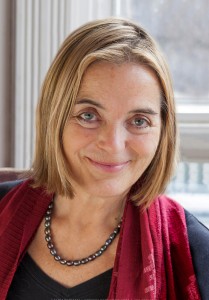 What's your usual breakfast? I usually start the day before seven a.m. with a huge mug of pomegranate or cranberry juice diluted with lots of hot water. A couple of hours later I have black coffee and something to eat. When I'm home, my favorite morning meal is chopped greens (from the garden in summer) stir-fried with garlic or shallots in turmeric-tinted oil, and an egg over easy, all served on leftover rice and with a hot chile sauce (Tart-Sweet Chile-Garlic Sauce, on page 36 of Burma, is excellent).
Your ideal kitchen sound track: My favorites include sub-Saharan musicians Salif Keïta and Nusrat Fateh Ali Khan; Bhangra music; Mose Allison; Njava from Madagascar; and almost anything the Kronos Quartet chooses to record.
Guilty pleasure: Cold butter on bread or toast, with good marmalade, both laid on thick.
Utensil you can't live without: I believe it's always possible to improvise, but the utensils that I rely on are a large wok, a straight-sided Calphalon pot that I use for cooking rice, my stone mortar and pestle, a cast-iron skillet, and a fab metal spatula that I've had for more than thirty years, with a wooden handle and a beautiful strong flat blade.
Fantasy vacation: Honestly, I don't understand vacations. But if we're talking about a place that I don't know and would love to travel to, then Iran is at the top of my list, along with Afghanistan, Chitral in Pakistan, and Lake Baikal in Siberia.
Food you won't eat: Veal. When I was a child, I saw a calf slaughtered at a farm in northern British Columbia, and I've never forgotten its terror as it bawled for its mother, or her desperation.
Ingredient you're currently loving: Fish sauce, turmeric, shallots, garlic, ginger—all longtime favorites, and they remain so. I love the smell, the feel, the anticipation of their taste, and all that they contribute to all kinds of dishes.
Last meal you cooked for your family: Kachin chicken curry (small pieces of bone-in chicken rubbed with a herb and spice paste—recipe on page 154 of Burma) cooked in the oven rather than steamed, served with black-and-white sticky rice, fresh sugar snap peas grown by a friend, tender salad greens dressed in a light vinaigrette, and wine and water to wash it all down.
If it was your last meal on earth, what would you eat? Very little; I'd drink a good Côtes du Rhône—a Gigondas, for example.
Restaurant that has impressed you so much you can't stop recommending it: I prefer to eat street food in most places, food made expertly by a person who specializes in a few dishes. Two of my favorite cooks are in Chiang Mai, in northern Thailand. One makes brilliant pork rice soup (congee); the other grills fish and chicken and pork, and it's all irresistible.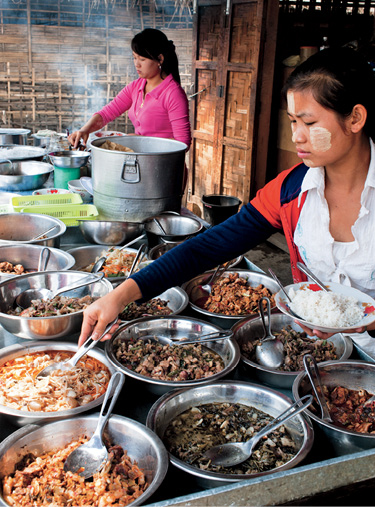 One of many roadside restaurants in Kachin State, between Myitkyina and Bhamo
Signature clothing items: I love red shoes and boots. I'm seldom without a scarf or shawl or something around my neck. And I almost always carry a densely woven strong and beautiful shoulder bag, which I picked up in Karen State, a Burmese region on the Thai border.
Which recipe in your new cookbook best reflects your personality? It's impossible to think of recipes in that way: the recipes in Burma are reflections of the people I learned them from and the places they come from, and they are all ways of feeding your friends and loved ones generously and well. Isn't that what food is all about?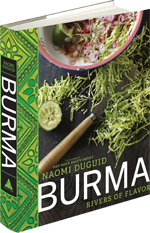 Naomi Duguid is a writer, photographer, cook, and traveler who explores the world through the lens of food. She is the author of Flatbreads and Flavors; HomeBaking; Seductions of Rice; Hot Sour Salty Sweet; Mangoes and Curry Leaves; and Beyond the Great Wall, all co-written with Jeffrey Alford. Keep up with the Naomi's frequent travels on her blog, website, on twitter (@naomiduguid), and on Facebook.
Learn more about Burma HERE. Still not convinced? Sign up for our newsletter and download a free copy of 'The Curries and Noodles of Burma' and sample the flavors of Burma HERE.
GET THE BOOK: Amazon | Apple | B&N | Kobo | Google | Sony