Homemade gluten-free pizza is easy, spicy, and flavorful with this recipe.
You know a pizzeria must be good when a pizzaiolo from another pizzeria recommends it. That's how we ended up at Kesté in the Financial District of lower Manhattan. There, pizzaiolo Roberto Caporuscio and his pizzaiola daughter, Giorgia, have brought Neapolitan pizza to the heart of New York City, with some of the homemade gluten-free pizza recipes we've had, including a spicy diavola.
Excerpted from No Gluten, No Problem Pizza by Kelli and Peter Bronski (The Experiment). Copyright © 2020.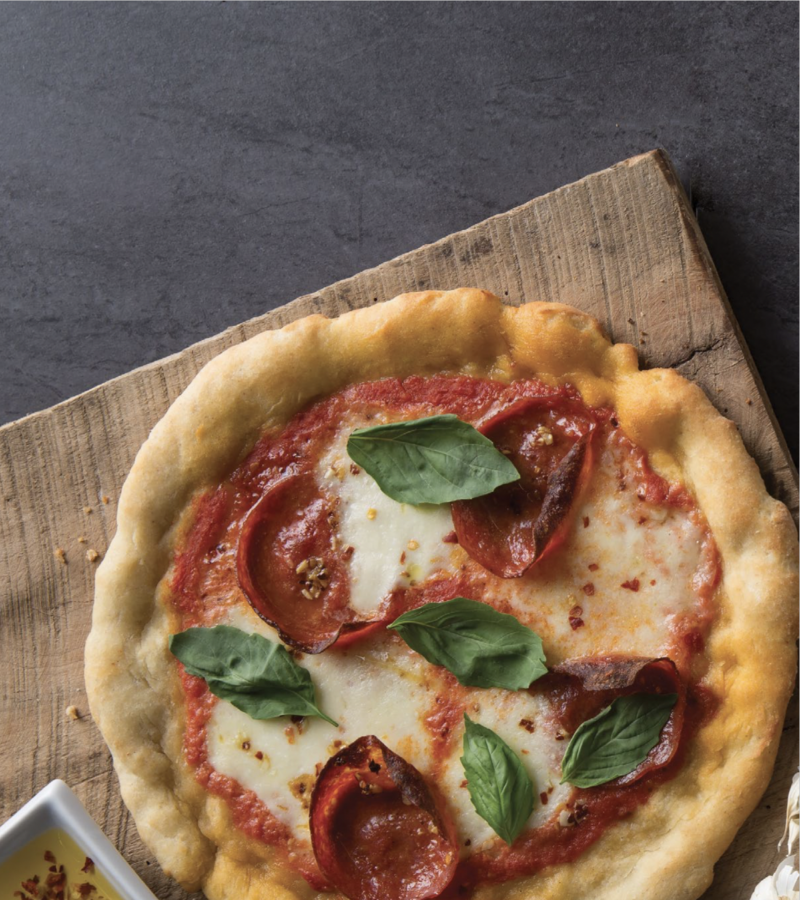 Neapolitan Dough
The cornicione of Neapolitan pizzas are like fingerprints: No two are exactly alike. Each pizza crust puffs and blisters a bit differently in the heat. So, too, with our homemade gluten-free pizza recipe. Makes one 11-inch (28 cm) pizza.
INGREDIENTS
100 grams warm water (110°F/45°C)
1 teaspoon sugar
1 teaspoon active dry yeast
20 grams millet flour
20 grams potato starch
20 grams quinoa flour
20 grams tapioca starch
10 grams brown rice flour
1⁄2 teaspoon ground psyllium husk
1⁄2 teaspoon salt
1⁄2 teaspoon xanthan gum
2 tablespoons olive oil
High-altitude modi cation: Increase the water to 113 grams.
INSTRUCTIONS
In a small bowl, whisk together the water, sugar, and yeast. Set aside to allow the yeast to activate, about 5 minutes, until foamy.
In a medium bowl, whisk together the millet our, potato starch, quinoa our, tapioca starch, rice our, psyllium husk, salt, and xanthan gum.
When the yeast mixture is foamy on top, add the oil and stir to combine.
Pour the yeast mixture into the our mixture and stir vigorously with a spoon until it is smooth, there are no lumps, and it forms a loose dough.
Note: This is one of our most-hydrated homemade gluten-free pizza recipes, but with a little practice, you'll be cranking out consistently impressive gluten-free pizze Napoletana in no time.The fresher this dough, the better it performs. Be sure to preheat the oven before making the dough, then immediately shape, top, and re it for the best results. We prefer using super ne rice our to press out the dough. This is the only time in this book we call for super ne our. If you don't have super ne rice our and don't want to buy some just for this purpose, go ahead and use the same regular brown rice our used in the dough recipe.
Diavola Pizza
INGREDIENTS
2 tablespoons olive oil
1 garlic clove, minced
1⁄4 teaspoon red pepper fakes
Bench flour
1 recipe Neapolitan Dough
Superfine rice flour, for working the dough
1⁄4 cup (55 g) puréed canned San Marzano tomatoes
3 ounces (85 g) fresh mozzarella
6 thin slices (3⁄4 ounce/20 g) sandwich pepperoni
5 basil leaves
INSTRUCTIONS
Set your oven rack in the top position (3 to 4 inches [7.5 to 10 cm] below the oven's broiler elements) and place your baking steel on it. Preheat the oven to 550°F (285°C) for at least 45 minutes.
While the oven is preheating, mix 1 tablespoon of the oil with the garlic and red pepper akes in a small bowl and set aside.
After preheating, make the Neapolitan Dough.
Immediately before shaping the dough, superheat the baking steel.
To shape the dough, place a 15-inch (38 cm) square piece of parchment paper on a at surface. Dust about 2 teaspoons bench our onto the parchment.
Using a spatula, scrape the dough out of the bowl onto the center of the parchment and smooth the dough.
Coat your fingers and hands with super fine rice flour and sprinkle additional flour over the dough. Carefully tease the dough into an 11-inch (28 cm) circle, sprinkling just enough additional flour to prevent the dough from sticking to your hands. The center area should be very thin; leave about a 1-inch (2.5 cm) border for the slightly thicker cornicione (about 1/8 inch 1/3 mm thick).
To finish the pizza, set the oven from broil back to bake at 550°F (285°C). (If you had the oven door ajar to keep the broiler ring, close the oven door now to trap heat.)
Ladle the tomatoes onto the crust and gently spread in an even layer up to the cornicione. Tear the mozzarella into pieces and distribute evenly over the sauce. Scatter the pepperoni over the pizza, then spoon the spicy garlic oil on top. Brush the cornicione with the remaining tablespoon of oil, until the dough glistens but does not have any standing pools of oil.
Remove any extra flour from around the edge of the pizza. Then use a lightly floured pizza peel to launch the pizza-on-parchment onto the baking steel in the oven. Bake for2 minutes.
Strip the parchment. Bake for 2 to 3 minutes with the pizza directly on the steel, until the cornicione is golden brown.
Remove the pizza from the oven and transfer to a large cutting board. Place the basil leaves on top. Let set for 2 minutes, then slice and serve hot.
More About No Gluten, No Problem Pizza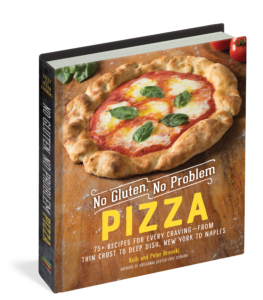 You're about to learn how to make the best homemade gluten-free pizza recipes you've ever had.
For Kelli and Peter Bronski, pizza is a passion. So when Peter was diagnosed with celiac disease, they set out on a mission—to master the art of gluten-free pizza-making themselves. With insights from the best pizzaioli from Naples to New York City and beyond—and more than a decade of gluten-free recipe experience—they tested over one thousand pies in pursuit of the perfect gluten-free pizza. Now, they deliver the spectacular result:
Seventy-five recipes with all of the authentic flavor and texture of traditional pizza, but none of the gluten
Every step of the process explained, from making the perfect flour blends to launching your pizza into the oven—and everything in between
Fifteen (!) kinds of dough covering all the major pizza styles, including puffy Neapolitan, traditional New York, crispy Roman, buttery Chicago deep dish, and thick-crust Detroit and Sicilian pies
You'll find:
Classic and creative flavor combinations, like Rustic Pepperoni, Thai Chicken, and Wild Mushroom
Grain-free and nutrient-rich pizzas, like Pesto Farinata, Cauliflower and Zucchini Crusts, and Teff and Buckwheat Doughs
Pizzas for every meal, like Chocolate-Hazelnut Dessert Pizza, Lox and Cream Cheese Breakfast Pizza
Fried and filled pizzas, focaccia, and flatbreads, like Montanara Pizza, Calzones, Rosemary Focaccia, and Fig and Prosciutto Flatbread
Everyone deserves great pizza—and with this book, you can finally have it!
Buy the Book
Amazon | B&N | Indiebound | Workman