Craving a Super Bowl snack? Serve up these Buffalo Cauliflower Wings!
You can replicate Buffalo wings by substituting fried cauliflower. The florets get soft on the inside but stay crisp on the outside, and are flavored with spicy wing sauce. This recipe uses a mix of tapioca and almond flours to give the cauliflower a light, gluten-free breading, but you could use all-purpose flour if gluten is not an issue.
Excerpted from Cauliflower Power by Lindsay Grimes Freedman (Artisan Books). Copyright © 2019.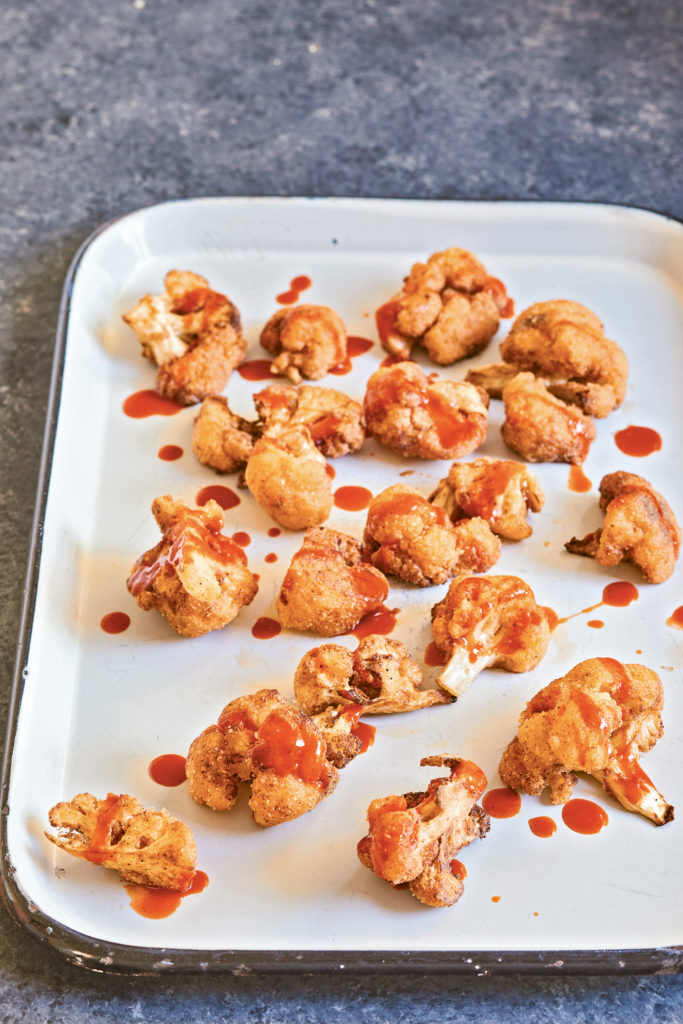 Buffalo Cauliflower Wings
INGREDIENTS
Serves 4
5 cups (675 g) cauliflower florets
½ cup (68 g) tapioca flour
½ cup (57 g) blanched almond flour
1 teaspoon dry mustard
1 teaspoon smoked paprika
1 teaspoon garlic powder
2 cups (480 mL) safflower oil, or your favorite frying oil
1 cup (242 g) Wing Sauce (see below for recipe)
3 celery stalks, cut into 3-inch (8 cm) pieces
½ cup (123 g) Ranch Dressing (see below for recipe)
INSTRUCTIONS
Bring an inch of water to a boil in a medium saucepan. Place the cauliflower in a steamer basket set over the boiling water. Cover and steam for about 5 minutes, until the florets are tender.
Make the breading: In a medium bowl, whisk together the tapioca flour, almond flour, dry mustard, smoked paprika, and garlic powder.
When the florets are tender, drop a handful into the breading and coat generously (you don't need to pat them dry after steaming). Transfer the breaded florets to a clean plate.
Heat the oil in a large frying pan over high heat. Once your thermometer reads between 325°F and 375°F (165°C and 190°C), or when bubbles appear around the handle of a wooden spoon when you dip it into the oil, reduce the heat to medium-high. Add the breaded florets to the pan, one at a time, about 2 inches (5 cm) apart. Don't crowd them; you'll need to do this in two or three batches to fry all the florets.
After 3 minutes, once the edges of the florets turn golden brown, use tongs to flip the cauliflower and cook for another 2 minutes. Transfer to a paper towel–lined plate and continue until all the florets have been fried.
Transfer to a serving dish and drizzle with the Wing Sauce. Serve with celery stalks and Ranch Dressing for dipping.
Note: Blanched almond flour is finer than almond meal and has a lighter beige color because the almond skins aren't ground up with the nuts when processed. While almond meal can be great for recipes that aim for a hearty consistency, when baking I tend to use blanched almond flour because it results in a lighter, smoother texture, and a more traditional pastry color.
Wing Sauce
INGREDIENTS
Makes 1 cup (242 g/245 mL)
½ cup (120 g) ghee
½ cup (120 mL) hot sauce
1½ tablespoons white vinegar
¼ teaspoon Worcestershire sauce
¼ teaspoon cayenne pepper
¼ teaspoon freshly ground black pepper
¼ teaspoon garlic powder
INSTRUCTIONS
In a small saucepan over medium-high heat, melt the ghee and whisk in the hot sauce until combined. Add the vinegar, Worcestershire, cayenne, black pepper, and garlic powder. Whisk together and bring to a simmer, then remove from the heat and allow to cool to room temperature. Store in the fridge for about one week and reheat as needed.
Ranch Dressing
INGREDIENTS
Makes about 1 cup (246 g/215 mL)
 ½ cup (108 g) mayonnaise (use avocado oil mayonnaise, if you prefer)
¼ cup (60 mL) heavy cream (regular milk or unsweetened canned coconut cream also works)
½ teaspoon dried dill
½ teaspoon garlic powder
½ teaspoon onion powder
¼ teaspoon sea salt
¼ teaspoon freshly ground black pepper
INSTRUCTIONS
Whisk together the mayonnaise, cream, dill, garlic powder, onion powder, salt, and pepper in a medium bowl. Once smooth, transfer to a lidded jar and store in the fridge for up to 10 days.
More About Cauliflower Power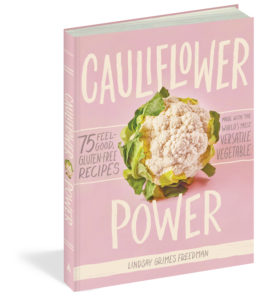 Low in carbs, fats, and sugars, and naturally packed with vitamin C, cauliflower is the super-est of all superfoods. Why cauliflower? It's a chameleon and can take on any flavor and texture. In her first cookbook, food blogger and recipe developer Lindsay Grimes Freedman brings her expertise in creating delicious, healthful, and practical recipes to one of the food world's most trending topics: cauliflower. With more than 75 recipes built around the five ways to prep cauliflower (as a whole head, florets, steaks, riced, and meal), Freedman transforms this versatile veggie into smoothies and scones, pizza crusts and pasta sauces, and sides and salads. Super swaps include falafel made with cauliflower and Caesar salad made with a cauliflower-based dressing, even cauliflower nachos, "bacon" bits, tots, and French toast. The recipes are healthful and easily adaptable for any diet without skimping on flavor or satisfaction. By harnessing the power of this anti-inflammatory veggie, readers will reap all the benefits of a plant-based diet without missing out on any of the good stuff.
Buy the Book
Amazon | B&N | Indiebound | Workman