The ultimate party dip to feed a crowd, excerpted from Anne Byrn's What Can I Bring? Cookbook.
Buy the Book
Indiebound | B&N | Amazon | Workman

I've tried as many variations of this popular appetizer as it has layers. How can you miss with the combination of refried beans, sour cream, avocado, lime, cilantro, peppers, and crunchy tortilla chips? While some artistic cooks layer this type of dip free-form on a pretty platter, I love the convenience of a springform (cheesecake) pan. I layer the dip one ingredient at a time and cover the pan with plastic wrap, then chill, tote, and unmold the dip. Just remember to bring home the bottom of your springform pan. Vary the layers as you wish, using black beans instead of refried, salsa instead of fresh tomatoes.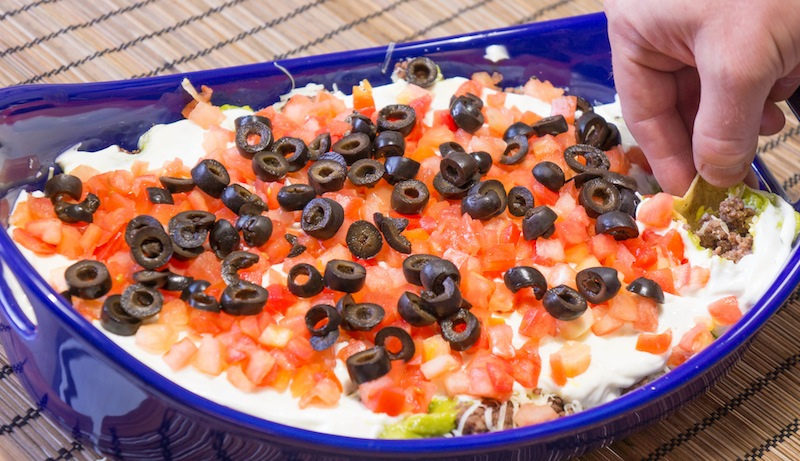 Twelve Layer Taco Dip
Ingredients
1 can (16 ounces) fat-free refried beans
2 cups (16 ounces) sour cream
2 tablespoons taco seasoning
1½ cups chopped tomatoes (from 2 medium-size tomatoes)
1½ cups chopped ripe avocado, preferably Hass, tossed with the juice of 1 lime (about 2 tablespoons), or 1 generous cup guacamole
4 cups (16 ounces) shredded Cheddar and Monterey Jack
cheese blend, or pepper Jack for a spicier dip
1 cup chopped scallions, green parts only
1 can (2¼ ounces; ½ cup) sliced black olives, drained
1 can (4½ ounces) chopped green chiles, drained
2 cups shredded iceberg lettuce
1 loosely packed cup fresh cilantro leaves
Tortilla chips, for serving
Instructions
Spread the refried beans in an even layer in the bottom of a 9-inch springform pan that is at least 2½ inches deep.
Combine the sour cream and taco seasoning in a small bowl and spread half of it over the beans. Set aside the remaining cup of sour cream mixture for the ninth layer.
Scatter the tomatoes evenly over the sour cream in the springform pan.
Scatter the avocado or spread the guacamole evenly over the tomatoes.
Sprinkle 2 cups of the cheese on top of the avocado.
Scatter the scallions over the cheese.
Scatter the black olive slices on top of the scallions.
Spoon the chiles on top of the olive slices.
Spread the remaining sour cream mixture evenly over the chiles.
Scatter the remaining 2 cups of cheese on top of the sour cream.
Scatter the lettuce evenly on top of the cheese.
Scatter the cilantro leaves on top of the lettuce. Cover the springform pan with plastic wrap and place it in the refrigerator to chill for at least an hour.
When ready to serve, uncover and unmold the dip, place it on a serving platter, and serve with the tortilla chips.
BIG BATCH: This dip feeds an army. If you need to double it for a huge crowd, make a second batch in another springform pan.