Make this scrumptious dip, excerpted from Katie Workman's Dinner Solved!, for any potluck or gathering this year.
Buy the Book
Amazon | B&N | Indiebound | Workman
Hot artichoke dips are not exactly revolutionary, but this one is lush with Parmesan cheese and a sparkly shot of lemon to make it more modern. Go for half crab and half artichoke if you are really celebrating, making both vegetarians and pescatarians feel indulged. Serve this decadent dip with crackers or raw vegetables. You can also scoop it on crostini. And it would be very cool to serve it with leaves of steamed large artichokes.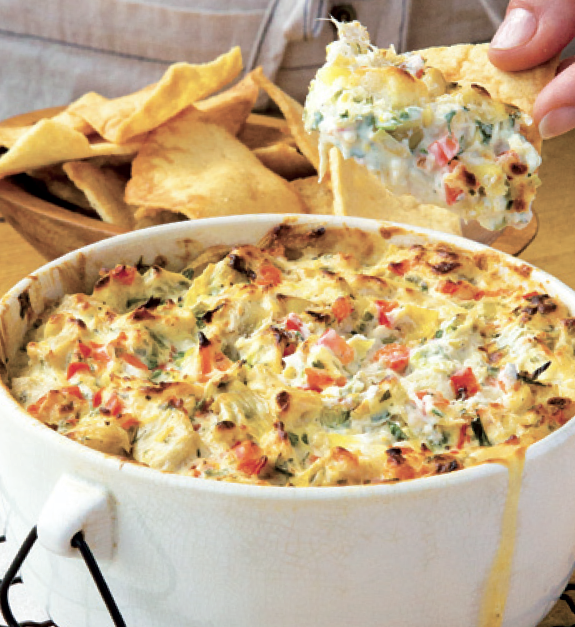 Fork in the Road: This addictive dip can be made with crab instead of artichokes, or made with half the amount of each and baked in two smaller dishes.
Yield: Serves 8 to 12
What the Kids Can Do: Measure the ingredients, zest the lemons (if they can handle the grater), mix up the ingredients, spoon the dip into the baking dish.
Make Ahead: You can prepare the dip following Step 2 up to a day ahead and refrigerate, covered. Either bring to room temperature before placing in the oven, or add about 5 minutes to to the baking time.
Lemony Parmesan Artichoke Dip
Ingredients
1 package (8 ounces) cream cheese, regular or low-fat (Neufchatel), at room temperature
2 tablespoons milk, half-and-half, or heavy (whipping) cream
1 red bell pepper, stemmed, seeded, and minced
½ cup freshly grated Parmesan
3 tablespoons minced fresh flat-leaf parsley
3 scallions, white and light green parts, minced
1 teaspoon finely grated lemon zest
1 tablespoon fresh lemon juice
Freshly ground black pepper, to taste
2 cans (7¾ ounces each) artichoke hearts, drained, rinsed, and chopped
Kosher or coarse salt, to taste
Instructions
Preheat the oven to 400°F.
Stir together the cream cheese, milk, bell pepper, Parmesan, parsley, scallions, lemon zest, lemon juice, and black pepper in a medium-size bowl until well blended. Blend in the artichoke hearts. Taste and season with salt.
Transfer the mixture to a small shallow baking dish and bake until bubbly, 20 to 25 minutes. You may want to pass it under the broiler during the last few minutes to give it a beautiful golden top. Serve hot.