Excerpted from Steven Raichlen's Barbecue Sauces, Rubs, and Marinades.
Like most tender quick-cooking meats, hamburgers taste better grilled over a high heat than barbecued (smoked low and slow). Here's a way to infuse the evocative spice and smoke flavors of true barbecue into a conventional fast-cooking burger. It uses a smoke-scented rub and barbecue sauce. I call it The Barbecue Burger; you might call it smoky nirvana. There's a lot to love, literally—each burger tips the scale at 8 ounces.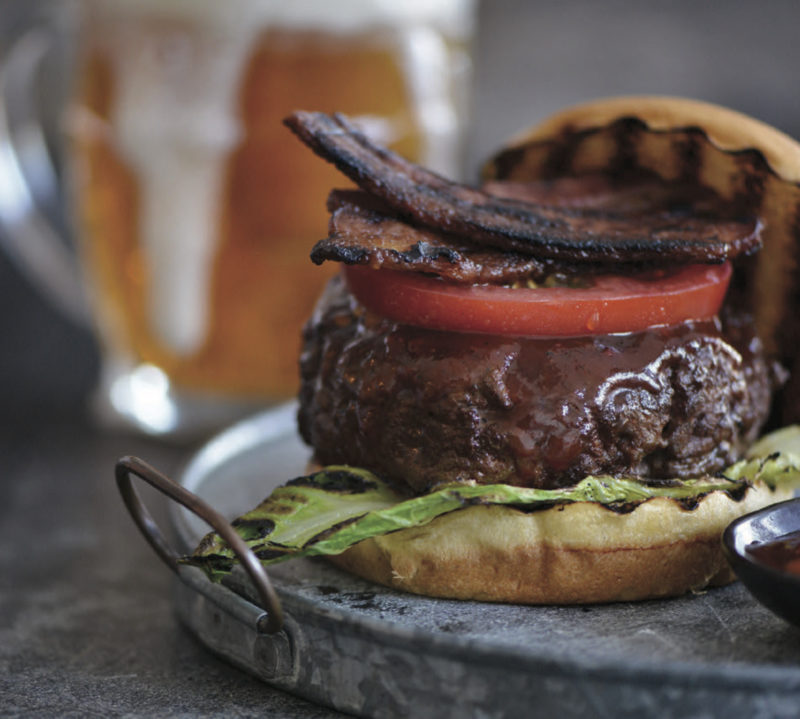 The Barbecue Burger
Yield: 4 huge burgers
You'll also need: 1½ cups hardwood chips, soaked in water for 30 minutes, then drained
Ingredients
2 pounds ground beef (preferably a mixture of ground chuck and sirloin, about 18 percent fat)
2 to 3 tablespoons Kansas City Sweet and Smoky Rub, or your favorite barbecue rub
4 romaine lettuce leaves (taken from near the center)
3 tablespoons extra-virgin olive oil
4 onion rolls or 4 hamburger buns, sliced almost in half through the side
4 thick strips artisanal bacon
4 thick slices red ripe tomato
6 to 8 tablespoons Smoke Wrangler's Bacon Bourbon Barbecue Sauce, or your favorite barbecue sauce
Instructions
Form the ground beef into 4 patties, each about 3½ inches across and ¾ inch thick. Make a slight depression in the center. (Burgers rise more in the center than on the periphery, so the slight indentation helps give you an even thickness.) Generously season the burgers on both sides with the Kansas City Sweet and Smoky Rub and let marinate in the refrigerator while you light your grill.
Set up the grill for direct grilling and preheat to high. Brush and oil the grill grate.
Lightly brush the romaine lettuce leaves on both sides with olive oil (you'll need about 1 tablespoon). Brush the insides of the onion rolls with the remaining oil.
Arrange the bacon strips on the grill grate and grill until browned on both sides, 3 to 4 minutes per side. (Move them as needed to dodge any are-ups.)
Grill the hamburgers until cooked to taste, about 4 minutes per side for medium (160°F on an instant-read thermometer).
Grill the lettuce leaves over the hot re until lightly browned, 30 seconds per side. Toast the onion rolls, cut side down, over the hot fire, 1 to 2 minutes.
To assemble, place a grilled romaine leaf on the bottom half of each onion roll. Top with a burger, then barbecue sauce, then a tomato slice, bacon, and more barbecue sauce. Top with the other onion roll half.
About the Book:
Barbecue sauces, rubs, and marinades are every griller's secret weapon—the flavor boosters that give grilled food its character, personality, depth, and soul.
Steven Raichlen, America's "master griller" (Esquire), has completely updated and revised his bestselling encyclopedia of chile-fired rubs, lemony marinades, buttery bastes, pack-a-wallop sauces, plus mops, slathers, sambals, and chutneys. It's a cornucopia of all the latest flavor trends, drawing from irresistible Thai, Mexican, Indian, Cajun, Jamaican, Italian, and French cuisines, as well as those building blocks from America's own barbecue belt.
There are over 200 recipes in all, including a full sampler of dinner recipes using the sauces. And the book now has full-color photographs throughout. It's the essential companion cookbook for every at-home pitmaster looking to up his or her game.
Buy the Book
Indiebound | B&N | Amazon | Workman