Excerpted from Daniel Shumski's Will It Waffle?. For more ingenious recipes to make in a waffle iron, check out the book:
Amazon | B&N | Indiebound | Workman
You probably already have the ingredients to make this, so what are you waiting for?
Grilled cheese and waffles, separately, are two childhood favorites. Now that you're an adult, you can play with your food and make them one. Adding the waffle iron to the mix gives grilled cheese a little twist without changing either of the fundamentals that make it a classic—the melty, gooey cheese and the buttery, toasted bread. If you're adventurous, you can jazz up the sandwich. And you should, right after you make your first plain old waffled grilled cheese.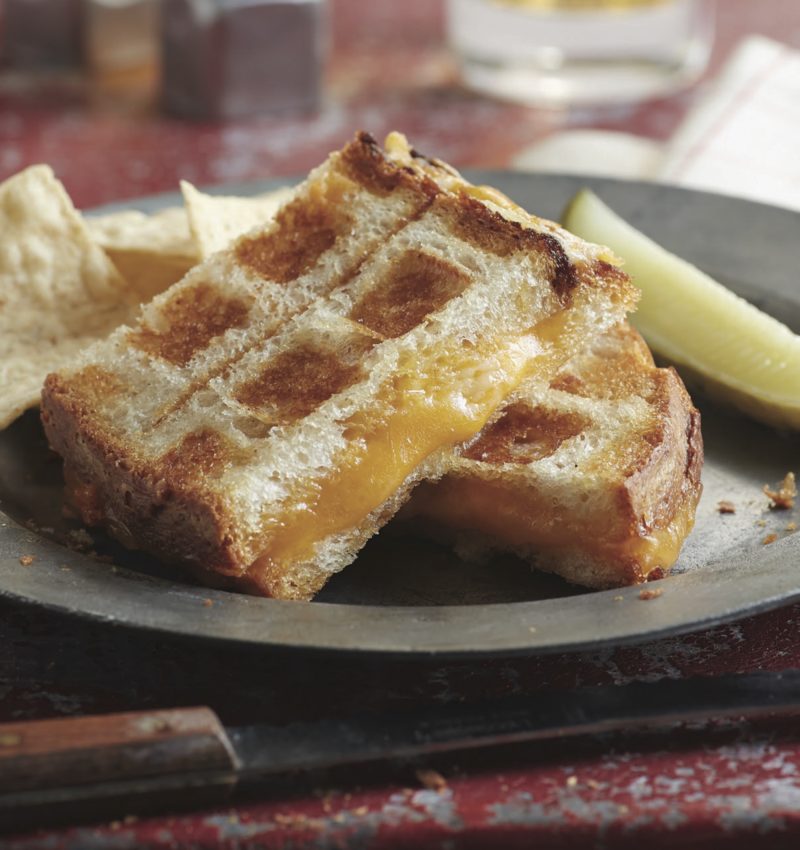 Waffled Grilled Cheese
IRON: Belgian or standard | TIME: 5 minutes | YIELD: Serves 1
Ingredients
1 tablespoon unsalted butter, at room temperature
2 slices sturdy sandwich bread
3 ounces cheese, such as Cheddar or Taleggio, thinly sliced [note: hard cheeses won't melt correctly]
Instructions
Preheat the waffle iron on low.
Butter one side of each slice of bread.
Place a slice of bread, buttered side down, on the waffle iron, as far away from the hinge as possible. (This will allow the lid to press down on the sandwich more evenly.) Distribute the cheese evenly on the bread. Top with the second slice of bread, buttered side up.
Close the lid of the waffle iron and cook until the cheese is melted and the bread is golden brown, 3 minutes. About halfway through, you may need to rotate the sandwich 180 degrees to ensure even pressure and cooking.
Remove the sandwich from the waffle iron. Slice into halves or quarters and serve.
Variations
For a twist on the traditional grilled cheese, try adding one or two of the following:
Tomatoes, thinly sliced
Apple or pear, thinly sliced
Jalapeno peppers, finely chopped
Bacon or bacon bits
Baby Spinach
Jam
Onion
Dijon Mustard