We're saying farewell to summer reading, and ushering in the start of a brand new season—which for most means more school and less library time. Or does it? This month's librarian spotlight features Laura from Upper Merion Township Library in King of Prussia, PA.
If you are planning a library road trip (and I know you are), Upper Merion Township has a PET TURTLE. This is the stuff children's lit dreams are made of, folks! Hope you enjoy hearing about the creative extracurriculars Laura is planning, and you get inspired to visit your own neighborhood library to see what's happening there in the coming weeks.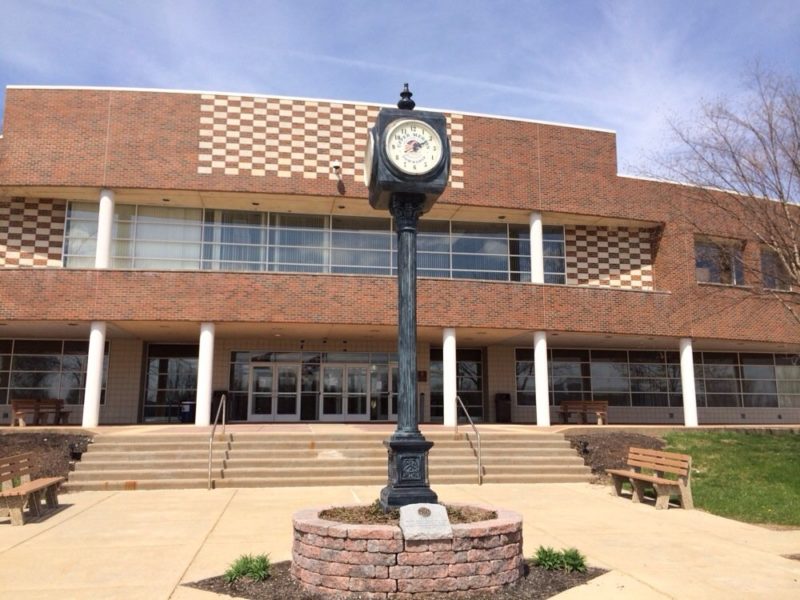 Tell me a little bit about your background as a librarian.
I wanted to be a librarian since about the time I started reading as a child.  At seven years old I asked my community librarians when I could start working at the library, and unfortunately, the answer was 14.  It was devastating to my 7-year-old brain that I would have to wait that long, but two days after my 14th birthday, I started volunteering, and I haven't looked back since. I have my Master's in Library Science from the University of Maryland, College Park and have worked as a children's librarian in my current library for the past eight years. Currently I serve a population of about 30,000 residents and am both the children's reference and reader's advisory librarian as well as programming librarian. Our department is geared toward children from birth through 8th grade, and I work with kids from toddlers through elementary school and into middle school.  I absolutely love it and can't think of anything else I'd rather be doing every day!
What book are you constantly recommending?
One of my most favorite books of all time (which is not an easy thing to say as a book lover!) has to be Wonder by R.J. Palacio. I love that this story is told from the different people who interact with Auggie: his family, classmates, and eventually his friends. This story is sometimes heartbreaking, and at other times hopeful. I think it gives readers a chance to truly see what it means to look different from everyone else around you and the power of truly being kind. My motto for working with our middle school kids at the library is a direct quote from this book: "When given the chance between being right or being kind, choose kind."
What book has the longest waiting list at your library?
The BFG by Roald Dahl has a long wait list this summer due to the movie being released at the beginning of July.  I haven't gotten a chance to see the movie yet, but I vividly remember a teacher in my elementary school reading this book aloud to my class, so it has always been a favorite.
What book did you adore as a child?
What a difficult question!  Unsurprisingly, I have a number of favorite books from my childhood, but one of my absolute favorites would have to be The Polar Express by Chris Van Allsburg. My mom would read this aloud to the whole family every Christmas Eve; one year we even got a bell from Santa's sleigh. And even now, when I read it during the holidays, I can hear my mom's voice.  A few years ago, I was able to meet Chris Van Allsburg and get copies of The Polar Express signed for each of my siblings, myself and my parents. It's a book that holds a lot of fond memories of my family.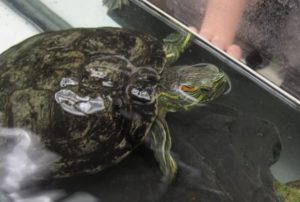 What's your favorite feature of your library?
I'd have to say that one of my favorite features of my library has to be our pet turtle, Tera.  She's a red-eared slider and has lived in the library for the past seven years.  The kids absolutely adore Tera and many will stop in just to say "hi."  Every once in awhile, you'll catch one of emerging readers reading a book out loud to her.  And you wouldn't think a turtle would have too much personality, but she loves the attention from the kids and often swims over to them to beg for a snack!
What kinds of programs do you run, and which one are you most proud of?
I run programs for of all kinds, from messy art projects with 3-5 year olds to book discussions for middle school kids, and everything in between.  I've learned so much as a children's librarian and I love getting the chance to explore new ideas with the kids.
The program I'm most proud of would have to be our Enchanted Library program. Annually, we plan around a theme and create a library tour on a Friday evening after the library has closed.  This year's theme will be Childhood Classics and middle school tour guides will interact with well-known childhood literary characters.  We'll be highlighting Winnie-the-Pooh, Amelia Bedelia, Miss Nelson is Missing, Are You My Mother?, If You Give a Mouse a Cookie, Strega Nona, and Cloudy with a Chance of Meatballs. Our middle school students work extremely hard over six weeks rehearsing their scripts, and on the night of the performance, we have over 350 people coming through the library!  It's a great program for our community, but also an amazing chance for our middle school students to gain confidence in public speaking, to give back to the community, and to share their passion of reading and theatre with the young children in our community.
What's the biggest misconception people have about librarians?
That we want a quiet library where we aren't interrupted and we're always super serious.  As a children's librarian, a fair amount of noise means that I'm succeeding in bringing excitement to the library. I love to be interrupted; it's part of my job as a reference librarian, and I'm always looking for ways to make learning fun and exciting!  More often than not, you'll see me singing off-key, dancing with toddlers, cracking jokes with elementary school kids and hanging out with middle school kids—letting them know that I am a person that cares about them and how they're doing.  I have an open door policy about anything they need to talk about, and the relationships we form make my job the best job in the world!
Describe your position in three words.
Sharing Book Love
Biography
Laura Arnhold is a children's librarian at the Upper Merion Township Library in King of Prussia, PA serving a community of 30,000 residents. Her favorite part of work is finding that just right book for the just right kid—especially the kids who have read everything and the kids who are very picky about what they pick up!  The challenge is what makes her job so exciting.  When she's not at the library, you'll find Laura walking the neighborhood with her pitbull-mix, Aria, cooking for family and friends, and of course, reading.  She loves picture books and YA novels, but she realistic fiction for middle grade readers is her favorite. Check out her blog at www.literacious.com, on Twitter, Instagram, and Pinterest!