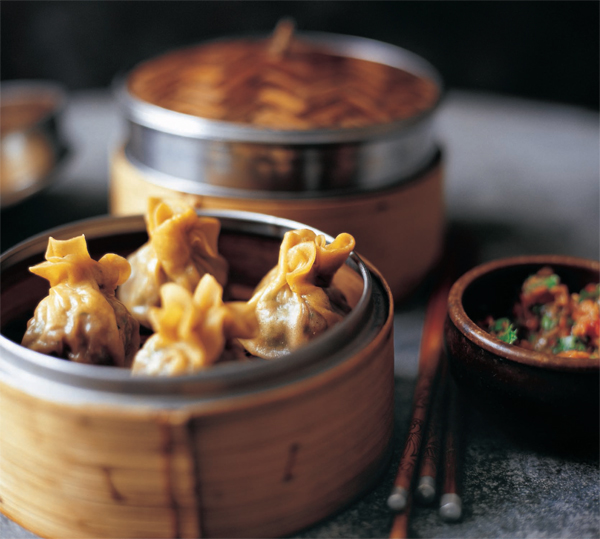 Steamed Tibetan Momos in a bamboo steamer
In the West, when we think about food in China, what usually comes to mind are the signature dishes of Beijing, Hong Kong, Shanghai. But beyond the urbanized eastern third of China lie the high open spaces and sacred places of Tibet, the Silk Road oases of Xinjiang, the steppelands of Inner Mongolia, and the steeply terraced hills of Yunnan and Guizhou. The peoples who live in these regions are culturally distinct, with their own history and their own unique culinary traditions. In Beyond the Great Wall, the award-winning book from which this recipe is excerpted, Jeffrey Alford and Naomi Duguid bring home the enticing flavors of this other China. 
Steamed Tibetan Momos
"Momos are succulent filled dumplings Tibetan-style. They're most often made using yak meat (for which we substitute beef), but we've also come across lamb momos. Both options are given below.
The meat is usually chopped by hand, rather than ground, which gives the dumplings good bite. We suggest that you start with reasonably lean meat, chill it well, and grind it yourself, using the food processor (or you could chop it using two cleavers). The filling is flavored with minced scallion, ginger, a little hot chile, and fresh herbs—either Chinese celery or coriander.
The momos steam in a Chinese-style bamboo or metal steamer topped with a tight-fitting lid. If you have several steamer baskets, then you can get all the momos cooked at once by stacking the steamers. If not, each batch takes about 15 minutes to cook through."
Makes 24 dumplings; serves 6 as part of a meal with a soup and a vegetable, or 8 as an appetizer
DOUGH
2 cups all-purpose flour, preferably unbleached
½ teaspoon salt
½ teaspoon baking soda
A generous ½ cup lukewarm water
FILLING
1 pound boneless lean beef or lamb, preferably a little fatty, cut into 5 pieces and well chilled
6 scallions, coarsely chopped (1 cup)
¾ cup chopped Chinese celery leaves or coriander
2 tablespoons minced ginger
1 teaspoon Guizhou Chile Paste (below) or store-bought chile paste, or 2 dried red chiles, stemmed and crushed
2 teaspoons salt
½ teaspoon freshly ground black pepper
Place the flour, salt, and baking soda in a food processor and pulse to mix. With the blade running, slowly add the lukewarm water through the feed tube until a ball of dough forms. Alternatively, place the flour, salt, and soda in a medium bowl and mix together. Add the water and stir and turn to make a rough dough.
Turn the dough out onto a lightly floured surface and knead briefly, until smooth. Cover with plastic wrap and let rest for 20 to 30 minutes.
Meanwhile, make the filling: Place the meat in the food processor along with the scallions and process until coarsely chopped. Add the remaining filling ingredients and process briefly to blend them together. Turn the filling out into a bowl and set aside.
Lightly oil a steamer basket.
Place the dough on a lightly floured surface and cut it into 3 equal pieces. Set 2 aside, loosely covered. Cut the remaining piece of dough into 8 equal pieces, by dividing it in half and half and half again. Pat, roll out, or stretch one piece to a 4-inch round. Place 1 level tablespoon of filling in the center and pull the sides up around the filling, then pinch them together over the filling and twist slightly to form a kind of topknot. Place in the steamer basket, topknot side up. Repeat with the remaining dough and filling until the steamer is full.
Place the steamer over a wok or pot of boiling water, cover tightly, and cook until done, 12 to 15 minutes. (Cut one dumpling in half to see if the meat has changed color, indicating that it is cooked.) Meanwhile, shape the remaining dumplings.
When they are done, remove the cooked dumplings from the steamer, and cook the rest in batches.
Serve hot or warm, with the accompaniment of your choice.
Guizhou Chile Paste
"We love chile pastes and condiments of all kinds. They highlight the tastes of the foods they accompany and complement them, and they give each person a chance to custom-flavor every mouthful. Once you've made chile paste, it sits handily in the refrigerator, ready to add heat and dimension to any meal.
We've encountered all kinds of chile pastes in our wanderings beyond the Great Wall. As with chile pastes from other parts of the world (such as North African harissa and Lao jaew), the basic ingredient is dried red chiles. After that, the options are many. In Guizhou, a hilly province in southern China bordered by four other provinces—Sichuan, Yunnan, Hunan, and Guangxi—Sichuan pepper is used a great deal (though not in the overwhelming way it often is in Sichuan). So the chile pastes we've encountered there usually have a hint or more of Sichuan pepper, as this recipe does, and no sweetness at all."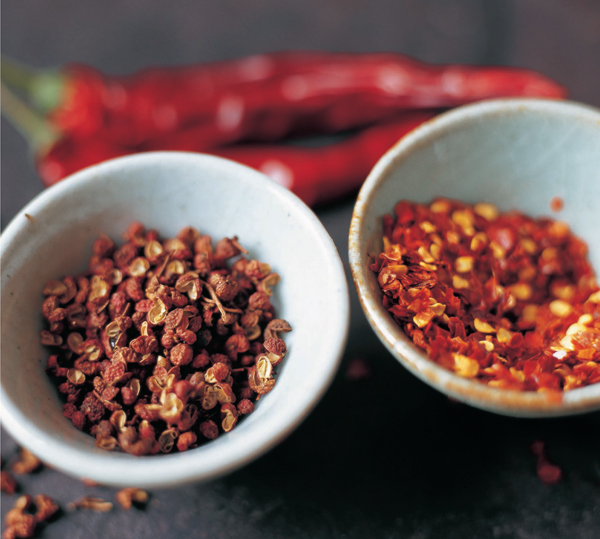 Two kinds of heat: on the left are Sichuan peppercorns and on the right, flakes of dried red chile.
Makes a generous ½ cup
1 cup dried red chiles, stemmed
1 cup boiling water
1 teaspoon salt
2 tablespoons peanut oil or vegetable oil
2 tablespoons minced shallots
1 teaspoon Sichuan peppercorns, ground (see Note)
1 tablespoon rice vinegar
Place the chiles in a bowl and pour the boiling water over. Weight the chiles down with a small lid or plate to keep them immersed in the water. Let soak for an hour, or until softened.
Transfer the chiles and soaking water to a food processor. Add the salt and process to a puree. Return the puree to the bowl.
Heat a wok over high heat. Add the oil and lower the heat to medium, then toss in the shallots and Sichuan pepper and stir-fry until the shallots are translucent, 2 to 3 minutes. Add the chile puree (watch out for spattering) and bring to a boil, then reduce the heat and simmer, stirring frequently, for about 5 minutes, until the liquid is reduced by half or so.
Transfer to a bowl and stir in the vinegar. Let cool before transferring to a clean, dry glass jar, and tightly seal with a clean lid. Store in the refrigerator.
NOTE ON SICHUAN PEPPER: Sichuan pepper has a distinctive taste and effect on the mouth. If you love it, then do feel free to increase the quantity here to 1½ or 2 teaspoons. The chile paste will then have, besides chile heat, some of the tongue-numbing powers of Sichuan pepper, as well as a stronger hit of flavor.
ALL-PURPOSE GUIZHOU BASTING SAUCE FOR THE GRILL: If you are grilling meat, fish, or vegetables, Guizhou Chile Paste diluted with oil makes a dynamite basting sauce. Use 1 teaspoon chile paste for every 2 tablespoons peanut oil or vegetable oil. Whisk well to blend them together, then brush lightly onto your meat or fish or vegetables before you grill. Brush again with the flavored oil (whisk just before you do) shortly before you remove the food from the heat.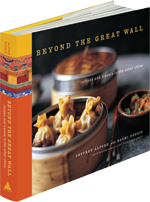 Beyond the Great Wall contains a rich mosaic of recipes—from Central Asian cumin-scented kebabs and flatbreads to Tibetan stews and Mongolian hot pots.
This month only, buy the ebook for just $2.99!.
GET THE BOOK: Amazon | iBookstore | B&N | Kobo | Google | Sony