Friday, March 1 is Employee Appreciation Day, a calendar event I created with my publisher, Workman Publishing, when they first published my book, 1,001 Ways to Reward Employees (which was later updated to 1501 Ways to Reward Employees) in March of 1994.  Of course, I'd be the first to admit that you need to thank, praise and recognize your employees when they do good work throughout the year, not just on a single day, but we wanted to call attention to the fact that most employees don't feel valued where they work.  Only about 12 percent of workers feel recognized in a timely, meaningful way for the job they do even though some 80 percent of managers think they do a pretty good job with this topic.
What that leaves us with is a "knowing-doing" gap that I tried to close with the book, which systematically shows real-life examples of ways managers and companies successfully recognize employees in 28 specific categories from no-cost to low-cost to team-based and company-wide examples, all of which are currently working for someone and any of which could potentially work for you.
The book serves as a conversation starter among managers and their staffs about the potential things they could do even if they had limited time, resources or budget.  And if an idea didn't work, you could turn the page and find one that could perhaps work better for your circumstances.  Along the way, it helped open people's minds to thinking creatively to consider "what if" possibilities that they could do and moved them away from the no-win starting point of thinking that money or things that cost money are the only things that motivate workers today.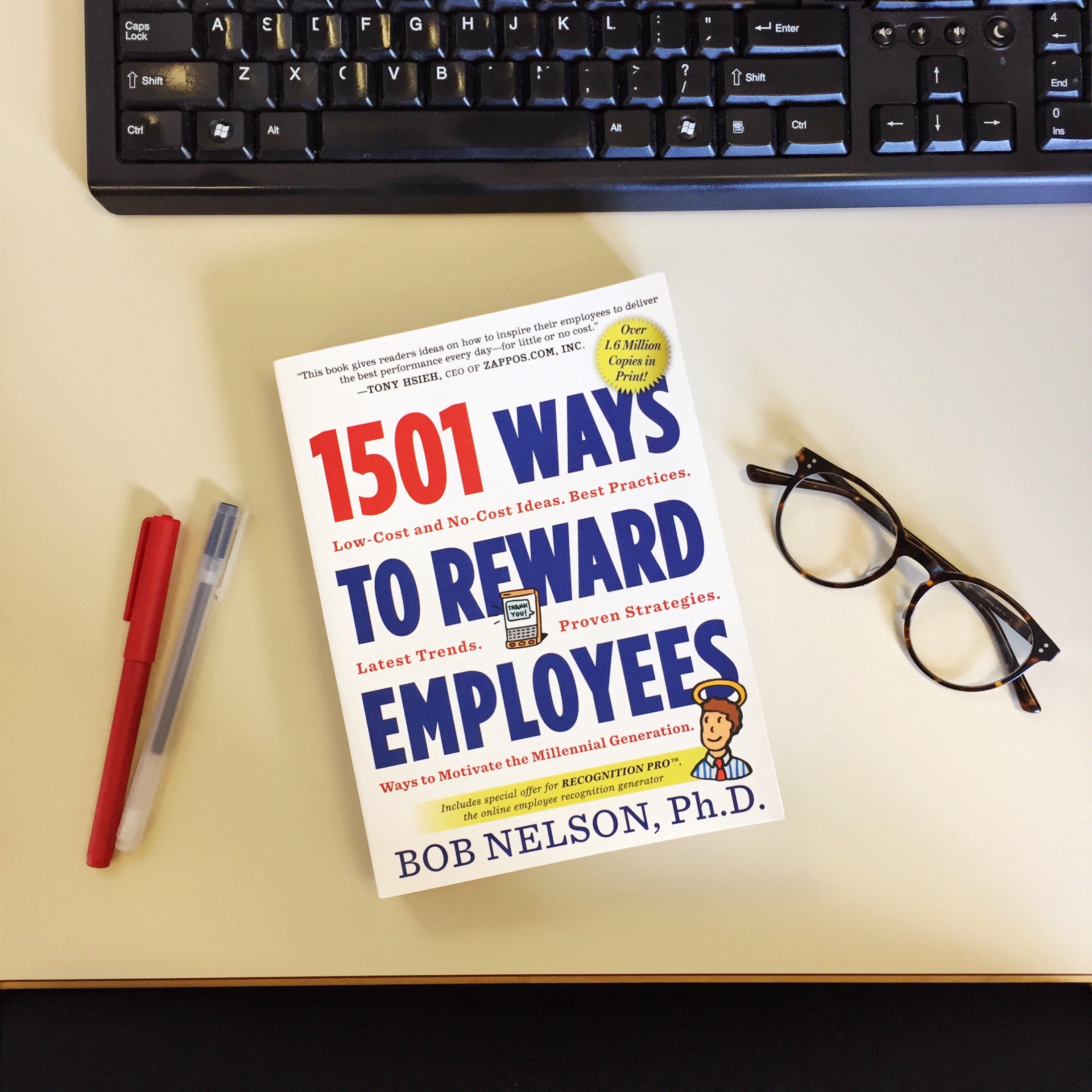 Nothing could be further from the truth.  People want to contribute, to do their best and to be acknowledged for that effort when they are successful. And the ways they'd like to be acknowledged are very diverse.  For example, 9 percent of employees would like to be thanked for doing a good job by being given more responsibility. Or more visibility, flexibility, autonomy, choice or involvement.  Giving them those things doesn't require spending a dime.
Yes, money is important (we all need to pay our bills), but once you can meet your basic needs, our attention tends to turn to higher-order motivators of being part of something larger than oneself or being held in high esteem by one's peers and leaders or challenging oneself to overcome obstacles and barriers to reach new heights at work.
We also need to STOP doing those things that demotivate workers, 34 percent of whom report that the things their company does to recognize them actually demotivate them instead.  Things like years-of-service awards, Employee-of-the-Month programs, birthday parties, holiday celebrations, and so forth.  Often such programs are set up with the best of intentions but along the way lose their luster and often become a joke.
What good is having a service award for 5-, 10-, 15- and 20-year employee anniversaries when the average Millennial (the largest sector of today's workforce) tenure is 1.8 years? Or a once-a-month, one-person quota for excellence when in reality you need EVERY employee to do their best EVERY month??
The book struck a nerve in America and has gone through 64 printings to date with close to 2 million copies in print domestically as well as translations in over 30 languages around the world. Along the way, we expanded and updated examples and provided greater context for the topic to show that recognizing your employees is no longer optional. The revised version, entitled 1,501 Ways to Reward Employees, is still available from wherever books are sold.
Employee motivation is a moving target and the challenge is ongoing wherever you work. Keep working on it where you work to make work a better, more fulfilling experience for everybody.
* * *
Bob Nelson, PhD, is the leading advocate for employee recognition and engagement, president of Nelson Motivation Inc. (www.nelson-motivation.com) and a founder of Recognition Professionals International. His books have sold over 5 million copies and, in additional to 1,501 Ways to Reward Employees, include The 1,001 Rewards & Recognition Fieldbook, 1,001 Ways to Engage Employees, 1,001 Ways to Energize Employees, and 1,001 Ways to Take Initiative at Work. He frequently presents for management teams, conferences and associations about strategies for better motivating today's employees. You can contact him directly at bob@drbobnelson.com or by phone at (858) 673-0690.
More about 1501 Ways to Reward Employees: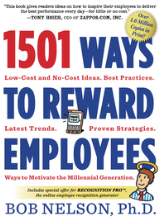 Adapted to meet the needs of an evolving workplace—especially to deal creatively with virtual employees, freelancers and permalancers, international colleagues, and the rule-bending expectations of millennials—its 1,501 low-and no-cost rewards and strategies are drawn from thousands of companies across the globe. Ideas range from the informal (Wells Fargo's thank-you e-cards) and the offbeat (JS Communications two free "I Don't Want to Get Out of Bed" Days) to the formal (J. C. Penney "affirms" new managers in a moving ceremony) to the totally nutty (the legendary honor of having your office "sodded"—literally, grassed over—at Microsoft). For bosses, managers, entrepreneurs, small-business owners, consultants—anyone who's responsible for working successfully in an ever-tougher economy—this is the rewards bible.
Buy the Book
Amazon | B&N | Indiebound | Workman