Ebook Deals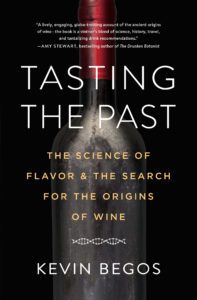 Tasting the Past
by Kevin Begos
History
After a chance encounter with an obscure Middle Eastern red, journalist Kevin Begos embarks on a ten-year journey to seek the origins of wine. What he unearths is a whole world of forgotten grapes, each with distinctive tastes and aromas, as well as the archaeologists, geneticists, chemists—even a paleobotanist—who are deciphering wine down to molecules of flavor. In this viticultural detective story wine geeks and history lovers alike will discover new tastes and flavors to savor.
$2.99 $19.95
Amazon » Barnes & Noble » iBooks » Kobo » Google Play »
Promo ends 2/28/2019

Cannibalism
by Bill Schutt
Science & Nature
For centuries scientists have written off cannibalism as a bizarre phenomenon with little biological significance. Here, zoologist Bill Schutt sets the record straight, debunking common myths and investigating our new understanding of cannibalism's role in biology, anthropology, and history in the most fascinating account yet written on this complex topic. Cannibalism places a perfectly natural occurrence into a vital new context and invites us to explore why it both enthralls and repels us.
$2.99 $15.95
Amazon » Barnes & Noble » iBooks » Kobo » Google Play »
Promo ends 2/28/2019

Home Barista
by Simone Egger
Food & Drink
More than 100 million Americans start each day with a cup of coffee (many at no small price)! It's a fact : We love coffee. Now, in The Home Barista, two professionals reveal the secrets to brewing coffee worthy of the priciest cafés right in your own kitchen. Connoisseurs Simone Egger and Ruby Ashby Orr enlighten readers with insights and advice from crop to cup and beyond. Savvy, smart, and charmingly designed, The Home Barista guides you through the essentials—from understanding your bean's origins and establishing your palate to perfecting your technique.
$1.99 $14.95
Amazon » Barnes & Noble » iBooks » Kobo » Google Play »
Promo ends 2/28/2019

Vitamin N
by Richard Louv
Health & Wellness
From Richard Louv, the bestselling author who defined the term "nature-deficit disorder," Vitamin N (for "nature") is a complete prescription for connecting with the power and joy of the natural world right now, Vitamin N is a practical guidebook for the whole family, offering parents eager to share nature with their kids tips, activities, and ideas for young and old alike.
$1.99 $15.95
Amazon » Barnes & Noble » iBooks » Kobo » Google Play »
Promo ends 2/28/2019