Reduce the sugar, but keep that sweet blueberry flavor.
Juicy, sweet blueberries are the stars in this classic summertime pie. No added sugar is required! A touch of cinnamon complements the berries, and lemon zest adds brightness. It's delicious with a dollop of Maple-Vanilla Whipped Cream for a treat. The dough cutouts are optional, but if you wish to make them, save the scraps from the crust (or use an extra crust), roll them out to an 1⁄8-inch thickness, and cut out shapes with cookie cutters.
Excerpted from Half the Sugar, All the Love by Jennifer Tyler Lee and Anisha Patel, MD. MSPH (Workman Publishing). Copyright © 2020. Photographs by Erin Scott.

Ingredients
I prepared (9-inch) pie crust, homemade (page 203) or store-bought
7 cups blueberries (about 36 ounces)
3 tablespoons cornstarch
2 teaspoons nely grated lemon zest
11⁄2 teaspoons ground cinnamon
1⁄2 teaspoon salt
1 teaspoon pure vanilla extract
1 large egg
Maple-Vanilla Whipped Cream (page 199), for serving (optional)SERVES 8
Preheat the oven to 400°F.
Place 4 cups of the blueberries in a saucepan set over medium heat. Cook, smashing occasionally with a wooden spoon or potato masher, until mostly broken down and reduced, 15 to 20 minutes. Let cool completely.
Meanwhile, combine the remaining 3 cups blueberries with the cornstarch, lemon zest, cinnamon, salt, and vanilla in a large bowl. Add the cooled cooked blueberries and stir to combine. Transfer the mixture to the pie crust.
Whisk together the egg and 1 tablespoon water in a small bowl to make an egg wash. Brush the egg wash on the edges of the pie crust (and the dough cutouts, if using).\
Place the pie on a rimmed baking sheet (if using the dough cutouts, arrange them on top of the filling) and bake for 25 minutes. Reduce the oven temperature to 350°F and continue to bake until the crust is golden brown and most of the blueberry liquid has evaporated, 15 minutes more. Remove from the oven and cool completely, 2 hours. (Because this pie has no added sugar, it takes more time to fully set.) Slice and serve with the whipped cream, if you like.
Quick Tip:
Use a store-bought pastry crust to cut down on time. Choose one with no added sugar if possible.
NUTRITION INFORMATION (1 SLICE):
Calories: 256 | Added sugar: 0 teaspoons or 0g | Carbohydrates: 34g | Sodium: 303mg | Saturated fat: 26% of calories or 7g | Fiber: 4g | Protein: 4g
More About Half the Sugar, All the Love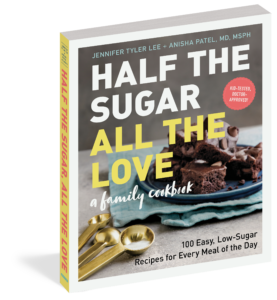 "Delicious recipes. Jennifer and Anisha have just the right idea on how to reduce unnecessary sugar from our diets, and more importantly, our kids' diets."—TRACY, DANA, LORI, and CORKY POLLAN, authors of the New York Times bestselling Mostly Plants and the award-winning The Pollan Family Table
Would you feed your child a candy bar for breakfast? Of course not. And yet today our children routinely consume three times the recommended daily allowance of added sugar, which puts them at an unprecedented risk for type 2 diabetes, high blood pressure, high cholesterol, excess weight, and even nonalcoholic fatty liver disease. Half the Sugar, All the Love is here to help, with 100 doctor-approved recipes that cut the sugar (by half—or more!) without sacrificing the flavors our families love. It's an eye-opening education, a program of healthy eating, and a cookbook chock-full of easy, delicious recipes all in one.
Buy the Book
Amazon | B&N | Indiebound | Workman