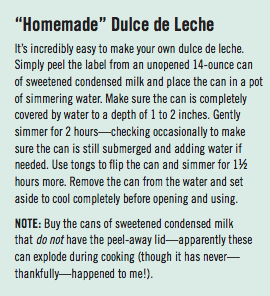 Excerpted from Raquel Pelzel's Sheet Pan Suppers Meatless.
Buy the Book
Amazon | B&N | Indiebound | Workman
Traditions are nice, but it can also be really fun to break them. One Thanksgiving, I had family in town from out of the country and I made the wackiest feast—grilled turkey with Korean barbecue sauce, roasted sweet potatoes with Indian spices, and these fantastic Dulce de Leche Pumpkin Pie Squares—they have a delicious graham cracker crust and a dense, sweet, pumpkin-y filling. The dulce de leche caramel adds an extra dimension of complexity and decadence.
Dulce de Leche Pumpkin Pie Squares
Ingredients
½ cup (1 stick) unsalted butter, melted, plus 1 tablespoon unsalted butter, at room temperature
1 box (14.4 ounces) graham crackers
¾ teaspoon kosher salt
1½ cups packed dark brown sugar
1 tablespoon ground cinnamon
1 tablespoon ground ginger
¼ teaspoon freshly grated nutmeg
¼ teaspoon ground cloves
1 can (15 ounces) pumpkin puree (not canned pumpkin pie mix)
1⅓ cups buttermilk
4 large eggs
1½ cups (about 14 ounces) dulce de leche, homemade (see box above) or store-bought
Lightly sweetened whipped cream, for serving
Instructions
Adjust an oven rack to the middle position and preheat the oven to 350°F. Grease a 10 x 16-inch rimmed baking sheet with the tablespoon of room-temperature butter and set aside.
Place the graham crackers in the bowl of a food processor and process into fine crumbs. Add ¼ teaspoon salt, pulse 2 times, and add the melted butter. Pulse until the mixture is well combined and holds together when pressed, about eight (1-second) pulses. Turn the crumbs out onto the prepared baking sheet and, with the bottom of a measuring cup, press them to the edges of the pan in a solid even layer. (Don't worry about working the crumbs up the sides of the pan.) Bake the crust until it feels firm and somewhat dry on the surface, about 8 minutes.
Wipe out the food processor with a damp paper towel. To the processor, add the brown sugar, cinnamon, ginger, nutmeg, cloves, and remaining ½ teaspoon salt and process until smooth. Add the pumpkin, buttermilk, and eggs and process until well combined.
With a butter knife or an offset spatula, evenly spread the dulce de leche over the crust. Pour the pumpkin filling over the top, shaking the pan to disperse it evenly.
Bake the squares until the center jiggles only slightly when tapped, about 30 minutes. Cool completely before slicing crosswise into 28 bars. Serve with a dollop of whipped cream. The bars will keep in an airtight container in the refrigerator for up to 3 days (the crust will become softer the longer the bars are stored in the fridge).