A Conversation with Nancy Rose, author of Oakley the Squirrel: The Search for Z

Photographer Nancy Rose lives in Hubley, Nova Scotia, Canada and is a retired high school guidance counselor and proud grandmother. She is rarely without a camera and sees subjects everywhere. Nancy's squirrel pictures have been featured in several magazines internationally and on numerous websites, such as the Washington Post, Amusing Planet, BuzzFeed, PetaPixel, and the Daily Mail in the UK, and she has been interviewed on CBC, CTV, and Global TV; occasionally, her squirrels were happy to make an appearance.Nancy is the author of The Secret Life of Squirrels calendars and Oakley the Squirrel: The Search for Z . Find out more about Nancy Rose at secretlifeofsquirrels.com/.
Where did the idea for this photo series come from?
I have always laid out birdseed and nuts in my backyard and I loved taking photos of the birds and squirrels who came to snack. One day, a squirrel sat on top of a pumpkin holding onto the stem, and he reminded me of a captain steering a ship. Then I thought, "Wouldn't it be amazing if I had a little boat for him to pose on?" I never did find a boat—instead, at the suggestion of a friend, I made a little mailbox out of card stock, decorated it, and added some tiny envelopes for Valentine's Day. I hid peanuts inside the mailbox, and as the squirrel sifted through the "mail," I waited for just the right "pose." He came along searching for the nuts and I was able to capture a shot of him "mailing the letters." The photo was a big hit on Flickr and it inspired me to photograph and build more sets and props. Shortly thereafter, I compiled a calendar for my family and friends using seasonal props such as Easter eggs, Christmas trees, and Halloween pumpkins.
What is your process for making the miniatures?
Crafting has always been a treasured hobby of mine, and over the years I have built quite the supply in my craft room. Sometimes an idea just pops into my head, and I can almost always bring it into reality! The washer and dryer were made of empty milk cartons cut and folded into shape and covered with paper. Most times I don't really have a full idea of what I'm making—it just develops as I go along. There's a lot of trial and error. I might take some photos and then decide to add more details and change the props a bit. Every setting has to function as a "still life" on its own before the squirrel enters the scene, and I need to think about how the squirrel will likely behave, like whether it will stand to look into the washer or peek into the dryer.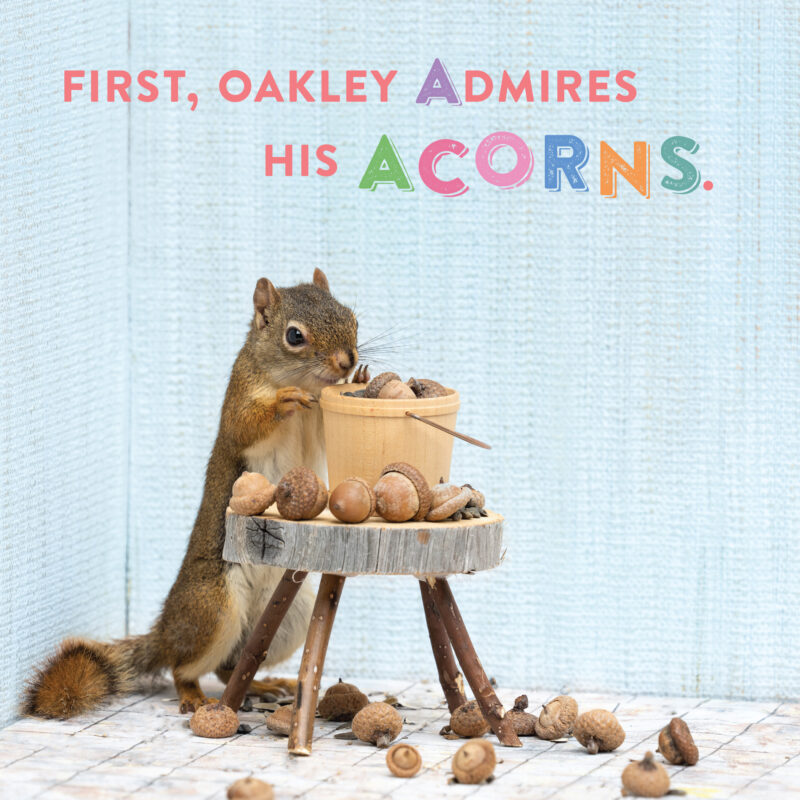 Why squirrels?
Squirrels are so curious and cute, and they can stand in poses that are almost humanlike. Blue jays also come to take the peanuts from my sets, but they don't pose the same way.
How did you first become interested in photography?
I bought my first film camera when I was in high school and loved taking pictures. Unfortunately, film was very expensive, and that forced me to be frugal with my photography, resulting in taking fewer photos than I wanted. In 2007, my son signed me up for a photography class using a digital camera, and my interest was rekindled. I could finally afford to take lots and lots of photos, and this helped me learn and improve.
What do you love most about photography?
Photography is like meditation to me—I become immersed in what I'm doing and time seems to fly by. I loved to paint and draw, but was never that great at it, but with photography, I can express myself creatively. It is also a terrific exercise for the mind since there is always so much more to learn. My husband and I love to travel, and photography helps preserve memories of all our trips.
What's the funniest thing you've seen a squirrel do while you were shooting for Oakley the Squirrel?
Recently when taking photos of the picnic basket scene, I watched Oakley repeatedly lift and tip the tiny basket so the seeds would fall out and he could get at them more easily. I would have to refill it and reposition it in my scene, and he would just tip and dump it all over again. Another pal of mine is Mr. Peanuts! I found a small ceramic bathtub which was the perfect size for him. I made a tiny yellow rubber ducky out of cornstarch play dough and sat it on the side of the bathtub. To keep it in place, I inserted a toothpick through the ducky and down into a tiny "towel" draped over the edge of the tub. The squirrel came along and bit into the duck and carried it off, with the towel trailing along behind. He carried it up a huge pine tree, and just when I thought it was gone forever, along came a blue jay who knocked it down to the ground, where I was able to find it and set itall up again.
Is there a particular scene you can't wait to build and photograph next?
I recently made a red barn for a background prop and made some bales of hay to go in a wagon for a hayride scene, so I am waiting for good weather to get some shots of them together. I would like to make a hot dog stand and re-shoot some camping scenes with a tent.
How did you come up with the name "Oakley," and why an ABC book?
Mr. Peanuts came when I called "Peanuts!" so that was easy. My yard is filled with oak trees and the squirrels love the acorns, so "Oakley" seemed cute and appropriate. As a retired teacher, and now a grandmother of two little boys, I always loved alphabet books and early reading books, and the idea of searching through the alphabet seemed to work well with the variety of photos I already had, though actually most of them are new ones for the book. I hope this one can inspire some kids to love reading and crafts, and also to get out and enjoy nature.
What are your favorite materials to use?
I love using natural materials like sticks to build my wooden furniture, but I also use popsicle sticks a lot. I'm big on recycling, so I am always collecting little bits and bops that look like they might have potential. I use self-hardening clay to make small objects, like the rubber boots, sneakers, and umbrella stand. And recently I discovered a "KERDI-BOARD" left over from a bathroom renovation my husband was doing, and it was perfect for the red barn and old-fashioned truck.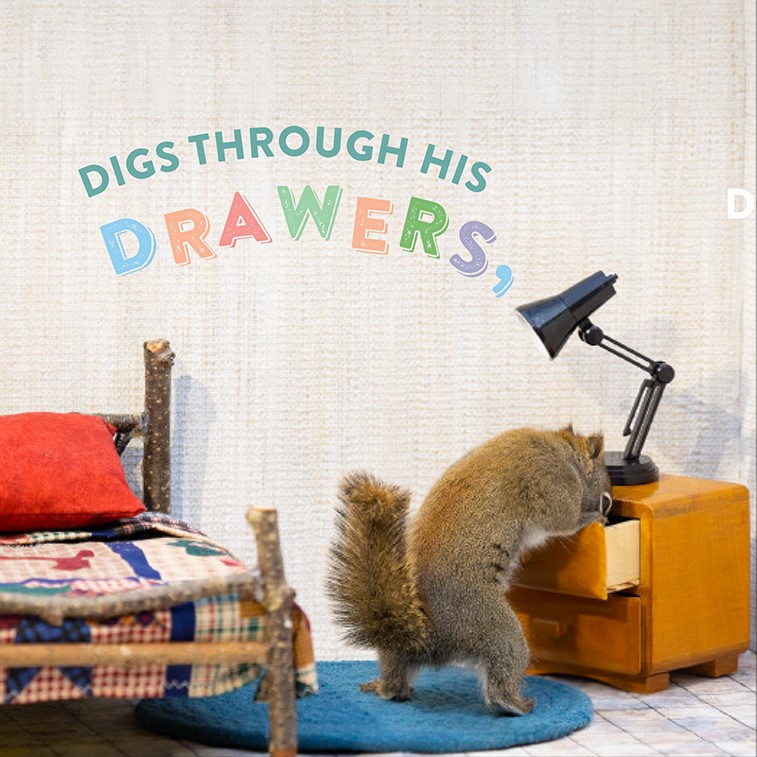 Will any other animals get their close-ups?
As soon as I set up my little props and put peanuts out, I get a few blue jays and sometimes chickadees and chipmunks competing for the seeds and nuts. Blue jays are peanut hoarders! They are constantly taking all of the nuts, so I have to keep refilling the scenes. At first it was upsetting because peanuts were so expensive, but then I realized it was a small price to pay for all the laughter and joy they bring. This summer the chickadees outnumbered the squirrels, so I have as many photos of them as I do with squirrels. There are also ring-necked pheasants, the occasional pair of black ducks, and numerous deer who visit my backyard, but they are outside my fenced area where I put out the props. My friends call me Nancy Dolittle.
More About Oakley the Squirrel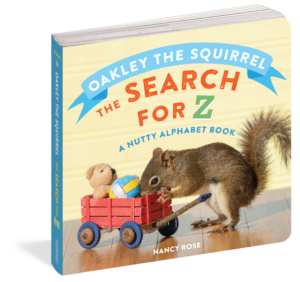 The letter Z is missing! Help little Oakley find it in this charming picture book with photos of real squirrels!
Oakley the Squirrel: The Search for Z is an alphabet book like no other. In it, we meet Little Oakley as he embarks on a quest to find the letter Z. He searches through an alphabet of human objects—looks beneath the Bed, claws through the Closet, digs through Drawers, examines his Easel, and so on. By the time he gets to a basket of yarn, Oakley starts to yawn, and soon falls asleep. And Z—as in, Zzzzzz!—appears!