This is the secret to the Eat Offbeat hummus recipe.
If you're interested in the authentic hummus recipe that put Eat Offbeat on the map, look no further! The recipe below is excerpted from The Kitchen without Borders. Copyright © 2021 by Workman Publishing. Photography © 2021 by Penny De Los Santos.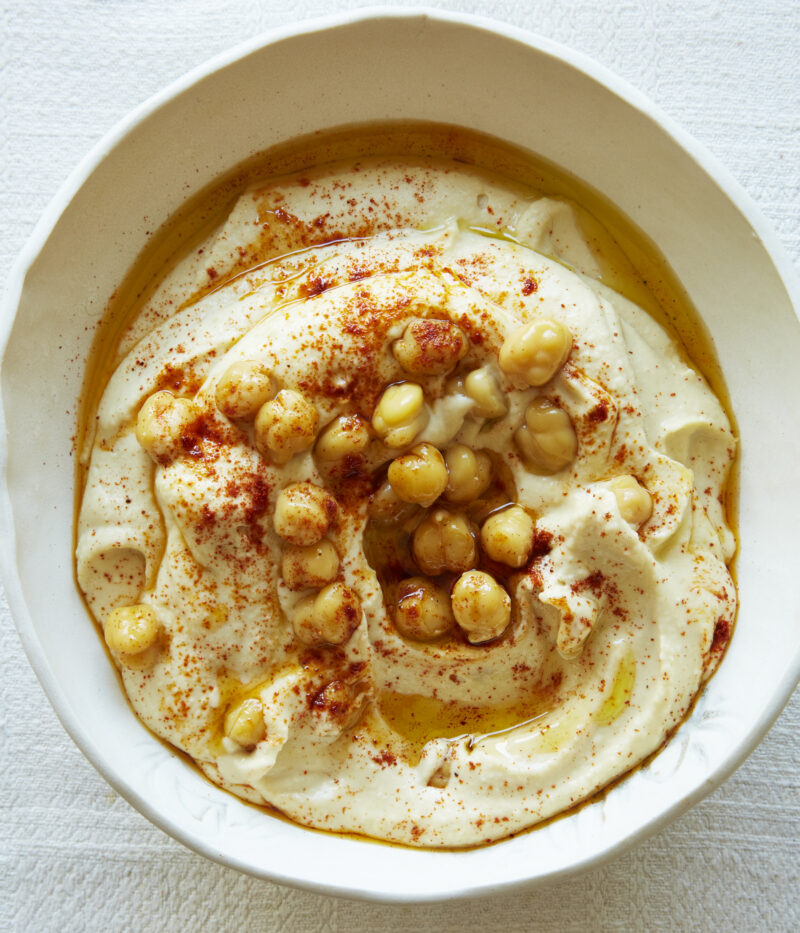 Hummus
Chef Manal • Lebanon
Chickpea dip with tahini and lemon. Serves 6 to 8 as an appetizer.
Hummus was the recipe that started Eat Offbeat. When co-founder Manal first moved to the States, she could not find any version available in New York City that came close to her family's recipe, so she started to make and serve the version passed down from her grandmother. Though it's ubiquitous, hummus is a very contentious food—this recipe is the one that Manal likes best. Some purists may suggest that you peel the chickpeas to get a smoother, whiter consistency, but Manal's grandmother claims all the nutrients are locked in the skins. Process this hummus until it's silky smooth and serve with fresh pita.
INGREDIENTS
1 cup dried chickpeas
5 garlic cloves, peeled and roughly chopped
3 tablespoons lemon juice
1 tablespoon extra virgin olive oil, plus more for serving
3/4 cup tahini
2 teaspoons kosher salt, plus more as needed
2 tablespoons plain yogurt
A pinch of ground cumin, plus more for garnish
Ground paprika, for garnish
INSTRUCTIONS
Place the chickpeas in a medium bowl and add water to cover. Let soak 6 to 8 hours, then drain.
Place the chickpeas in a large pot and cover them with fresh water. Set the pot over medium-high heat and simmer until the chickpeas are soft but not yet mushy, at least 30 minutes. Drain the chickpeas.
Reserve a few cooked chickpeas for garnish, if desired. Place the remaining chickpeas, garlic, lemon juice, olive oil, tahini, salt, yogurt, and a pinch of cumin in a food processor. Pulse until blended and creamy, about 30 seconds. Add more salt to taste, if desired.
Serve with a dusting of cumin and/or paprika, a drizzle of olive oil, and any reserved cooked chickpeas on top
More About The Kitchen Without Borders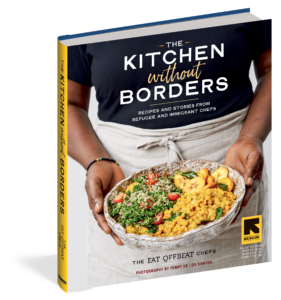 Refugees By Status, Chefs By Calling
Founded in November 2015 by a brother and sister who came to New York from the Middle East, Eat Offbeat is a unique catering company staffed by refugee and immigrant chefs who have found a new home, and new hope, for their lives. Now, in 70 authentic, nourishing recipes, with roots and soul that run as deep as their flavors, The Kitchen without Borders brings the culinary traditions of fourteen chefs from around the world including Syria, Iran, Eritrea, and Venezuela, right to our tables.
Discover delicious, unexpected flavor combinations, and ingredients—like sumac, pomegranate molasses, tahini—that will enhance the repertoire of any home cook or adventurous eater. Here is Iraqi Biryani, a rice dish combining vegetables and plump dried fruits with warming spices. Or an irresistibly cooling yogurt and fresh mint drink native to Afghanistan, known as doogh. Gorgeously smooth Syrian hummus, the original inspiration for Eat Offbeat. And Chari Bari, hand-formed meatballs simmered in a Nepali-spiced tomato and cashew sauce.
More than a celebration of delicious foods from around the world, this recipe collection—with its intimate chef profiles and photographic portraits—allows people who have been displaced to share their cherished cuisines, in their own words. And it makes a thoughtful, inspiring gift for any home cook, for anyone concerned about or affected by the world's refugee crisis, or for anyone who understands the profound link between food, home, and keeping traditions vibrantly alive.
*From March 1, 2021, to March 1, 2022, (including any preordered copies that ship during this period), Workman Publishing will donate 2% of the cover price for every copy of The Kitchen without Borders cookbook sold in the United States and its territories, the United Kingdom, Canada, Australia and European Union member states, to the IRC, a not-for-profit organization dedicated to providing humanitarian aid, relief and resettlement to refugees and other victims of oppression, conflict, or disaster with a minimum contribution of $25,000 USD. For more information, visit rescue.org/cookbook and workman.com/kwob. No portion of the purchase price is tax-deductible. For additional information about the IRC, see rescue.org