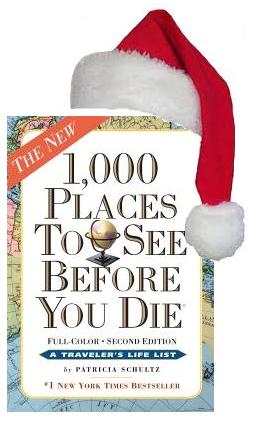 The brand new edition of 1000 Places to See Before You Die makes great reading any time of year, but during the holiday season, there's the added magic of imagining all the places around the world where you could be celebrating Christmas.  Here are five destinations from the book where you might be especially excited to find yourself on December 25th:
You could journey to Santa Claus Village in Rovaniemi, Finland the gateway to Finnish Lapland and the closest a kid can get to the North Pole he or she's always pictured.  Marvel at the elves' toy factory and the 700,000 or so letters from children that wind up here each year.
All over Germany and Austria, Christkindlmarkts host carolers, baked goods, and old-fashioned (as in, Medieval) Christmas spirit.  Nuremberg and Dresden's markets are the oldest in Germany, while Munich's is one of the largest.
For the diehards, don't rule out a pilgrimage to Bethlehem in the Palestinian territories, where a 15-point star in the Grotto of the Nativity marks what is thought to be the site of Jesus's birth.
Stateside, Christmas in New York City wouldn't be complete without the gigantic tree in Rockefeller Center, twinkling beside (and towering above) a small ice rink where you can rent skates.
Like the Rockefellers with Rockefeller Center, we have the Vanderbilt family's largesse to thank for The Biltmore, an Asheville, North Carolina estate (built in 1895 and still the largest private residence ever built in the country!) that now houses an inn as well as extensive holiday festivities, including visiting choirs, candlelight tours, and crackling fireplaces.
Read about all these destinations, along with hundreds more for the other 364 days of the year, in Patricia Schultz's book, now in a full-color second edition.