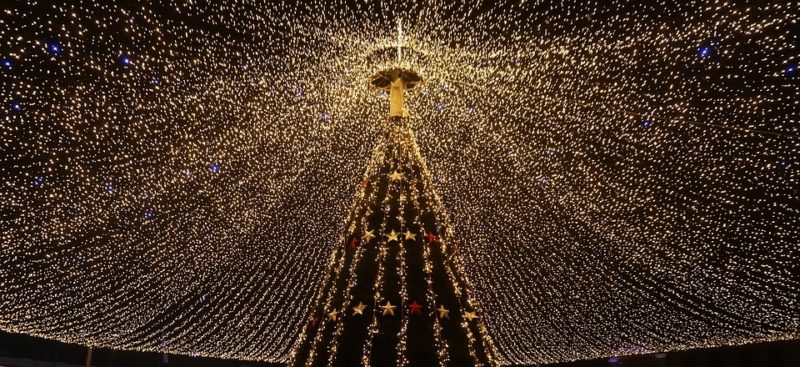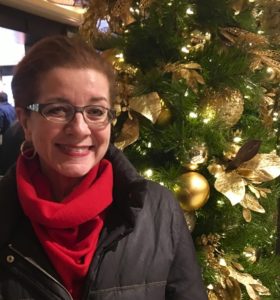 Bustling open-air Christmas markets, bright with smiles and twinkling lights, are in full swing around the world (as a New Yorker, I love the best of ours in Bryant Park), celebrating the four weeks of Advent that precede Christmas. Their origins can be traced back to the Middle Ages, particularly in Germany, Austria, and Switzerland where many of them—and countless others beyond their borders—are still held in the same town squares lined with centuries-old buildings and considered some of Europe's finest.
These annual Christkindlmärkte (literally: Baby Jesus Markets—also called Weihnachtsmärkte, or Christmas markets) guarantee a perfect setting to embrace the Yuletide season. There's fun, cheer, and festivity in the air (and the scent of cinnamon and spices), with lots of shopping to be had at stalls selling handmade crafts and lots of eating to be enjoyed from stalls offering sweet and savory seasonal specialties. And always lots of glühwein, hot mulled wine, to keep the wintertime chill at bay.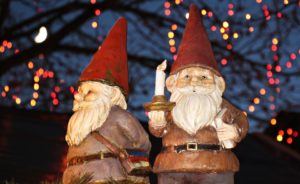 I have chosen just five (Vienna, Tallinn, Zagreb, Prague, and Nuremberg)—an impossible task, given the range of perennial favorites you may have heard about, such as those held in Krakow, Dresden, Copenhagen's historic amusement park Tivoli Gardens, Strasbourg (France's oldest), and Budapest's Vörösmarty Square. Start planning now for next year's visit—and don't forget to consider a week-long cruise along the Danube or Rhine rivers, one of the most relaxing and enjoyable ways to experience a varied number of these wonderful markets large and small.

Vienna, Austria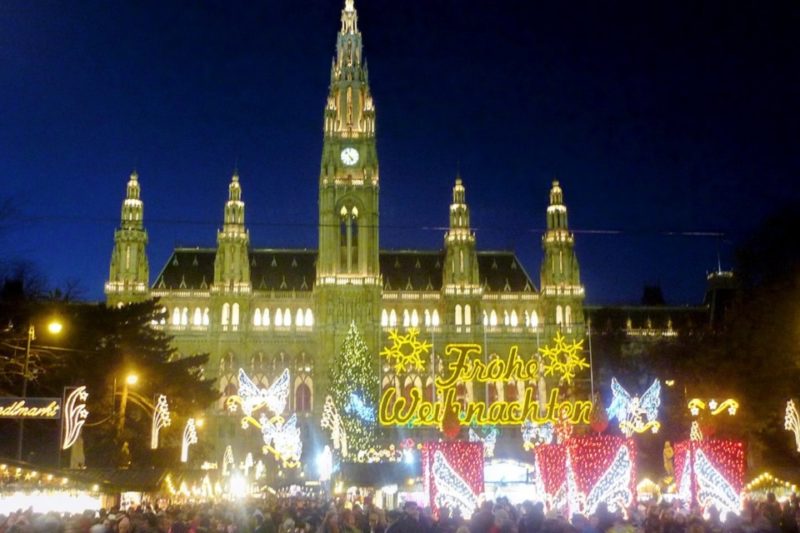 Austria's beautiful capital city is home to no fewer than twenty Christmas markets! But first-timers start at the largest, held in front of the imposing neo-Gothic Town Hall, or Rathaus, whose illuminated façade makes the setting especially magical. The market dates back to 1298—making it possibly Europe's oldest on record—though it has invariably grown in size to include Christmas music concerts, a carousel, and a neighboring ice rink for skating and curling. More than 150 stalls sell traditional wooden and glass ornaments and decorations, and all kinds of artfully packaged cookies and sweets that make fine gifts for those back home. Top off your visit with a mug of Weihnachtspunsch, a spiced Christmas punch of wine, brandy, or schnapps sweetened with warm fruit juices. Then head to the smaller neighborhood market in charming Spittelberg to continue your merry-making.

Tallinn, Estonia
Although Tallinn will feel off the beaten track as a Christmas market destination for many, the small Baltic capital has put up the country's largest Christmas tree in the heart of its beautiful Town Hall Square, one of the world's best preserved, since 1441—records say it was the first ever displayed in Europe. There are only a few dozen specialty stalls, but the inviting, permanent shops lining the square and the surrounding streets augment the spirit, as will a cup of hot Vana Tallinn (meaning Old Tallinn), a local rum-based liquor flavored with vanilla and cinnamon. Locals say it is best when paired with another local specialty, black pudding and sour cabbage. Estonians are known for their love of song, and Christmas concerts are frequent. And kids never miss a chance to visit Santa in his own snug little house.

Zagreb, Croatia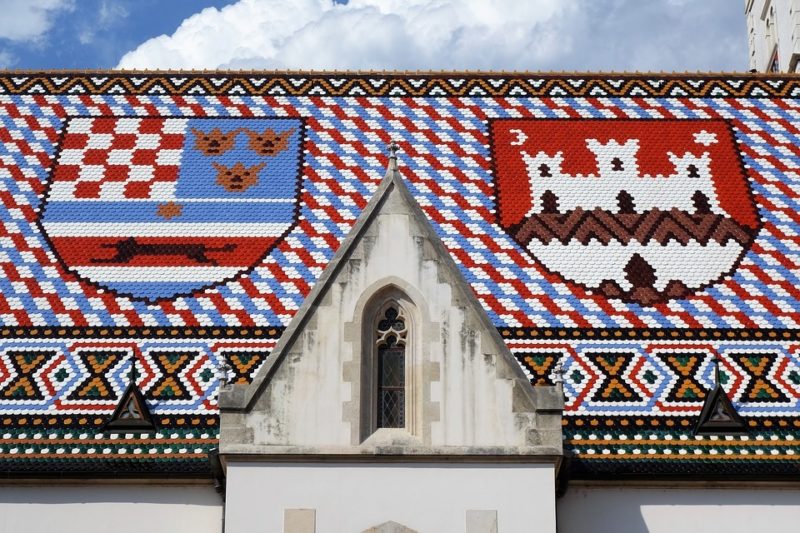 It wasn't long ago that Zagreb was off the radar when discussions turned to winter holiday destinations. But the word is out and this "Paris of the Balkans" is becoming as popular at Christmas time as its island-studded Croatian coast is in summer. From the live nativity scene at Zagreb Cathedral to Park Zrinjevac (listen to live music concerts at the park's music pavilion while sampling traditional goods like krpice sa zeljem—pasta with cabbage—or homemade štrukle, a baked strudel-like pastry with soft cheese) to the ice skating at King Tomislav Square, the entire city goes all-out for the Advent season. There is also a 30-minute Merry Christmas Tram starting from Jelačić Square that takes you past the season's many highlights in one of the city's oldest trams.

Prague, Czech Republic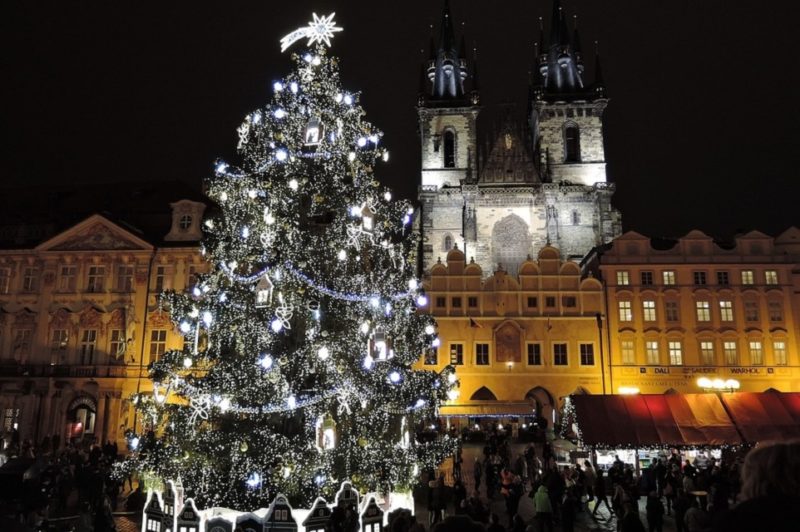 The Czechs are masters at creating a winter wonderland at their two main vánoční trhy  (Christmas markets) and many smaller ones found throughout their holiday-loving capital city. The spotlight shines on the Old Town Square, with its manger scene, small petting zoo, and a giant Christmas tree at its heart. Wooden stalls draped with Christmas lights sell local handicrafts (from handmade puppets and toys to painted pottery) and all sorts of delicious drinks (the city is world-famous for its beer) and food from local producers: roasted ham, klobása sausages, honeyed gingerbread, and the cylindrical-shaped "trdelník," a sugar-coated pastry. It is an easy 10-minute stroll to the market at Wenceslas Square, named after Good King Wenceslas. And watch out for Saint Nick, who wanders around town with his helpers, especially on his name day, December 5.

Nuremberg, Germany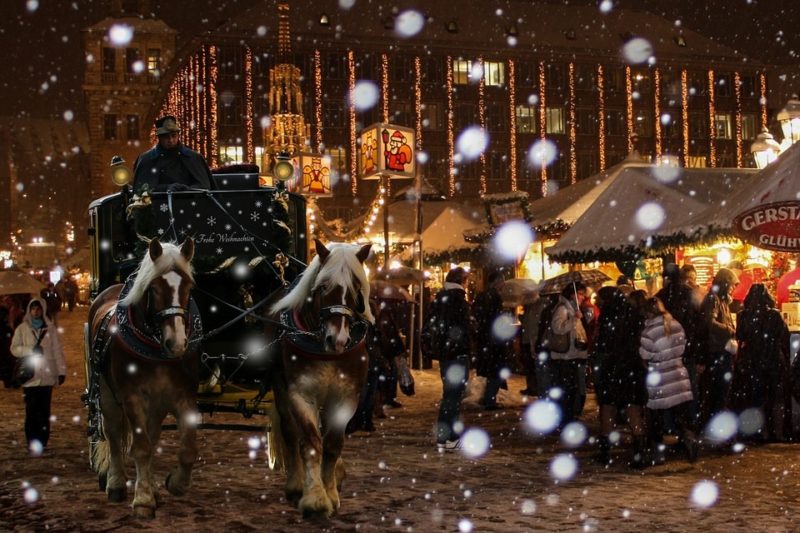 Germany boasts a proliferation of well-known markets such as those in Cologne, Munich, Dresden (the country's oldest), Berlin, and elsewhere. But Nuremberg's market is recognized as both its most visited and most traditional—there's plenty of grilled bratwurst (they're finger-size, so one bun accommodates three!) and gingerbread, or lebkuchen, to go around. Forget Santa—it is a local crown-wearing teenager representing Christkind (Christ Child), first mentioned in the early seventeenth century, who kicks off the season at this market. Visitors enjoy a busy schedule of children's choirs, brass band concerts, and a ride in a Clydesdale-pulled stagecoach along the cobbled streets. You won't leave without having noticed the stalls (many of them over one hundred years old) selling Zwetschgenmännla, or Prune Men, peculiar souvenirs made of dried plums.
And don't forget to check out the book!
About the Book:
The world's bestselling travel book is back in a more informative, more experiential, more budget-friendly full-color edition. A #1 New York Times bestseller, 1,000 Places reinvented the idea of travel book as both wish list and practical guide. As Newsweek wrote, it "tells you what's beautiful, what's fun, and what's just unforgettable—everywhere on earth." And now the best is better. There are 600 full-color photographs. Over 200 entirely new entries, including visits to 28 countries like Lebanon, Croatia, Estonia, and Nicaragua, that were not in the original edition. There is an emphasis on experiences: an entry covers not just Positano or Ravello, but the full 30-mile stretch along the Amalfi Coast.
Every entry from the original edition has been readdressed, rewritten, and made fuller, with more suggestions for places to stay, restaurants to visit, and festivals to check out. And throughout, the book is more budget-conscious, with starred restaurants and historic hotels such as the Ritz, but also moderately priced gems that don't compromise on atmosphere or charm.
The world is calling. Time to answer.
Buy the Book
Amazon | B&N | Indiebound | Workman