After what seemed like an eternity of staying close to home due to the global health crisis, I finally felt that restrictions had loosened enough to permit a safe trip to Romania and Bulgaria, a corner of Eastern Europe that had long intrigued me. Although I don't fancy myself a country counter—and I question those who travel merely to check off boxes on a travel list—I realized that these were the last two countries I had not yet visited of Europe's 51 sovereign states—a list ranging from the largest, Russia, to the smallest, Vatican City. That list is now complete! (The number of states differs depending on the source; for example, the United Nations only recognizes 44 sovereign states.)
Located in the southeast corner of Europe in the scenic Balkan region (and two of six countries that border the Black Sea), Romania and Bulgaria are as similar as they are different, with fascinating cultures, and complex histories of invasions and foreign rule, whose rugged terrain and strategic position have helped preserve their heritage and traditions. Formerly satellite states of the Soviet Union, both are now independent and members of NATO (2004) and the European Union (2007). Romania and Bulgaria are often overlooked by the average tourist—a reason they appeal to curious travelers—yet these countries offer UNESCO World Heritage Sites, millennia-old ruins, extravagant palaces and castles, hilltop citadels, and medieval monasteries covered in luminous frescoes inside and out. And one cannot discount the timeless allure of Count Dracula, inspired by a historical figure who hailed from the forested mountains of Romania's Transylvania.
Bulgaria, the smaller and more commonly overlooked destination of the two neighboring countries, was our first stop, its compact capital of Sofia (population 1.2 million) blissfully void of tourists and feeling like one of Eastern Europe's best-kept secrets. Upon arriving at our hotel, a call to prayer from a nearby mosque was a reminder of the city's small Muslim community, a remnant of five centuries of Ottoman rule. During an introductory walking tour that afternoon, we passed by mosques, Orthodox churches, and a synagogue all within a few steps.
Sofia, located at the crossroads between Europe and Asia (Bulgaria borders Greece and Turkey in the south), is a busy, but laid-back city of wide, tree-lined boulevards and pleasant parks and sits on layers of history. The recently excavated complex of Serdica, the original name given to Sofia when it was founded by the Thracian tribe in the 8th century BCE, displays ruins from its zenith of the once-great imperial Roman city in the 4th century CE. Stunning treasures from its rich past fill the nearby Archaeological Museum that is housed in a 15th-century mosque. The tiny Church of Sveti Georgi Rotunda, built in the 4th century, is offset by one of the city's newest and most impressive churches: the nearby grand neo-Byzantine Aleksander Nevski Cathedral, completed in 1912 and one of the largest Orthodox churches in Christendom.
The most celebrated of Bulgaria's religious sites is the Rila Monastery, ringed by mighty walls and rising out of a forested valley two hours outside the city. Founded in the 10th century to keep the country's spiritual and cultural identity alive during rigid Turkish rule, it was largely rebuilt in the 18th century following a fire and is the country's largest Orthodox monastery. It is a sight to behold, with its distinctive black-and-white striped porticos covered with beautiful frescos which continue inside, all overseen by the community of 60 monks who go about their daily chores.
We continued on to Plovdiv, Bulgaria's second largest city (and more charming than Sofia). It claims to be the oldest city in Europe, founded in 6000 BCE, with a magnificent hilltop Roman amphitheater that is still in use today. In fact, some of us wrangled last minute tickets for alfresco opera, joining an audience of 6,000 enjoying one of the countless offerings in the city known as the country's cultural heart. With much of the Old Town pedestrian-only, we spent hours wandering along cobblestone streets lined with pastel and brightly colored 19th century Bulgarian Revival homes that are Plovdiv's specialty.
There were other rewarding towns that filled our days, like Veliko Tarnovo that served as a capital until the Ottoman invasion of 1393 and was the site of the signing of Bulgaria's first constitution in 1879. Lording over the hilly town today is the Tsarevets Fortress, rebuilt numerous times since it was first established in the 5th century. We had arrived in town in time to see a spectacular sound-and-light show of the fortress from our hotel rooms where we barely stayed awake long enough to watch, thanks to that afternoon's wine tasting. Bulgaria's impressive viticulture, dating back to the time of the Thracians, was yet another revelation.
We crossed the Danube—Europe's second longest river—which serves as a partial border between Bulgaria and Romania, where we cleared customs and headed to Romania's capital city of Bucharest. Everywhere there are grand architectural reminders of why it was once called the "Paris of Eastern Europe," but the grim Communist-era apartment blocks are an eyesore and a stark reminder that the 20th century was not kind to Bucharest. More than two decades of dictatorial rule by Nicolae Ceauşescu brought Romania to its knees, but not before he gave orders to begin the construction of the colossal Palatul Parlamentului (Palace of Parliament) or People's Palace, said to be the second-largest administrative building in the world, after the Pentagon. It has 12 stories, underground levels that include nuclear bunkers, and 1,000-plus rooms, many of them lavishly decorated with chandeliers, marble, and gold leaf. Although not completed by the time Ceauşescu was deposed and executed in 1989, it remains a work in progress and is the city's most visited attraction—perhaps Europe's most disheartening embodiment of human folly and megalomania.
But there is optimism in the air: The city's café, bar, and restaurant scene has been greatly transformed, and a handful of excellent festivals are regular events, such as the George Enescu Festival of classical music (named for Romania's most important musician) that was in full swing during our September arrival. But Romania's real draw lies in the countryside and in the remoter regions. So off we flew to Moldavia in the north near the border with Ukraine, to see what many consider to be Romania's most important attraction, the painted Orthodox monasteries of Bucovina, a UNESCO World Heritage Site since 1993. Built in the 15th and 16th centuries, they are entirely covered inside and out with mural paintings that depict biblical scenes that served as visual billboards for illiterate peasants. Each was an amazing, medieval masterpiece known for its one-of-a-kind frescoes and colors, all very well preserved considering their exposure to the elements.
Bram Stoker never visited Transylvania—a region surrounded by the Carpathian and Apuseni mountains and whose name comes from the Latin for "beyond the forest." But there was a Vlad, thought to be born in the unassuming town of Sighişoara in 1431, who would become known as Dracula, or "The Impaler" and, well, the rest is embedded in popular culture. Sighişoara—a welcoming town of colorful houses that date as far back as the 15th century—is refreshingly unimpressed with its fame as the alleged birthplace of Vlad Tepes, the Prince of Wallachia, if not for a simple plaque that marks the house where he was presumably born.
Rural Transylvania is deservedly known for its lush, natural beauty, diverse wildlife, agricultural lifestyle, jaw-dropping castles and fortresses on rocky hilltops, and small towns that are stuck in time—horse carts sharing two-lane roads are not an uncommon site. A vibrant city like Braşov acts as a historically rich base to see the region's attractions, most notably the fortresslike Bran (or Dracula's) Castle, world famous thanks to its vampire associations that have yet to be proven.  While it holds visitors in thrall, we learned more about Queen Maria of Romania who lived here in the early 20th century than we did about Vlad the Impaler (who is said to have been briefly imprisoned here).
The lively city of Sibiu was another brief base for more castle explorations, with a busy historic quarter that dates back to the 12th century when it was settled by German Saxons. It has long been known for its joie de vivre atmosphere, and cultural offerings where a café culture and restaurant scene augment its appeal. It's also an easy day trip from here to Hunedoara Castle, aka Corvin Castle and sometimes referred to as one of the Seven Wonders of Romania. It is widely considered one of the largest and best-preserved medieval castles in Southern Europe.
If I was pressed to choose a favorite, my choice would be the ornate Peles Castle, one of our final stops beforereturning to Bucharest. Commissioned in 1873 and completed in 1914 by Romania's first king, the German-born Carol I, this summer residence was as striking as the castles we visited that were built many centuries earlier. It's a neo-Renaissance showcase of extravagance and embellishment that recalls the Bavarian fancy of King Ludwig, with 160 rooms holding everything from a 4,000-piece collection of weaponry to a set of hand-carved teak furniture, a gift from an Indian maharajah.
Patricia traveled to Romania and Bulgaria with Seattle-based MIR Corp.
And don't forget to check out the books!
About the Book: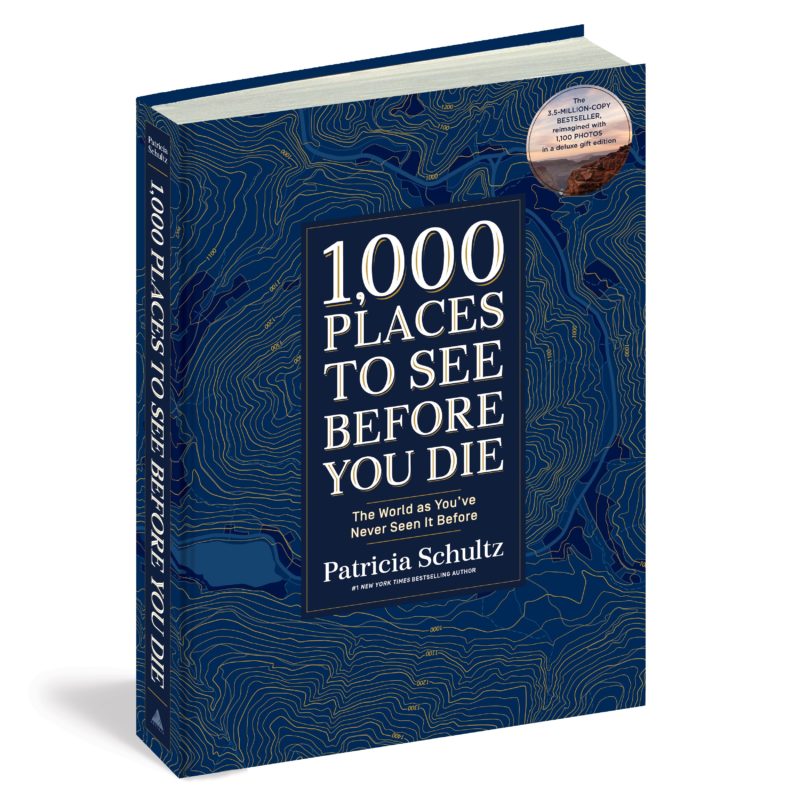 "Gorgeous . . . breathtaking . . . This spectacular coffee-table book will inspire readers to add more destinations to their bucket lists." —Publishers Weekly
Patricia Schultz curates the world. When she published the original 1,000 Places to See Before You Die, she created not only a new kind of travel book but also a new way of thinking about our experiences and interests.
Now Schultz captivates our hearts in the same compelling way her original book spoke to our minds. Moving from eloquent word to breathtaking image, she takes us on a visual journey of the best the world has to offer, and as we turn the pages and pore over these images, we feel it all: joy, curiosity, awe, passion, nostalgia (if we've been there), inspiration (because we want to go), and a profound and transforming sense of how lucky we are to live in a world filled with such beauty and wonder—to see tributaries of mist curling over the Great Wall, elephants grazing on the floor of the Ngorongoro Crater, the sun setting on the wild coast of Donegal, masked whirling dancers at a festival in Bhutan.
The book itself is a thing of beauty, an oversize feast of more than 1,000 all-new photographs and 544 pages, every spread and page designed to showcase these mesmerizing photographs and hold just enough of Schultz's lively text that we know why it is we're looking at them. It is a perfect gift for every traveler, every fan of the original, every dreamer whose Instagram feed is filled with pictures of places near and far.
Buy the Book
Amazon | B&N | Indiebound | Workman

The world's bestselling travel book is back in a more informative, more experiential, more budget-friendly full-color edition. A #1 New York Times bestseller, 1,000 Places reinvented the idea of travel book as both wish list and practical guide. As Newsweek wrote, it "tells you what's beautiful, what's fun, and what's just unforgettable—everywhere on earth." And now the best is better. There are 600 full-color photographs. Over 200 entirely new entries, including visits to 28 countries like Lebanon, Croatia, Estonia, and Nicaragua, that were not in the original edition. There is an emphasis on experiences: an entry covers not just Positano or Ravello, but the full 30-mile stretch along the Amalfi Coast.
Every entry from the original edition has been readdressed, rewritten, and made fuller, with more suggestions for places to stay, restaurants to visit, and festivals to check out. And throughout, the book is more budget-conscious, with starred restaurants and historic hotels such as the Ritz, but also moderately priced gems that don't compromise on atmosphere or charm.
The world is calling. Time to answer.
Buy the Book
Amazon | B&N | Indiebound | Workman