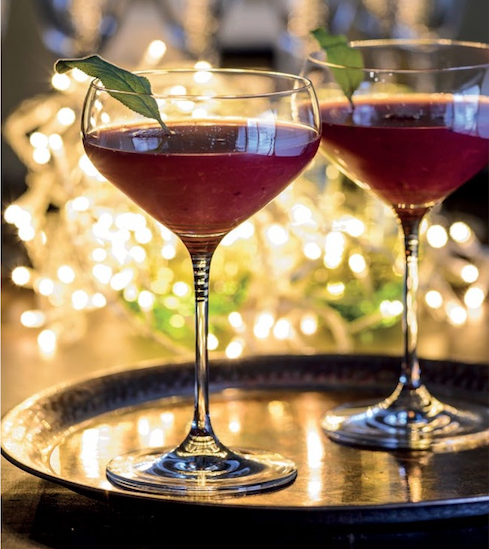 There is never a wrong time for a margarita, especially when it's sans alcohol. This mocktail's festive appearance has a delightful depth beyond its citrus flavor with hibiscus and sage.
Blood Orange and Sage Margarita
Serves 1
WHAT YOU NEED:
shaker
strainer
chilled coupe
4 ounces (125 ml) blood orange juice
1 ounce (30 ml) freshly squeezed lime juice
½ ounce (15 ml) hibiscus syrup
3 sage leaves
Ice cubes
Wedge of lime and himalayan salt (optional)
WHAT TO DO:
1. Put the blood orange juice, lime juice, hibiscus syrup, and 2 of the sage leaves in a shaker with ice, and shake until chilled.
2. If you like a salt rim, run a wedge of lime around the rim of the chilled glass and dip it in a saucer spread with salt.
3. Strain the mixture into the glass and garnish with the third sage leaf.
More About Dry:
Divine cocktails and delicious mixed drinks—hangover not included!
Festive, sophisticated cocktails for everyone? Yes, please! With alcohol-free options so refreshing to drink, simple to make, and for any season or occasion, going dry has never been easier:
-Celebrate Dry January in style with an Espresso Mint Martini
-Spoil yourself at breakfast with a Blood Orange Sunrise
-Toast the mother-to-be with a bubbly Paloma Fizz
-Keep your summer picnic kid-friendly with a refreshing Raspberry and Lavender Shrub
-Thank the oft-forgotten designated driver with an eye-opening Chile and Lime Margarita
Plus, for the new mocktail mixologist, Dry comes complete with a guide to essential equipment, easy-to-find ingredients, simple syrup recipes, and more. Cheers!
Buy the Book
Amazon | B&N | Indiebound | Workman