Excerpted from Teeny Lamothe's Teeny's Tour of Pie.
Here's a non-bacon-filled, still stellar pecan pie recipe. The idea to brown the butter came from a Greensboro, Alabama, local I met while working at PieLab whose mom's brown butter pecan pie had won awards. The browned butter adds a wonderful flavor . . . and can almost compete with bacon. Almost.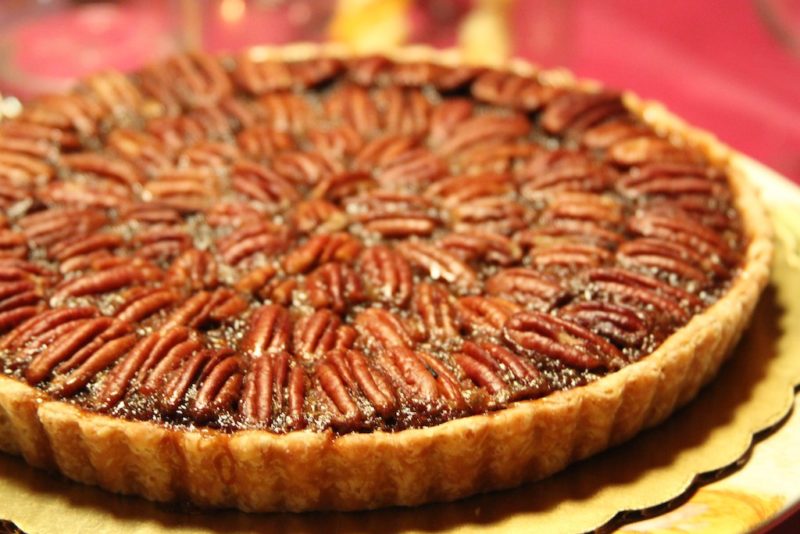 Browned Butter Pecan Pie
Ingredients
6 tablespoons (¾ stick) unsalted butter
¾ cup dark corn syrup
1 cup packed light brown sugar
½ teaspoon salt
3 large eggs
1 teaspoon pure vanilla extract
1½ cups chopped pecans
1 disk dough from Whole Wheat Crust (see recipe below)
Up to 3 tablespoons all-purpose flour, for rolling out the crust
Steps
Preheat the oven to 375°F with a rack in the middle position.
To brown the butter, place it in a small saucepan or shallow skillet over medium-low heat and cook, whisking, until it melts and begins to bubble, 4 to 5 minutes. Continue to cook, whisking constantly, until the butter darkens and turns a nutty tan color and small dark specks begin to form on the bottom of the pan, 2 to 3 minutes more. Immediately remove it from the heat, continuing to whisk it for 30 seconds. Set it aside to cool.
Whisk together the corn syrup, brown sugar, and salt in a large bowl until fully combined and smooth.
Slowly whisk in the cooled browned butter, taking care to leave behind most of the sediment that has settled into the bottom of the pan (a little is just fine!). Continue whisking until the mixture is smooth and the butter is fully incorporated.
Whisk together the eggs and vanilla in a separate small bowl. Add them to the corn syrup mixture along with half the chopped pecans, and whisk until they are fully incorporated as well. Set aside.
Prepare the crust: Place the dough on a floured work surface and with a floured rolling pin roll it into a rough 11-inch circle about ⅛ inch thick. Lay the crust into a 9-inch pie dish, gently press it in, and trim any excess dough from the edge with a paring knife, being sure to leave a ¾-inch overhang. Tuck the overhanging dough under itself and crimp.
Set the unfilled crust on a rimmed baking sheet. Sprinkle the remaining half of the chopped pecans onto the bottom of the crust. Give the filling a final stir, in case anything has settled to the bottom, and pour it over the pecans.
Bake until the crust and pecans are browned and the middle of the pie no longer wobbles, 50 to 60 minutes. Let cool at room temperature until the filling has set, at least 45 minutes, before serving.
Whole Wheat Crust
Whole wheat crust is my go-to for nearly every pie I bake. Whole wheat flour is slightly more challenging to work with because of its low gluten content, but adding vodka to the mix makes for a wonderful, workable dough. I keep my (cheap) vodka in the freezer and the chill of it serves to cool down the rest of my ingredients as I mix the dough together. If you have made pie crust before, you might wonder about the amount of liquid I call for here; I have found that whole wheat flour requires a little more liquid to come together into a ball of dough.
This recipe makes enough dough for a nine-inch top and a bottom crust. If you need only a bottom crust, you can freeze half of this recipe for up to 3 months and save it for later.
Ingredients
1½ cups all-purpose flour
1 cup white whole wheat or whole wheat flour
2 teaspoons salt
2 tablespoons granulated sugar
¾ cup (1½ sticks) cold unsalted butter, cut into small pieces
¼ cup (4 tablespoons) cold vegetable shortening
¼ cup (4 tablespoons) cold vodka
½ cup (8 tablespoons) cold water, plus extra as needed
Steps
In a large bowl, stir together the flour, salt, and sugar until everything is thoroughly combined. Add the butter and shortening and cut the mixture together using a pastry cutter until it forms small pea-size crumbs coated in flour.
Pour the vodka evenly over the dry ingredients, a few tablespoons at a time, using a rubber spatula to press the dough together. Similarly, add the water, and continue to press the dough together to form a large ball. The dough should be fairly wet and sticky; if for some reason it seems particularly dry, add a little extra ice water a tablespoon at a time until everything comes together easily. (Be careful to work the dough as little as possible; otherwise the crust may be tough.)
Divide the dough into two equal balls, press each into a disk, wrap each in plastic, and refrigerate for at least an hour or up to 2 days before rolling out.