Summer's Best Tomatoes with Burrata and Basil
This clever burrata and tomato salad recipe combines ripe, juicy tomatoes with burrata cheese and fresh herbs. It's the perfect dish for a hot summer evening or a lunch al fresco!
Excerpted from New England Open-House Cookbook by Sarah Leah Chase. Copyright © 2020.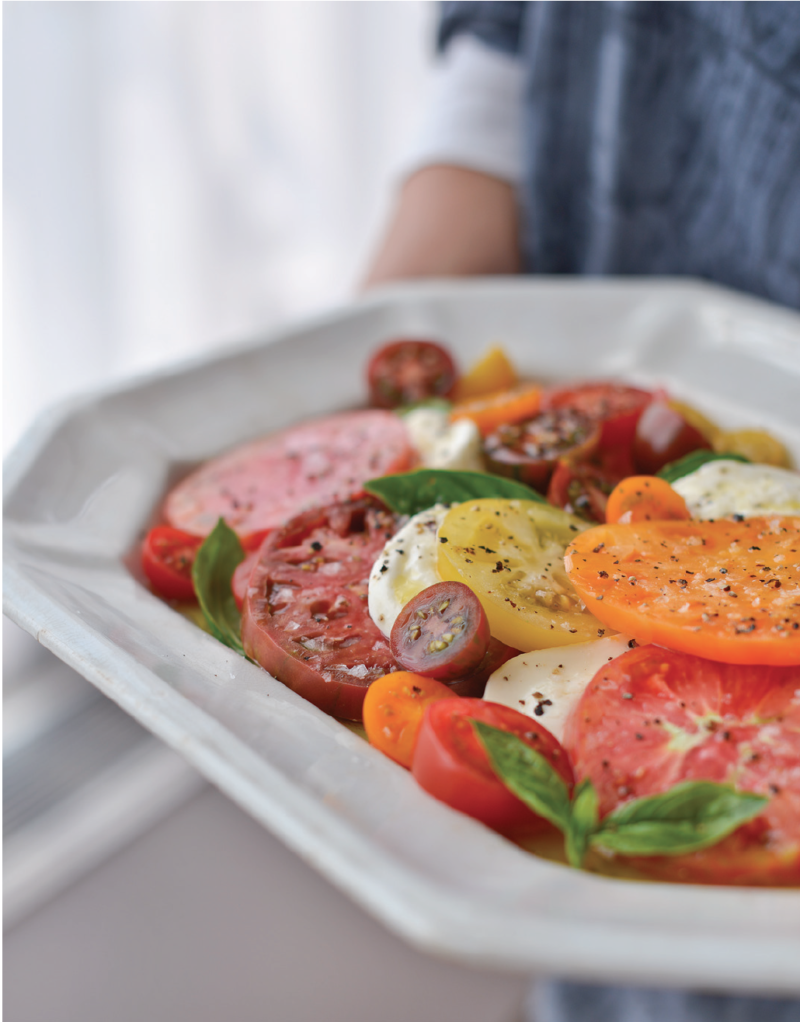 I have been making this simple but sensational tomato salad for years, but only recently have I been able to take it to the next and ultimate level by replacing the more customary fresh mozzarella with its far richer and irresistibly creamy and oozy cousin, burrata.
Indeed, New England has gone seemingly burrata crazy over the past couple of years. Maplebrook Farm in Bennington, Vermont, paved the way in putting burrata on our New England map when they hired a cheese maker from Puglia to make burrata for them. Maplebrook Farm's burrata went on to garner all sorts of awards and is now widely distributed throughout New England. Fiore di Nonno in Somerville, Massachusetts, is yet another good source for this coveted Italian cheese.
Years ago, I was scolded by an Italian woman for putting balsamic vinegar on my sliced tomato salads and told in no uncertain terms that Italians use only olive oil on their tomato salads. I am not sure if this is actually 100 percent true but I have never used any vinegar since on my Caprese-style sliced tomato salads and believe my tomato salads, which I make almost every single summer evening when tomatoes are in season, are all the more perfect for this admonishment.
Don't even think of making this salad unless you have the very best ingredients on hand. Your tomatoes need not be heirlooms but they must be the lushest, local vine-ripened tomatoes you can get your hands on. Mine usually come from my backyard, Bartlett's Farm on Nantucket, Hart Farm on Cape Cod, or Chase's Daily in Belfast, Maine.
Serves 4 to 6
INGREDIENTS
3 very large vine-ripened summer tomatoes, heirloom, beefsteak, or any combination of favorites
Small handful of vine-ripened cherry and/or pear tomatoes (optional)
4 to 6 tablespoons best-quality extra virgin olive oil, possibly a bit more
Fleur de sel or other crunchy sea salt and freshly ground black pepper
6 large fresh basil leaves, thinly slivered, plus basil leaves or sprigs for garnish
8 to 12 ounces burrata cheese
INSTRUCTIONS
Core the tomatoes and cut them crosswise into

slices

1

/

2

inch to

3

/

4

inch thick. Arrange the slices in

an overlapping pattern on a large platter. If you are using cherry and/or pear tomatoes (I almost always have them growing on my deck), cut them lengthwise in half and scatter them, cut sides facing down, over the larger sliced tomatoes. Drizzle 4 tablespoons of the olive oil evenly over the tomatoes.

Season the tomatoes generously with fleur de sel

and pepper and sprinkle the slivered basil leaves over the top. Break the burrata into small, oozy, bite-size blobs and arrange these evenly over and in between the tomatoes. Drizzle at least 2 more tablespoons of olive oil over the entire salad, adding even more if deemed necessary or you are simply in the mood.

Garnish the tomato platter in an artistically pleasing

fashion with whole basil leaves or small top sprigs and blossoms. The salad can be served at once but I usually let it stand for 15 to 30 minutes before serving. If there are any leftover tomatoes, I cover them, leave them overnight at room temperature, and tuck them into a BLT, or other sandwich the following day.
More About New England Open-House Cookbook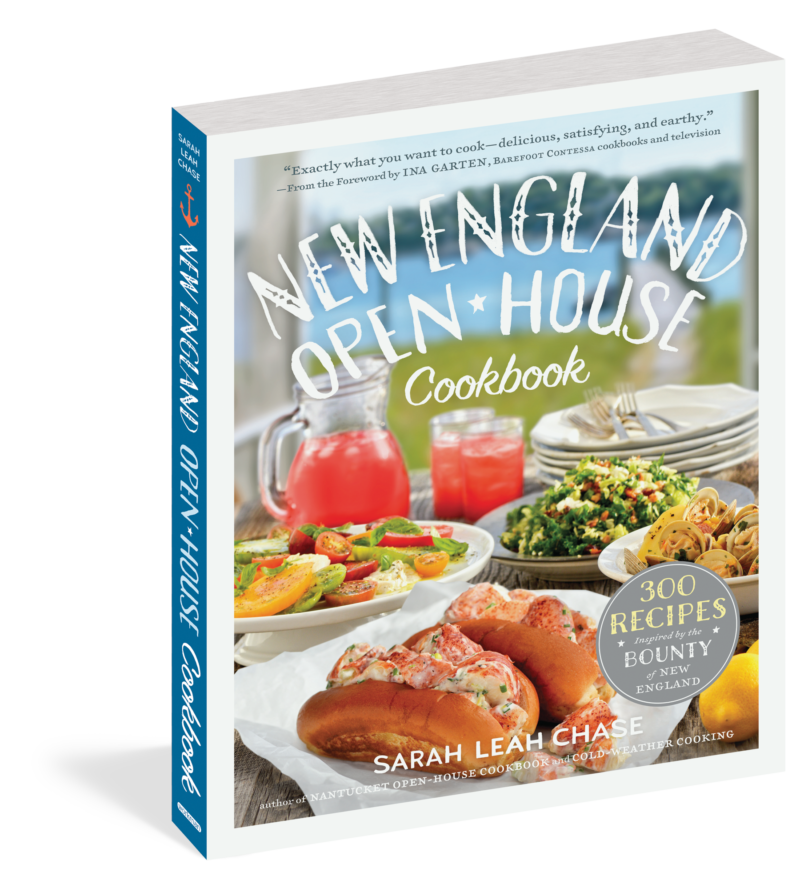 From a born-and-bred New Englander comes a book that sings with all the flavors and textures of the beloved region. Sarah Leah Chase is a caterer, cooking teacher, and prolific writer whose books—including The Silver Palate Good Times Cookbook (as coauthor) and Nantucket Open-House Cookbook—have over 3.4 million copies in print. For New England Open-House Cookbook, she draws from her memories of growing up in Connecticut and Maine; her experience living and cooking on Cape Cod; and her extensive travels meeting farmers, fishermen, and chefs. The result is a wide-ranging cookbook for everyone who has skied the mountains of Vermont, sailed off the coast of Maine, dug for clams on Cape Cod, or just wishes they had. It reflects the bountiful ingredients and recipes of New England, served up in evocative prose, gorgeous full-color photographs, and 300 delicious recipes.
All of New England's classic dishes are represented, including a wealth of shellfish soups and stews and a full chapter celebrating lobster. From breakfast (Debbie's Blue Ribbon Maine Muffins) to delightful appetizers and nibbles (Tiny Tumbled Tomatoes, Oysters "Clark Rockefeller") to mains for every season and occasion: Baked Bluefish with New Potatoes and Summer Rib Eyes with Rosemary, Lemon, and Garlic. Plus: perfect picnic recipes, farmstand sides, and luscious desserts.
Buy the Book
Indiebound | B&N | Amazon | Workman