These strawberry cream ice pops are easy to love!
This ingenious recipe uses just half the sugar of a standard popsicle. Substitute other frozen fruits to make these naturally sweetened summer treats in a variety of flavors.
Excerpted from Half the Sugar, All the Love by Jennifer Tyler Lee and Anisha Patel, MD. MSPH (Workman Publishing). Copyright © 2020. Photographs by Erin Scott.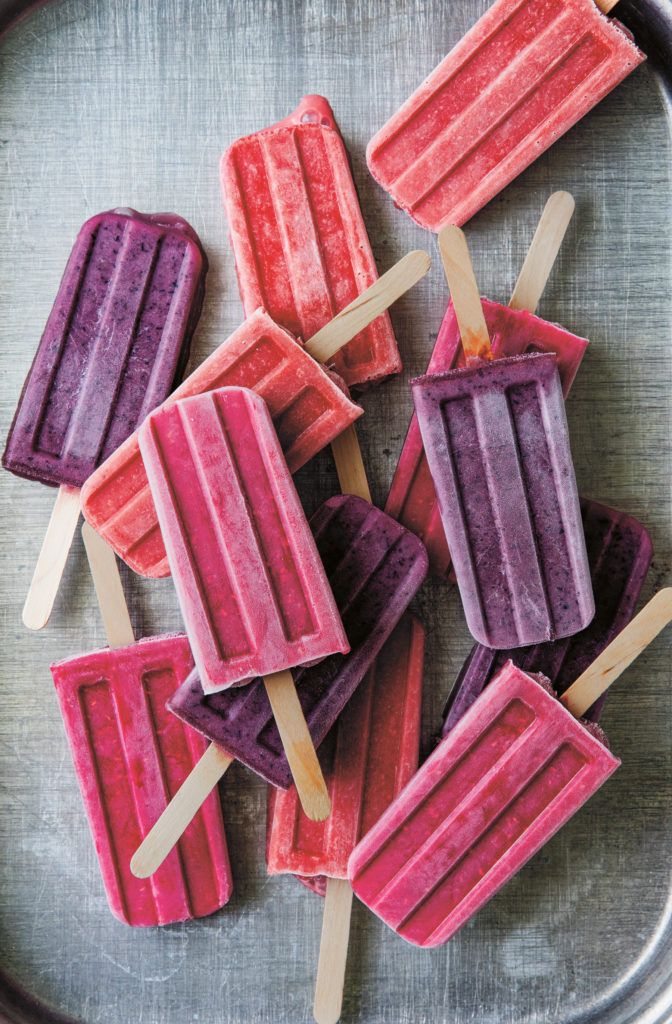 STRAWBERRY CREAM POPS
Naturally sweet and ripe strawberries make these strawberry cream ice pops a delicious summertime treat. We tried an all-fruit version of these pops but found they were a little too icy and tart. Adding whipping cream and just a touch of sugar helped tremendously with the texture. You will need standard 3-ounce ice pop molds and sticks for these.
Ingredients
1 pound fresh strawberries, hulled and quartered, or 3 cups unsweetened frozen strawberries
2 tablespoons sugar
1/4 cup heavy (whipping) cream
MAKES 6 POPS
Instructions
If using frozen fruit, measure what you need and thaw at room temperature until softened, about 30 minutes.

Place the fruit and sugar in a

blender or food processor and puree until smooth, scraping down the side of the bowl to get any errant chunks. Let sit for 20 minutes to allow the sugar to dissolve. Add the cream and pulse until incorporated.

Pour into ice pop molds, up to

about 1/4

 

inch from the top, since

the mixture expands when frozen. Freeze until thick and slushy, about 30 minutes, then place sticks into the molds. Continue freezing until solid, 4 hours or overnight.
NOTE: If you don't have pop molds, you can use ice cube trays and toothpicks to make about eighteen 1-ounce mini pops. Pour the fruit mixture into ice cube trays, freeze until slushy enough to support the toothpicks, 30 minutes to 1 hour, then add the toothpicks and continue freezing. If using ice cube trays, the added sugar is reduced to about 1/4 teaspoon per mini pop.
VARIATION: These pops work equally well with a mixture of berries. Try 1 cup each blueberries, raspberries, and strawberries with the cream and sugar for a triple berry treat.
WHAT KIDS CAN DO: Kids can fill the molds.
MAKE AHEAD: The pops can be stored, tightly wrapped with plastic wrap, in the freezer for up to 1 month.
NUTRITION INFORMATION (1 STANDARD POP OR 3 MINI POPS):
Calories: 74 | Added sugar: 1 teaspoon or 4g | Carbohydrates: 10g | Sodium: 4mg |
Saturated fat: 28% of calories or 2g | Fiber: 2g | Protein: 1g
More About Half the Sugar, All the Love
"Delicious recipes. Jennifer and Anisha have just the right idea on how to reduce unnecessary sugar from our diets, and more importantly, our kids' diets."—TRACY, DANA, LORI, and CORKY POLLAN, authors of the New York Times bestselling Mostly Plants and the award-winning The Pollan Family Table
Would you feed your child a candy bar for breakfast? Of course not. And yet today our children routinely consume three times the recommended daily allowance of added sugar, which puts them at an unprecedented risk for type 2 diabetes, high blood pressure, high cholesterol, excess weight, and even nonalcoholic fatty liver disease. Half the Sugar, All the Love is here to help, with 100 doctor-approved recipes that cut the sugar (by half—or more!) without sacrificing the flavors our families love. It's an eye-opening education, a program of healthy eating, and a cookbook chock-full of easy, delicious recipes all in one.
Buy the Book
Amazon | B&N | Indiebound | Workman