Excerpted from Richard Grausman's French Classics Made Easy. 
There are good coq au vin recipes and many that are mediocre. This is one that you and your guests will remember. Taking the extra time to cook the bacon, mushrooms, and onion separately from the main dish keeps the flavors vibrant. It makes all the difference.
Coq au vin was originally designed to make a tough rooster (coq) tender enough to eat. The earliest versions came from the Loire Valley, where the French kings lived, and the wines used in the dish were Bourgueil and Chinon, which come from the same area. These wines are available to us today, and using a plump, tender chicken in place of the firmer-fleshed rooster produces a succulent masterpiece.
When this dish was made with a rooster, its blood was saved, diluted with a little vinegar to prevent coagulation, and used to thicken the sauce. For everyone's convenience, I, along with most cooks, use flour to thicken the sauce in this more contemporary version.
Classic coq au vin recipes call for the chicken to be flamed with Cognac. I have omitted this step from the recipe, finding it adds little to the final flavor of this dish. In France, rendered pork fat or lard (called saindoux) is often used in place of the light vegetable oil that I use. If you have it handy, use it.
Chicken, veal, and fish are normally cooked in white wine (when wine is called for), but coq au vin requires a full-bodied red wine to produce its rich sauce. Sometimes a red wine of unusual quality and character is used; in these cases the dish takes on the name of the wine. Coq au Chambertin is an example of this. I have made this recipe with many red wines. French reds from the Loire, Mâcon, and Rhone regions have all produced memorable meals. Some California Zinfandels work extremely well with this recipe, as do many of the red wines of Spain, Argentina, and Australia.
This dish can be fully prepared one to two days in advance and reheated on top of the stove or in a 350°F oven for about 45 minutes before serving.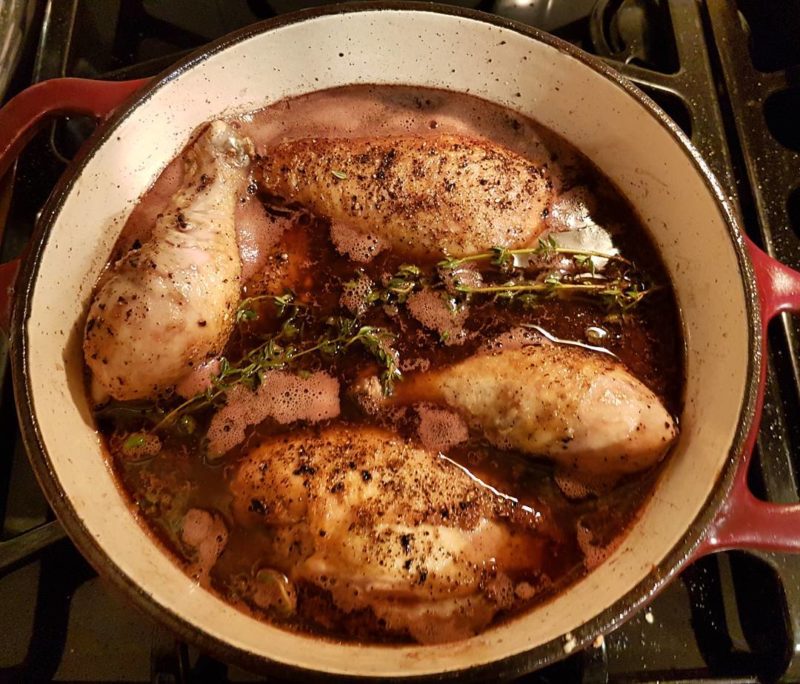 Coq au Vin
Serves 4 – 6
Ingredients
3 tablespoons light vegetable oil
1 chicken (3½ to 4 pounds), cut into
8 serving pieces
1 onion, diced
3 tablespoons all-purpose flour
3 shallots, sliced
4 cloves garlic, sliced
2 cups full-bodied dry red wine, such as Pinot Noir, Côtes-du-Rhône, or Zinfandel
1½ cups beef stock, homemade or canned
1 teaspoon tomato paste
Bouquet Garni (see note below)
¼ teaspoon salt
⅛ teaspoon freshly ground pepper
20 pearl onions, peeled, root ends trimmed but left intact to hold the onions together
½ pound smoked slab bacon, cut into ½-inch rectangles
½ pound mushrooms, washed, dried, and halved or quartered, to match size of the onions
Salt and pepper, to taste
5 sprigs parsley, chopped, for garnish
Instructions
In a large flameproof casserole, heat the oil over high heat. Add the chicken and brown well on one side, about 3 to 4 minutes; turn and partially brown the other side, about 1 minute.
Add the diced onion and reduce the heat slightly. Sauté the onion until it begins to brown, 2 to 3 minutes.
Sprinkle the chicken with the flour. Shake the casserole and turn the chicken so the flour mixes with the hot oil. Reduce the heat to medium and cook, stirring occasionally, until the flour browns, about 3 minutes.
Add the shallots, garlic, wine, stock, tomato paste, and bouquet garni. Stir well and season with the salt and pepper. Reduce the heat to medium-low, cover, and simmer for 30 minutes. Skim to remove fat. (The recipe can be prepared to this point several days in advance. Let cool to room temperature, cover, and refrigerate or freeze. Bring back to a simmer before continuing in step 9.)
Bring a large saucepan of water to a boil and drop the pearl onions into it. Cook until tender, 10 to 15 minutes. Drain.
Place the bacon in a medium-size saucepan, cover with cold water, and bring to a boil over medium-high heat. Drain, rinse with cold water, and repeat this blanching process to extract the bacon's excess saltiness. Drain on paper towels.
In a 10- to 12-inch skillet, sauté the bacon over medium-high heat until crisp on the outside, yet still soft on the inside, 3 to 5 minutes. Drain on paper towels.
Remove all but 2 tablespoons of the bacon fat from the pan, add the mushrooms, and sauté over high heat until browned, 2 to 3 minutes. Season to taste with salt and pepper and remove the mushrooms to a bowl. Add the pearl onions to the pan and brown, stirring, 2 to 3 minutes, then add to the mushrooms.
When the chicken is tender, remove it from the casserole and place it in an ovenproof serving dish or clean flameproof casserole. Discard the bouquet garni. Strain the sauce through a fine-mesh sieve and remove any fat remaining on the surface. The sauce should have the consistency of heavy cream. If it is too thick, add a little water; if too thin, boil it to thicken.
Add the bacon, mushrooms, and onions to the chicken, and pour the sauce over all evenly. Before serving, heat to a simmer and cook until warm, about 5 minutes. This can be done on top of the stove or in a 400°F oven, depending on the serving dish used. Sprinkle with the parsley and serve.
Note: Bouquet Garni
A bouquet garni consists of 4 to 5 sprigs of parsley, 1 bay leaf, and 2 to 3 sprigs of fresh thyme (or ¼ teaspoon dried leaves), which I tie up in a celery rib cut in half. The reason for tying the ingredients together is to enable you to discard them easily once the cooking is finished. If you plan to strain the stock or sauce in which the bouquet garni has been cooking, it is not necessary for you to tie up the ingredients, although it makes skimming easier.
Place the fresh or dried thyme in the hollow of the celery rib half and cover with the bay leaf and parsley sprigs.
Cover with the remaining celery rib half and tie together.
About the Book:
Classic French food is hotter than ever. But one thing hasn't changed—few of us have the time, the patience, the technique, or the cream and butter allowance to tackle the classics as presented by Julia Child's Mastering the Art of French Cooking. The good news is—we don't need to. For the past 40 years Richard Grausman, America's premier culinary teacher, has been training American chefs in a simpler, better way of French cooking, and in French Classics Made Easy—a refreshed and updated edition of his original collection, At Home with the French Classics—he shares all of his extraordinary innovations and techniques. Golden soufflés in ten minutes. A light and luscious chocolate mousse that can be made as a cake, a chocolate roll, soufflé, or pudding. Plus Cassoulet, Boeuf Bourguignon, Coq au Vin, Bouillabaisse, Poached Salmon with Beurre Blanc—in all, 250 impeccably clear, step-by-step recipes in range of anyone who knows how to boil water or dice an onion.
When a step isn't critical, Grausman eliminates it. If something can be done in advance, he does it. Plus he's cut the amount of butter, cream, egg yolks, salt, and sugar; the result is health-conscious recipes that don't compromise the essential nature of the dish. Techniques are illustrated throughout in line drawings. It's the grandness of French cuisine, made accessible for both entertaining and everyday meals.
Buy the Book
Amazon | B&N | Indiebound | Workman