Recipe excerpted from Daniel Shumski's How to Instant Pot, on sale now!
Buy the Book
Amazon | B&N | Indiebound | Workman
Putting the squash in a steaming basket serves an important purpose here: Squash that is cooked directly in the water will become too soft and risk clogging the valve when the pressure is released. The creaminess in this dish comes not just from the crème fraîche—although that certainly does help—but from the texture of the mashed squash itself. Serve this naturally sweet side dish with a beef roast or a roasted chicken.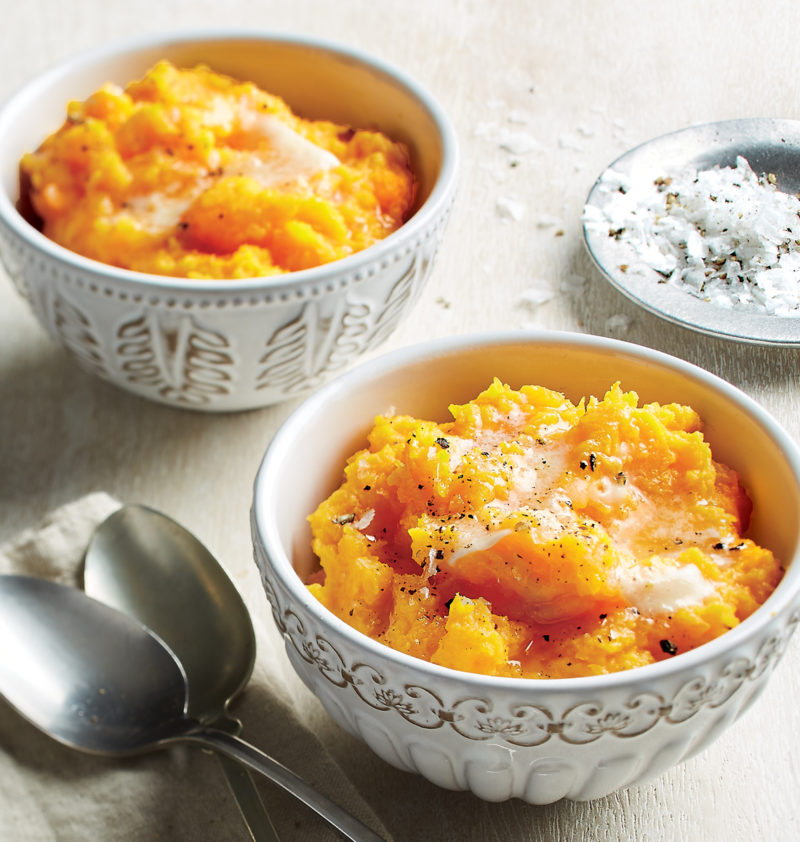 Creamy Butternut Squash
Ingredients
1 cup water
1 medium butternut squash (about 2 pounds), peeled, seeded, and cut into 1-inch cubes
2 tablespoons Crème Fraîche or heavy (whipping) cream
½ teaspoon salt
¼ teaspoon freshly ground black pepper
Salted butter, for serving
Instructions
Place the steaming rack on the bottom of the inner pot and add the water. Place a silicone or collapsible metal steaming basket on top of the rack and then place the squash inside the basket.
Close and lock the lid. Set the valve to Sealing. Press Manual or Pressure Cook and use the Pressure or Pressure Level button to select High Pressure. Use the – or + button to set the time to 10 minutes.
When the cooking cycle ends, carefully use a wooden spoon to release the pressure by turning the pressure-release valve to Venting. (The pressure is released when the small metal float valve next to the pressure-release valve sinks back into the lid and the lid is no longer locked.)
Press Cancel and remove the lid. Wearing oven mitts, remove the steaming basket from the inner pot (be careful—it's hot!) and transfer the squash, crème fraîche, salt, and pepper to a large serving bowl. Use a potato masher to smash the squash and combine thoroughly.
Serve hot, topped with butter.
Creamy Butternut Squash will keep, in an airtight container in the refrigerator, for up to 5 days. To reheat, place the squash in a pot, add a splash of water, cover, and warm on the stovetop over medium heat, stirring occasionally, for about 5 minutes.