Excerpted from The Artisinal Kitchen: Holiday Cocktails by Nick Mautone (Artisan Books). Copyright © 2017.
Buy the Book
Amazon | B&N | Indiebound | Workman
The inspiration for this nog was the roasted pumpkin left over from pumpkin soup. Serve this drink warm after dinner with a big plate of cookies.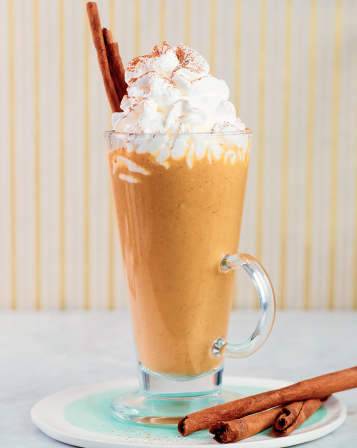 Ingredients
8 ounce water
8 ounce milk or cream
½ cup dark brown sugar
1 tbsp molasses
1 tsp vanilla
¼ tsp ground cinnamon, plus more for garnish
⅛ tsp ground cloves
⅛ tsp ground allspice
⅛ tsp ground nutmeg
⅛ tsp ground mace
One 15-ounces can (about 2 cups) pumpkin puree
10 ounces dark rum, brandy, or bourbon
Whipped cream, for garnish
6 cinnamon sticks, for garnish
Glassware
Instructions
Stir together the water, milk, sugar, molasses, vanilla, and spices in a medium-large saucepan. Simmer on low heat, stirring regularly, until the sugar has dissolved and the spices are incorporated, about 5 minutes.
Stir in the pumpkin and continue simmering until the nog is hot, about 15 minutes. It should be the consistency of very thick cream. If it seems too thick or pasty, add more water or milk. Bear in mind that the rum will thin the mixture further.
Remove the nog from the heat and stir in the rum. Ladle into the mugs, garnish with whipped cream, cinnamon sticks, and ground cinnamon, and serve.
Planning ahead: The nog can be made a day or two in advance and refrigerated, then warmed on the stove or in the microwave when ready to serve. It can also be frozen for several weeks.