These pancakes are thin—more like crepes than what some would consider pancakes.
Due to my family's partly Danish heritage, they're what I grew up with, so these are "regular" pancakes to me. My paternal grandmother—I called her G.G.—would always spread the leftover pancakes with butter (all the way to the edges!), generously sprinkle them with cinnamon sugar, roll them up, and leave them on the counter for people to slice bites off of—you should, too.
Serves 4
Apple Core Syrup
Cores from 5 to 7 apples (and peels, unless you're using them to make chips, page 5), no need to remove the seeds
1 cup granulated sugar
½ cup lightly packed light or dark
brown sugar
1. To make the syrup: Place the cores (and peels, if using), the granulated sugar, and the brown sugar in a medium size saucepan with 1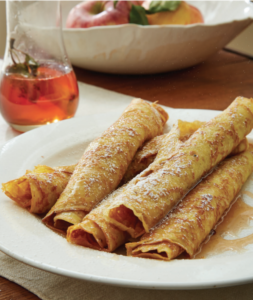 cup water. Bring the mixture to a boil over medium-high heat, then reduce the heat, and allow the mixture to simmer, stirring occasionally, until the cores are softened and the syrup smells fragrant, 20 to 30 minutes.
2. Strain out the cores and return the syrup to the pan to keep it warm with the residual heat until you're ready to eat. If you'd like it to be thicker, bring it back up to a boil, then reduce the heat, and allow the mixture to simmer until it is reduced and thickened to your liking.
FOR THE PANCAKES
2 teaspoons apple cider vinegar
2 cups milk (I typically use 2% or whole, but anything other than skim is fine—even nondairy milks)
4 large eggs
¼ cup unsalted butter, melted and cooled slightly, plus more for greasing the skillet and for serving 
1 cup all-purpose flour
2 teaspoons baking soda
1 teaspoon baking powder
¼ teaspoon fine-grain sea salt (I do a pinch of salt and a pinch of sugar, but feel free to measure if you'd rather)
¼ teaspoon granulated sugar
Confectioner's sugar or cinnamon sugar, for garnish (optional) 
3. To make the pancakes: Meanwhile, place the vinegar and milk in a small bowl and leave it alone for 10 minutes or so—it will curdle in this time.
4. Add the eggs and melted butter to the milk and vinegar mixture in the small bowl and whisk together.
5. Whisk together the flour, baking soda, baking powder, sea salt, and granulated sugar in a medium-size bowl.
6. Whisk the wet ingredients into the dry ingredients until combined; the batter will be very thin.
7. Grease a griddle or cast-iron skillet with a small amount of butter, pour in roughly R cup of the batter for each pancake, and cook the pancakes over moderate heat. Depending on the size of your pan and how much batter you use per pancake, you might only be able to cook one pancake at a time, as the batter spreads quickly. (I use the largest skillet I have and eyeball the amount of batter needed to make a large pancake that fills most of the skillet.) When you see bubbles on the top, and the bottom is golden or light brown, flip the pancake and finish cooking.
8. Repeat Step 7 with all of the remaining batter. Serve immediately: Toss a pancake on someone's plate, smear it with butter, and drizzle with apple core syrup. Dust with confectioner's sugar, if using.
About Cooking With Scraps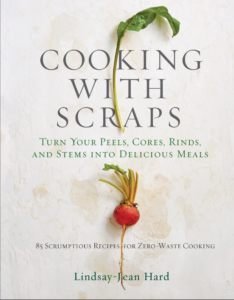 In 85 inspired recipes, Lindsay-Jean Hard shows just how delicious and surprising the all-too-often discarded parts can be. Carrot greens—bright, fresh, and packed with flavor—make a zesty pesto. Water from canned beans behaves just like egg whites, perfect for vegan mayonnaise that even non-vegans will love. And not so fast with those broccoli stems! Use them olive-oil poached on lemony ricotta toast. It's pure food genius, all the while critically reducing waste one dish at a time.
Buy the Book
Amazon | Barnes & Noble | Indiebound |Workman