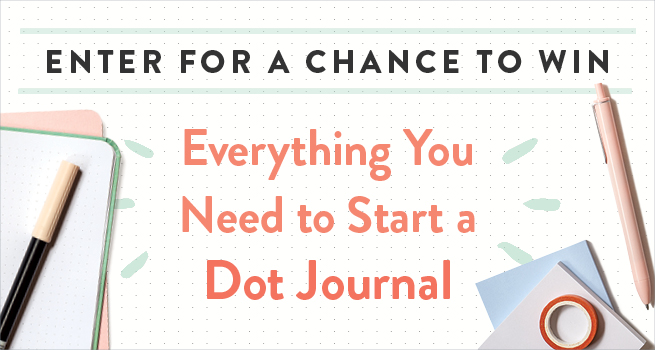 What's the hot new trend this summer? Dot Journaling.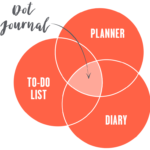 It's the modern twist on the journaling/planner tradition that fits perfectly with our busy lifestyle. It's a creative and colorful mix of daily planner, diary, and to-do list for every aspect of your life: work, home, relationships, hobbies, everything.
Rachel Wilkerson Miller, senior lifestyle editor and trend spotter at BuzzFeed, was one of the first to see this trend exploding. And now she brings us the comprehensive how-to book: Dot Journaling—A Practical Guide.
The book publishes on July 31, and we're giving you the chance to WIN everything you need to start a dot journal of your own. Simply sign up for our monthly newsletter, and you're in the running to win a set of fun dot journal supplies worth $250! Only one entry per person.
We'll pick the winner and notify them via email at 5:00 PM on Monday, July 31.
And don't miss Dot Journaling—The Set which includes a blank dot-grid journal. It makes a great gift!
The prize package includes:
Dot Journaling—The Set (includes the book and a blank dot journal!)
Sakura Gelly Roll Metallic Pens (3 Colors)
Sakura Gelly Roll Moonlight Pens (10 Colors)
Faber Castell PITT Artist Pens Set (12 Colors)
Faber Castell PITT Artist Pens Set (Nibs S F M B)
Pilot Juice 0.38 Black Gel Pens
Stabilo Point 88 Pens (15 Colors)
Zebra Mildliner Set (5 Colors)
MT Washi Tape (5 Rolls)
Tombow Correction Tape
Brass Wire Clips
Midori Brass Ruler
Brass Book Darts
Post-It Sticky Notes—Bali Collection
Paper Mate Pink Premium Erasers
And included from Poppin:
Tip-Top Rollerball Pen Set (2 Navy + Copper)
Tip-Top Rollerball Pen Set (2 Gray + Copper)
Retractable Gel Luxe Pen Set (6 White and Silver)
A Large Storage Box to keep your supplies organized!