Get creative with crafty screen-free activities for kids.
Kids are spending increasingly more time than ever glued to iPads, TVs, computers, and phones. Break up their technology time with screen-free activities for kids in the Unplugged Play series. Each book targets a specific age group (toddler, preschool and grade school) and features hundreds of indoor and outdoor games and activities to help kids have fun the old-fashioned way, stimulating their minds and helping them interact with the world around them. Try out the activity below with your preschooler!
Excerpted from Unplugged Play: Preschool by Bobbi Conner. Copyright © 2020 by Bobbi Conner. Illustrations copyright © 2020 by Bart Aalbers.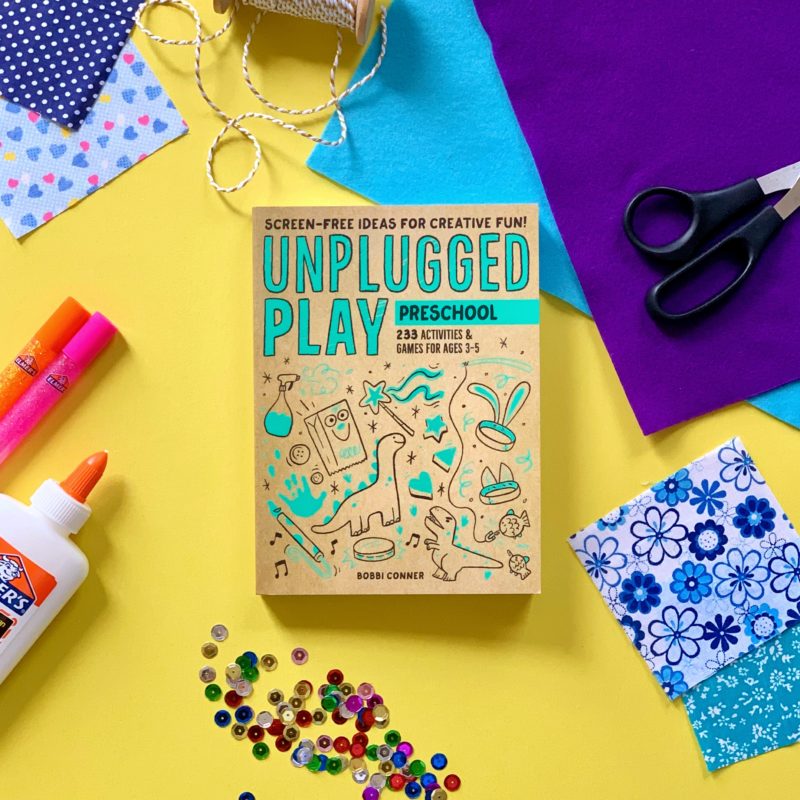 VIP Banner
Tell your child what VIP stands for and make a banner to honor each VIP in the family. Just don't let it go to anyone's head.
AGE: 3–5 years
CATEGORY: Parent & Child/Indoor
NUMBER OF CHILDREN: One
Materials
Colored felt rectangles (2 or more colors, 12 by 18 inches each)
Scissors (for adult use only)
Yarn
Nontoxic white glue
Sequins, glitter glue, buttons, zigzag trim, fabric scraps
Create
You'll use one piece of felt for the banner, and you'll cut the others into the letters of your child's name and various decorative shapes. Center a 24-inch piece of yarn along the top edge of the felt banner. (Place the yarn about a half inch from the edge.) Squirt a generous line of glue along the edge of the felt and fold the banner over the yarn. Press firmly for a few minutes to let the glue take hold. Allow the glue to dry. Trim the bottom of the banner to create a point. Cut out the letters of your child's name (arrange the letters diagonally, running from the banner's top left corner to its bottom right corner). Decorate with glitter glue, sequins, decorative trim, or felt shapes. Tie the ends of the yarn sticking out from the banner into a bow for easy hanging.
More About Unplugged Play: Preschool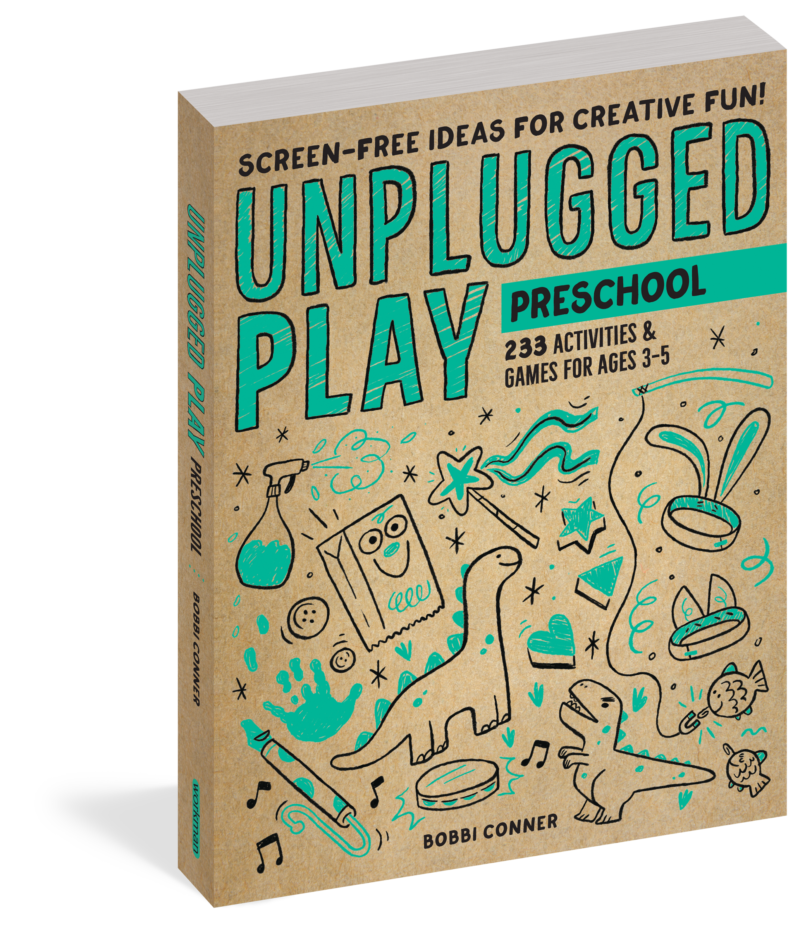 Unplug Your Preschooler with more than 200 screen-free games and activities!
"Just plain fun!… Will help parents give their children the kind of childhood that more and more children are missing."––Mary Piper, PhD., author of Reviving Ophelia Saving the Selves of Adolescent Girls
From Animal Doctor to Lunch Bag Puppet, Letter Hunt to Life-Size Me, here are more than 200 screen-free games and activities to help kids enjoy the wholesome, old-fashioned experience of playing creatively and freely…without technology. There are outdoor games and indoor games, games to play solo and games to play with others, arts and crafts, songs and rhymes, playdates and party favorites––even instant activities to do at the kitchen table while dinner's cooking. All games are preschooler-tested and approved.
A note to parents: Play matters! Technology has its place, but these unplugged games are designed to stretch the imagination, spark creativity, build strong bodies, and forge deeper connections with family and friends.