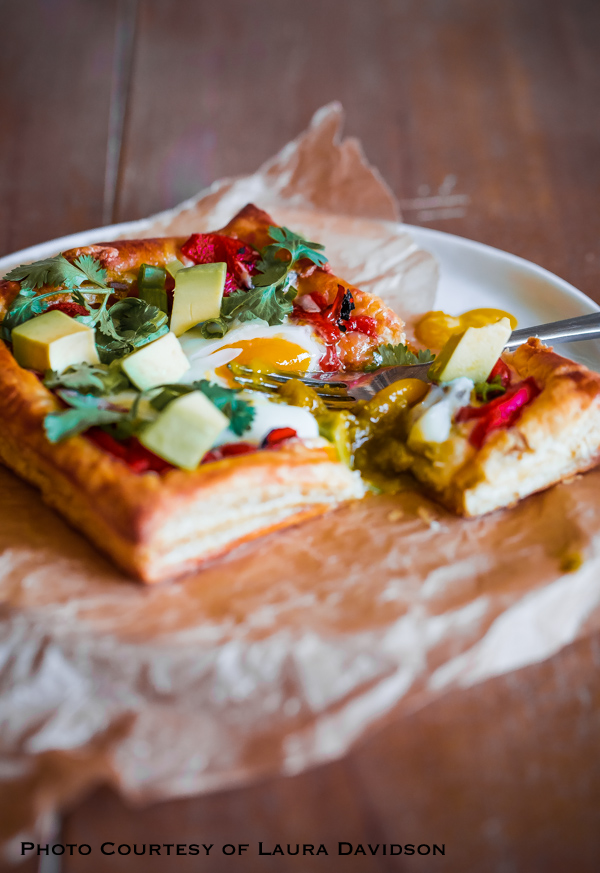 When is the last time you received breakfast in bed? It makes for a memorable gift anyone would gladly accept on Valentine's Day. This year, we have two new recipes on our blog that we think are the perfect breakfast treat. Both recipes come to us from Laura Davidson, the writer and food photographer behind abeautifulplate.com, and author of the upcoming cookbook Sheet Pan Suppers Simply Meatless (Spring 2017).
While we wait for the next cookbook to come out, you can pick up the original Sheet Pan Suppers wherever books are sold!
Egg, Cheddar, and Green Harissa Puff Pastry Squares
Print Recipe
Ingredients
3-4 bell peppers (~3/4 lb)

olive oil

salt

pepper

1 whole egg, plus 1 teaspoon of water

2 sheets of frozen puff pastry, thawed (plus all-purpose flour, for dusting)

2 tablespoons Mina Green Harissa

5 ounces freshly grated sharp cheddar cheese

4 whole eggs

salt

1/2 avocado, diced

two scallions, finely sliced

fresh cilantro leaves
Instructions
1
Roast Peppers: Preheat the broiler to high. Lightly coat the bell peppers with olive oil, and season with salt and pepper. Place the peppers, uncovered, on a small baking sheet. Broil the peppers for 12-18 minutes, flipping them several times, until they are blackened on all sides.
2
Remove from the oven and place in a large bowl. Cover the bowl with plastic wrap, and allow the peppers to sit for 15-20 minutes. Once the peppers are cool enough to handle, peel them, slice in half, remove the seeds and stems, and slice into thin strips. Set aside.
3
Pre-Bake Puff Pastry Squares: Preheat the oven to 425 degrees Fahrenheit. Line a large baking sheet with parchment paper or Silpat. In a small bowl, whisk together one whole egg and one teaspoon of water. Set aside.
4
Remove one sheet of puff pastry from the fridge, and place on a lightly floured counter top. Using a pizza or pastry (non-fluted) cutter, or very sharp knife, cut the pastry sheet into four equal-size squares. Cut the pastry as cleanly as possible with one stroke–this will help the edges to rise properly in the oven. Place the puff pastry squares back onto the baking sheet, and refrigerate while you work with the remaining sheet of puff pastry.
5
Remove the remaining sheet of puff pastry from the fridge and place on a lightly floured counter top. Repeat Step 3 and cut the pastry sheet into four equal squares. Working with one square at a time, and using a pizza or pastry wheel cutter, cut out a square within each pastry square, so that you create a 3/4″ wide "square border" (see photo #4 in original post for demonstration). Discard or re-freeze the extra puff pastry square (layer them in parchment paper, and cover tightly with plastic wrap). Repeat.
6
Remove the puff pastry squares from the fridge. Lightly brush them with egg wash. Place a puff pastry border directly on top of each square, so that the borders line up evenly–the egg wash will act as a glue. Brush the top and edges with egg wash. Repeat until all puff pastry squares have been assembled.
7
Using a fork, dock the inside of the pastry (do not dock the border)–this will prevent the inside from rising as high as the sides. Place the puff pastry squares in the refrigerator to chill for an additional 10 minutes. During this time, assemble the rest of the ingredients and grate the cheese.
8
Remove the puff pastry from the fridge. Bake at 425 degrees Fahrenheit (center rack) for 12-14 minutes, or until the puff pastry is lightly golden brown. Remove from the oven, place on a cooling rack, and allow to cool slightly. Reduce the oven heat to 400 degrees.
9
Assemble & Bake: Using a spoon or your fingertips, lightly press down on the inside of each puff pastry square to deflate the layers slightly and create a deeper well. Spread the harissa evenly onto the bottom of each puff pastry square with the back of a metal spoon or off-set spatula. Distribute the grated cheese evenly among the squares. Add the roasted red pepper strips, placing them along the inside edges.
10
Carefully crack a whole egg into the center of each puff pastry square. Lightly season with salt. Bake at 400 degrees Fahrenheit (center-rack) for 12-16 minutes, or until the egg whites are just set (but the yolk is still soft to touch).
11
Remove from the oven, top each square with scallions, diced avocado, and fresh cilantro leaves. Serve immediately.
Notes
I recommend using Dufour and Pepperidge Farm puff pastry sheets. From my experience, Trader Joe's frozen puff pastry does not rise nearly as high. If you do not feel like roasting peppers from scratch, feel free to substitute with jarred roasted red peppers (however, they are not as tasty!). Mina Harissa is available at Whole Foods and other grocery store locations, and can also be ordered online on Amazon.