Ghosts get around. Just about every place in the world has its own version of spirits returned from the dead. Some are scary, but others are playful and even helpful. Here are just 7 of the ghosts that haunt people across the globe, excerpted from Julie Winterbottom's Frightlopedia.

1. THE GHOST WITH HALF A BODY
In Tanzania, people once believed in a ghost called a kinyamkela. It lived in the hollow of a tree and was invisible most of the time. When it did appear, it looked like half of a human body, with one leg, one hand, one eye, and one ear. The kinyamkela had a temper. If you took bananas from its tree, for instance, it would shower you with stones and human bones and threaten to kill you. But if you brought it some replacement food, it was willing to forgive.

2. THE FISH-LOVING GHOST
In parts of India and Bangladesh, a mechho bhoot is a brawny male ghost that adores fish and often steals them from fishermen. The greedy ghost is also known to enter people's homes and run off with freshly prepared meals. If you refuse to give this ghost food, it will enter your body and make you vomit. Maybe handing over the fish is a good idea.

3. THE HAIRY, HELPFUL GHOST
A domovoi is a friendly ghost with a long beard that lives in Russian homes. Domovois help with chores and protect families from evil spirits. But sometimes they get angry—especially if they witness sloppy housekeeping or bad language. Then they behave like poltergeists, knocking on walls, making objects rattle, and leaving muddy footprints all over the house.

4. THE ANGRY GHOST
In Japan, onryō are angry ghosts who seek vengeance on those who wronged them. Sometimes they kill their enemies and remove their spirits; other times they get revenge by causing earthquakes and other natural disasters. One of the most famous onryō is Oiwa, the ghost of a woman whose husband betrayed her and then tried to poison her. Oiwa wears a white dress and has long ragged hair. Her left eye droops down her face, and she is partly bald (damage caused by the poison). Rather than kill her husband, she torments him by following him everywhere.

5. THE HUNGRY GHOST
In some Chinese religions, people who behave badly when they are alive are believed to return to Earth as egui or "hungry ghosts" after death. These ghosts are in a terrible bind: They crave food, but they cannot eat. Some have flaming mouths that set food and drink on fire. Others have mouths the size of a pinhole and pencil-thin throats that prevent them from being able to swallow.

6. THE WEEPING GHOST
In Mexico, a ghost known as La Llorona (the Weeping Woman) is said to roam the countryside, crying desperately as she searches in vain for her children. There are many versions of the legend. Some say that La Llorona was once a beautiful woman who went mad when her husband rejected her. She drowned her children in revenge. Horrified by what she'd done, she proceeded to drown herself, too. Her ghost wanders eternally, weeping. Men who follow her end up disappearing forever—it's La Llorona's revenge against her husband.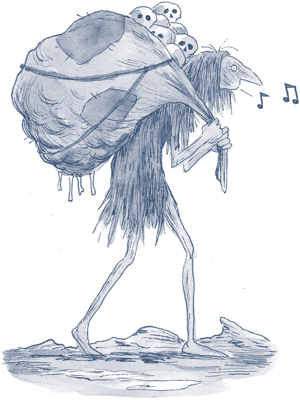 7. THE WHISTLING GHOST
In Venezuela, the ghost of a tall, thin man is said to roam at night clutching a bag filled with bones. The ghost pauses at people's doorsteps to count his bones, and if you do not stop to listen to him count, someone in your house might die. Called El Silbón, which means "The Whistler" in Spanish, this tormented ghost emits an eerie whistling sound, but it won't help you avoid him. When the whistle sounds close, El Silbón is far away. But when the whistle sounds very distant, El Silbón is right next to you.
For more ghosts and frights, check out Frightlopedia, available now.
All illustrations by Stefano Tambellini