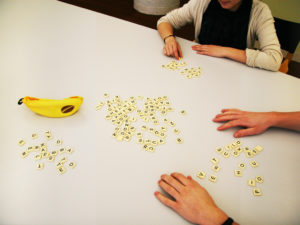 It may appear that our interns are all play and no work–but look closely and you'll see they're actually doing research for our next Bananagrams! book. (Okay, our work is kinda fun.)
Around here at the Workman offices, we  can't get enough of Bananagrams–in fact, many of us are relying on Bananagrams! The Official Book to get us through the holiday travel hours. Our advice: Don't forget to pack this little yellow book so you can be solving puzzles while your plane's stuck at the gate or idling on the runway–it's a  lot more fun than re-reading the safety manual in the seat pocket in front of you…again.
Happy Thanksgiving and safe travels!