Long car rides can be hard enough for grown-ups, but for kids, they can be maddening. And a child's unhappiness tends to spread in a confined space. So we decided to do some research—for ourselves and for you, lovely reader—on the best books and activities that will keep kids engaged and happy on a road trip. Here's what we found.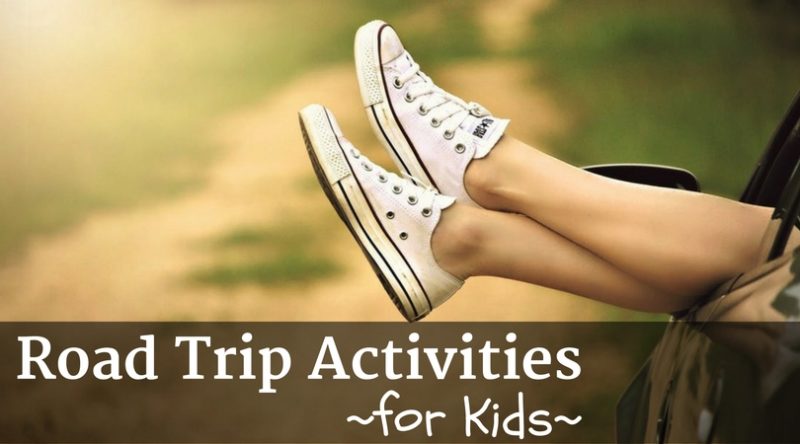 Kids Travel Lap Tray
First things first: kids need to have a steady, comfortable surface to read, play, and snack on for hours throughout the ride.
Crayola Washable Markers Kit
If they're going to be drawing in a moving vehicle, the markers better be washable. Bonus: this kit comes with paper and a durable case.
The Doodle Adventures Series by Mike Lowery
Mike Lowery's hilarious series first lets kids draw themselves into the story, and then continues with prompts to add more illustrations and doodles to make each book super unique to your child.
Summer Brain Quest Workbooks
A great way to *subtly* keep kids learning while they're having fun. The new Summer Brain Quest workbooks help kids avoid summer learning loss while they're not in school.
Mad Libs® on the Road
A road trip-themed version of the word game that has kept kids and families laughing for decades.
A Healthy Snack Variety Pack
This one's filled with delicious and satisfying nuts, bars, and gummies, because "hanger" ain't just for grown-ups.
You Gotta Be Kidding!
"Would you rather" questions made for kids, featuring hundreds of bizarre, embarrassing, sometimes ethical and sometimes stomach-churning dilemmas that kids will love to pose to their friends and family from the backseat.
Fandex Family Field Guides: 50 States by Thomas J. Craughwell
Which is the only state with a tropical rain forest? Which state sparked the civil rights movement? Illustrated with full-color, custom-designed maps and featuring nicknames, capitals, mottoes, emblems, anecdotes and natural treasures, it's a rich mosaic of the United States as you travel through it.
Children's License Plate Game
Keep kids actively engaged (and learning about geography) with this classic wooden board game.
Who Wins? by Clay Swartz, illustrated by Tom Booth
Who would win in a lightsaber duel between Charles Dickens and Mother Theresa? Who would win a karaoke battle—Nelson Mandela or Jane Austen? Kids can debate these and more hilarious hypotheticals while learning about the historical figures featured in this mix and match book.
Story Pirates Podcast
Story Pirates is a group of world-class actors, comedians, improvisers and musicians who adapt stories written by kids into sketch comedy and musical theater. Just download a few free episodes of their podcast and press play.
A Microbead Travel Neck Pillow
Some bright travel pillows that will make taking a nap downright enticing (*fingers crossed*).