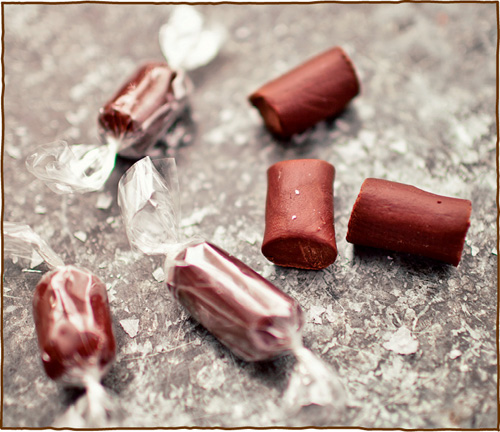 Thinking of trying your hand at homemade candy this Halloween? These salted soft chocolates from Brooklyn's adorably homegrown candy shop Liddabit Sweets are both addictively chewable and sophisticatedly grown-up—think Tootsie Roll flavored with good-quality dark chocolate and sea salt.
Salted Chocolate Caramels
Makes about 120 one-inch pieces
"This is one of those candies we'll forget about for a while, and then when we eat one, we say to ourselves, "Hot dang! That's really good." It can be easy to forget sometimes, in this crazy mixed-up world, how pleasurable a simple combination like caramel, chocolate, and salt can be. If you've never had a real chocolate caramel, we'll spare you the attempt at describing the experience of eating one—just go ahead, make this, and find out for yourself. (Hint: it starts with a D and ends with an Elightful.) When we're feeling extra fancy, we like to reduce butter to 2 1⁄4 tablespoons and add 1 teaspoon black truffle oil. Yum!"
Equipment
Large (13″ x 18″) rimmed baking sheet
Candy thermometer
Heatproof spatula
Cutting board, lined with parchment or wax paper
Wax twisting papers
Ingredients
3 1⁄2 tablespoons (50 g) unsalted butter, plus about 1 teaspoon for greasing the baking sheet
1 3⁄4 cups (350 g) granulated sugar
3 1⁄2 ounces (100 g) unsweetened dark chocolate, chopped into small pieces (about 1⁄2 cup)
1 1⁄2 cups (12 ounces/375 g) evaporated milk
2⁄3 cup (160 g) heavy (whipping) cream
3⁄4 cup plus 1 tablespoon (300 g) light corn syrup
1 tablespoon (20 g) coarse sea salt Cooking spray or vegetable oil
1. Grease the baking sheet with the 1 teaspoon butter, and set it aside on a heatproof surface.
2. Combine the sugar, chocolate, evaporated milk, and heavy cream, in a large (6- to 8-quart) saucepan or stockpot. Bring to a boil over medium-high heat, uncovered and without stirring.
3. Once the mixture has come to a boil, insert the candy thermometer. Add the corn syrup, and stir gently with the heatproof spatula until everything is mixed well. Reduce the heat to medium- low and cook, stirring often and making sure to scrape the bottom of the pot to keep the mixture from burning, until the mixture reaches 230°F/110°C (thread stage), about 30 minutes.
4. Add the 31⁄2 tablespoons butter and, stirring continuously, cook the caramel until it reaches 238°F/115°C (soft ball stage), 15 to 20 minutes. Remove the caramel from the heat.
5. Stir in the salt, making sure to mix well so that it's distributed evenly. Wearing oven mitts, carefully pour the caramel onto the prepared baking sheet. Allow it to cool completely until it's firm to the touch, at least 3 hours, preferably overnight. (If it's humid, cover the caramel with plastic wrap until you can cut it and wrap it in wax paper.)
6. Lightly coat a sharp chef 's knife with cooking spray, and run the tip around the edge of the baking sheet to release the caramel. Gently turn the caramel out onto the lined cutting board, and cut it into 1-inch squares. Wrap the pieces in wax twisting paper (to turn the squares into little logs, fold each piece over on itself, wrap the twisting paper around it and roll the wrapped caramel against the cutting board, then twist the ends of the paper shut).
Store the caramels in an airtight container at cool room temperature for up to 4 weeks; they'll last for up to 3 months in the refrigerator.
From Brooklyn's own Liddabit Sweets, it's the perfect marriage of sugar and spice, packed with 75 foolproof recipes for making artisanal-grade candies in your own home kitchen.
GET THE BOOK:  Amazon | iBooks | B&N | Kobo | Google Play