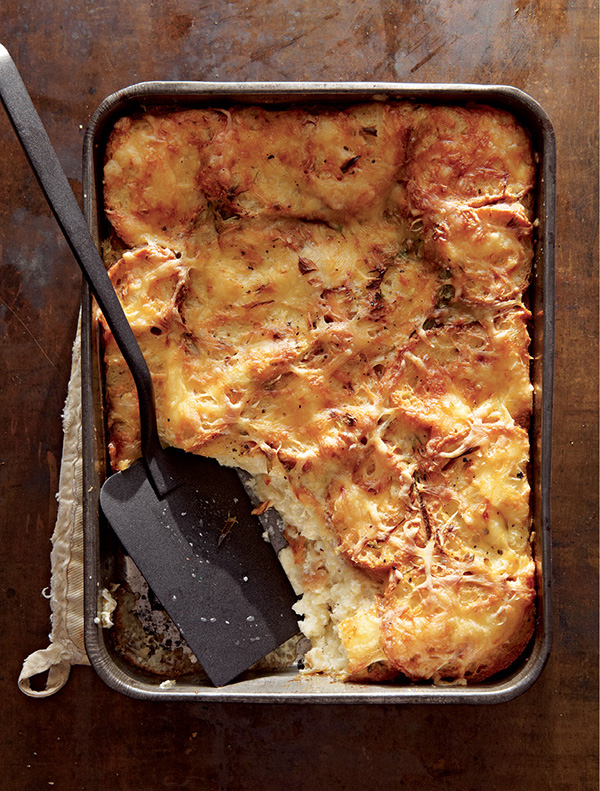 This month over at the Artisan Cookbook Club, we're celebrating the release of David Tanis's new book One Good Dish. In his first non-menu cookbook, the New York Times food columnist offers 100 delicious recipes that epitomize comfort food, Tanis-style. From the book, here's a recipe for an utterly simple, mind-blowingly good Ham and Gruyère Bread Pudding that should get you through the fall.
Ham and Gruyere Bread Pudding
Serves 4
"A traditional bread-and-butter pudding made with milk, egg, sugar, and spice is for some the ultimate use of an old loaf. Like French toast, it is a frugal way to make a delicious dessert. I usually prefer a savory version with ham and cheese. It's sort of like a quiche, but easier. Adding briefly cooked spinach or chard makes a lovely green version, or sprinkle in a handful of freshly chopped herbs along with the scallions."
4 tablespoons butter, softened 1 day-old French baguette, cut into 1⁄4-inch slices
1⁄4 pound good-quality smoked ham, diced
6 ounces Gruyère cheese, grated
3 large eggs
2 1⁄2 cups half-and-half Salt and pepper
Grated nutmeg
6 scallions, finely slivered
Heat the oven to 375°F. Lightly butter a shallow 2-quart rectangular baking dish. Spread the remaining butter thinly on the slices of baguette. Line the baking dish with half the baguette slices, butter side down. Arrange the ham and half the cheese over the bread. Top with the remaining baguette slices, butter side up, and sprinkle with the remaining cheese.
Beat together the eggs and half-and-half, adding 1⁄2 teaspoon salt and pepper to taste. Grate in a little nutmeg, add the scallions, and whisk again. Pour the mixture into the baking dish, pushing down to submerge the bread if necessary.
Bake for about 45 minutes, until the custard is set but still a bit wiggly and the top is nicely browned.
Photo by Gentl & Hyers
"David Tanis understands that sometimes maximum flavor is achieved through subtraction. This book is a perfect example of his culinary philosophy that food doesn't have to be complicated to be delicious." —David Chang, chef and owner, Momofuku
One of Publishers Weekly's Top 10 Cookbooks for Fall 2013
GET THE BOOK: Amazon | iBooks | B&N | Kobo | Google Play