Excerpted from Alison Cayne's The Haven's Kitchen Cooking School (Artisan Books). 
A frittata is a dependable dish for entertaining as it can be made ahead of time. Complete the recipe through step 5. Once the frittata is out of the oven, instead of plating it on a serving dish, put it on a foil-lined baking sheet, wrap, and refrigerate. When you're ready to serve, unwrap it and pop it under the broiler for 3 to 5 minutes, checking frequently, until the frittata is warm and the cheese bubbles. Transfer to a serving plate.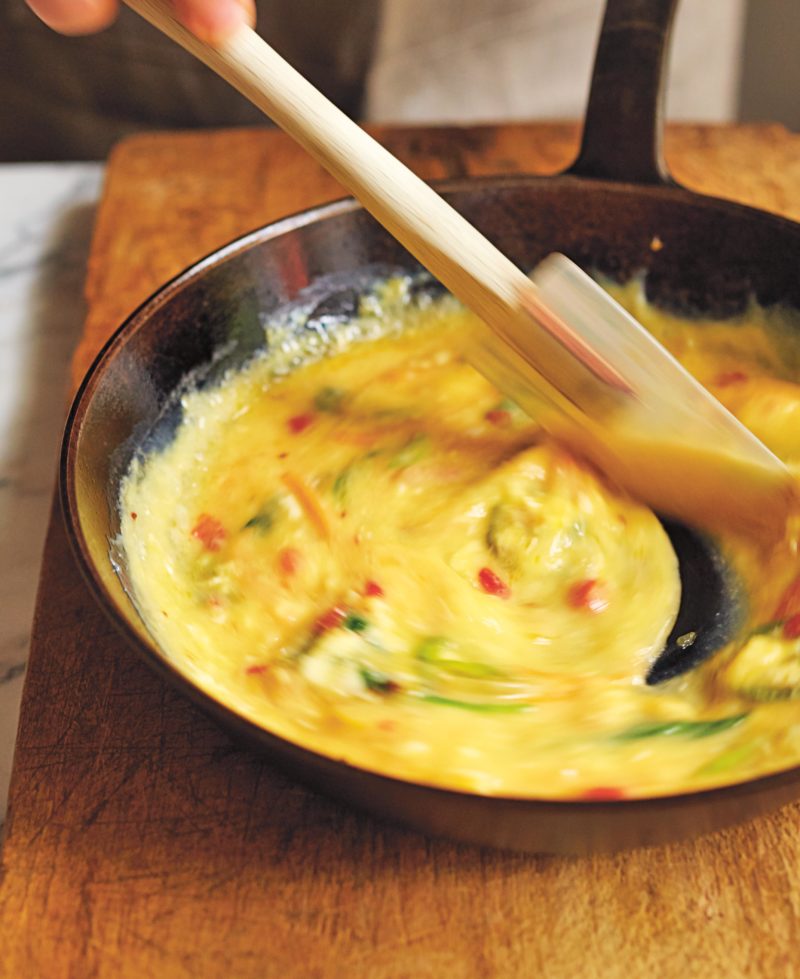 How to Make a Frittata
Preheat the oven to 325°F.
In a large bowl, combine 12 large eggs with ¹/₃ cup half-and-half and about 1 teaspoon fine sea salt. Whisk until well blended. Set aside.
Heat a 10-inch ovenproof nonstick pan over medium-high heat and pour in 1 tablespoon neutral-flavored oil (such as grapeseed or canola). Add 1 cup chopped vegetables—no more or the frittata won't hold its shape—and a generous pinch of sea salt. Sauté until the vegetables are tender.
When the vegetables are cooked and their residual liquid has evaporated, pour in the egg mixture. Using a silicone spatula, gently fold the eggs from the edges into the center. Stir constantly so the eggs on the bottom do not overcook. Remove the pan from the heat when the eggs begin to set in drapey folds and the top is still a little runny.
Sprinkle with grated cheese—Gruyère is nice—and place in the oven. Cook until the top is set, about 6 minutes.
Remove the pan from the oven and set it on a wire cooling rack; let the frittata cool for at least 5 minutes. Holding the pan with your nondominant hand, work a silicone spatula around the edges and beneath the frittata to gently release it, then slide it out onto a cutting board or serving platter. Serve warm or at room temperature.
Filling Options
Red peppers, scallions, Manchego
Mushroom, pancetta, Parmigiano-Reggiano
Leeks, cauliflower, Gruyère
About the Book
The Must-Have Manual for Every Aspiring Home Cook
Learning to cook has never been simpler—or more delicious—thanks to The Haven's Kitchen Cooking School. Each of the book's nine chapters centers on a key lesson: in the eggs chapter, readers will learn about timing and temperature while poaching, frying, and scrambling; in the soups chapter, they will learn to layer flavors through recipes like Green Curry with Chicken. The rigorously tested recipes—including wholesome lunches, dinner-party showstoppers, and delectable desserts—will become part of readers' daily repertoires. Beautiful photographs show both the finished dishes and the how-to techniques, and helpful illustrations offer further guidance.
Buy the Book
Amazon | B&N | Indiebound | Workman