Excerpted from Lucinda Scala Quinn's Mad Hungry Family (Artisan Books).
Once cooled, these cookies make excellent ice cream sandwiches. Place a scoop of vanilla ice cream between two of them, press together, wrap in plastic wrap, and freeze.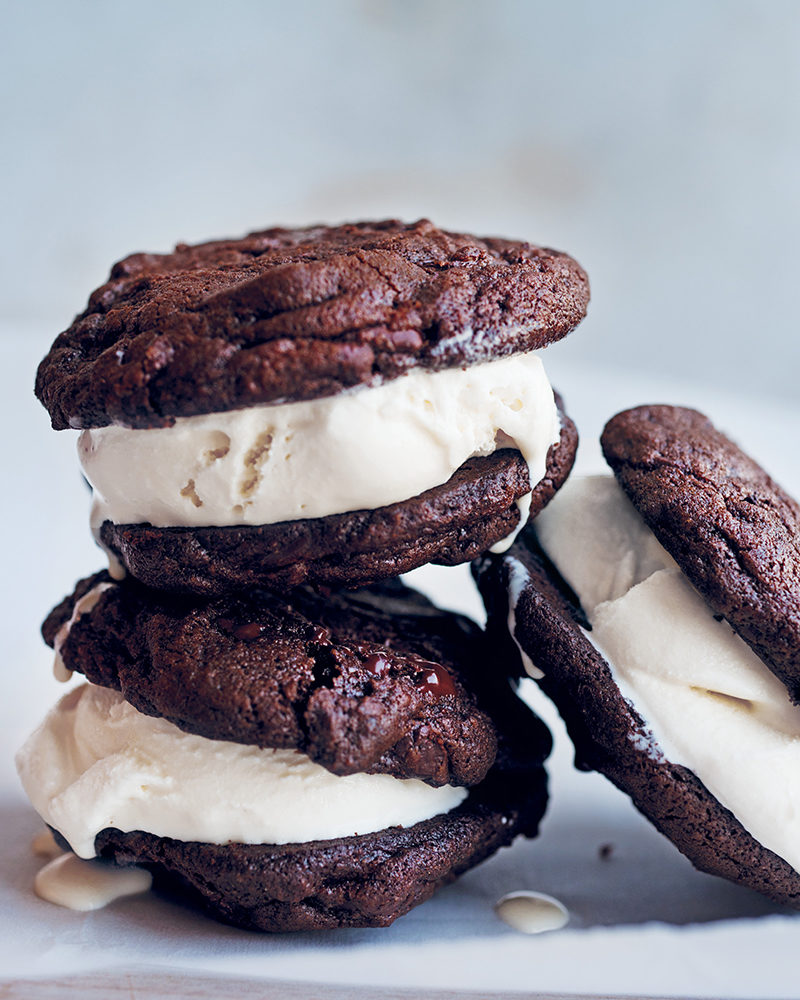 Giofrankie's Double Chocolate Chip Cookies
Makes about 60 cookies
Ingredients
2¼ cups all-purpose flour, plus more for dusting
1 cup unsweetened cocoa powder
2 teaspoons baking soda
1 teaspoon coarse salt
1¼ cups (2½ sticks) unsalted butter, at room temperature
1¼ cups granulated sugar
¾ cup packed light brown sugar
2 large eggs
1½ teaspoons pure vanilla extract
12 ounces chocolate chips
Instructions
Preheat the oven to 350°F. Line two baking sheets with parchment paper or silicone pads. Whisk together the flour, cocoa powder, baking soda, and salt in a large bowl.
In the bowl of a stand mixer fitted with the paddle attachment or using a hand mixer, cream together the butter and sugars until light and fluffy. Add the eggs and vanilla extract and beat well, scraping down the sides of the bowl as needed. On low speed, add the flour mixture, mixing until just combined. Fold in the chocolate chips.
Form 1¼-inch balls of dough and arrange them on the lined baking sheets. Bake, rotating the baking sheets and switching the racks halfway through, until the cookies darken around the edges, about 11 minutes. Let cool on the baking sheets for 5 to 10 minutes before transferring to wire racks to cool completely.
About the Book:
Author of the beloved Mad Hungry: Feeding Men and Boys, Lucinda Scala Quinn is the country's foremost evangelist for family meals every day of the week. And she knows that the only way to make them a reality is by building a repertoire of dishes that are quick and easy to prepare, and guaranteed to please. In Mad Hungry Family, Scala Quinn has collected all the no-fuss, big-flavor recipes that send her family stampeding to the kitchen table—from flat roast chicken to second-day spaghetti pancakes—and peppered them with tips, tricks, and solutions learned over a lifetime of cooking both professionally and for her family of five. Here are survival strategies for nothing-in-the-fridge crises, feeding unexpected guests, getting Thanksgiving dinner on the table before your family revolts, and more. Also included are primers on the ingredients and techniques you need—and permission to ignore those you don't. With soulful, satisfying recipes and real talk about what it takes to make family meals a reality, Mad Hungry Family is the "you-can-do-this" handbook every home cook needs.
Buy the Book
Amazon | B&N | Indiebound | Workman