Welcome to another installment of Inside the Author's Studio, where we give you a peek into the minds and studios of your favorite Workman authors.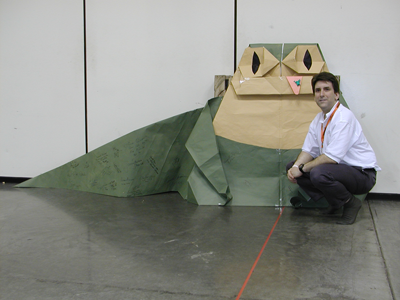 Today, in anticipation of Star Wars Reads Day on October 6th–stay tuned for lots more Star Wars action this week!–we venture into the studio of Chris Alexander, author of Star Wars Origami for a little Q&A, speed-round style.

Recent book you loved/learned from
I just finished is The Singularity is Near by Ray Kurzweil. It's about the exponential increase in levels of technology and how it will effect our daily lives. Some of it is scary, and some very inspiring. These are exciting times we're living in.
Favorite bookstore
My local Barnes and Noble.
Hidden talent
Stupid trivia and bar games. I''m the guy you want on your team for trivial pursuit.
Bookmark, dog-ear, or virtuality?
Bookmark. For some reason people like to give me bookmarks as gifts, so I''m always upgrading.
Book you are most ashamed never to have read
I don''t really have one, but there are a lot of movies I''ve never seen that everyone else has. Does that count?
Most frequent form of writerly procrastination
Youtube. Whoever invented that evil time waster should be given commendations for cleverness and then shot.
Favorite childhood book
The Phantom Tollbooth by Norton Juster, and I''m in the middle of it again.
Alternate ambition (i.e. If you weren't an air traffic controller/origami expert, you'd be…)
I wanted to be an archeologist–long before Indiana Jones existed! So, in a parallel universe I''m in the desert someplace looking for my mummy.
Your perfect meal
Lobster (that I caught myself) over pasta, surrounded by good friends.
Big dream
To someday be counted among the greatest origami artists of all time.
Super power of choice
The ability to stop time! I''ve fantasized about that since I was about seven years old. I have a lot of plans for its use when I achieve it.
If you could be any character from the Star Wars universe, who would you choose?
Luke Skywalker. Who wouldn''t want to be the hero?
What is your favorite origami model of all time? (Yours or someone else's, Star Wars-themed or not!)
There are so many to choose from. Robert Lang''s Black Forrest Cuckoo Clock is amazing. Joseph Wu''s one-fold stegosaurus is a classic. But I think my favorite is the Full Rigged Ship designed by Patricia Crawford; it's a thing of beauty.
—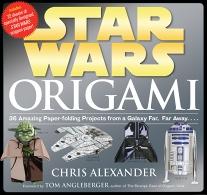 Chris Alexander has been doing origami since the age of four, when his mother showed him how to fold a simple cup and he did—just like that. Since then he's created over 150 original origami designs—more than 50 of them themed around the world of Star Wars. He created StarWarsOrigami.com and tours around the country folding at conventions and museums when his real job (air traffic controller) allows.