We're proud to be part of the independent publishing community, promoting titles that breed independent minds, break the mold, and dare to be different. In support of our fellow independents, we'd like to draw attention to big books from smaller publishers across the country. In honor of National Letter Writing Month, we're highlighting our best books on the art of letter writing. 
What are your favorite independent books? Join in on the conversation by using #IReadIndie.
Workman Publishing
Color-Your-Own Greeting Cards
by Caitlin Keegan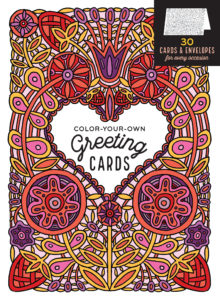 Offering a practical twist on the ever-popular coloring book, these 30 ready-to-color cards have images and hand-lettered messages for celebrations big and small throughout the year—including birthdays, weddings, anniversaries, welcoming a new baby, and offering congratulations and thanks—as well as more general all-purpose pictures. Accompanying ready-to-color envelopes mean the completed 5×7 cards will be ready for mailing.
Buy the Book
Indiebound | B&N | Amazon | Workman
The Complete Book of Chalk Lettering
by Valerie McKeehan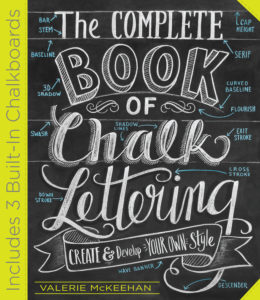 In over 60 lessons, with three foldout "chalkboards" for practice, learn the ABCs of lettering (literally) and basic styles: serif, sans serif, and script. Next, lay out a design, combine various styles into one cohesive piece, add shadows and dimension. Then master more advanced letter styles, from faceted to ribbon to "vintage circus." It's everything you need to know to create gorgeous hand-drawn designs.
Buy the Book
Indiebound | B&N | Amazon | Workman
Secrets of the Circus
by Kate Klise, illustrated by M. Sarah Klise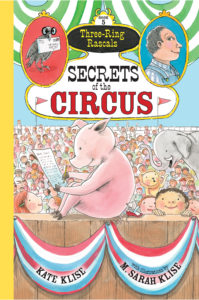 The members of the world's friendliest circus must band together and save Gert's secret pen pal—a pig named Pablo—in Secrets of the Circus, another zany adventure in the Three-Ring Rascals series. Download free stationery and start writing your own pen pal!
Buy the Book
Indiebound | B&N | Amazon | Workman
ABRAMS Books
Form Letters
by Laura Olin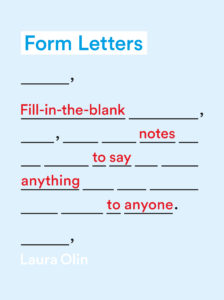 Have you ever wanted to tell someone you've been desperately in love with them for years, or that you hate the sound of their voice, or that you're really, really, REALLY sorry you threw up on them last night when you were drunk? Form Letters not only offers you a way to do so, but also makes it simple and irresistible. These letters let you privately reflect on all the things you wish you'd said. Or, you can tear the letters out and send them to their intended recipients. Either way, Form Letters offers cathartic, hilarious, and much-needed moments of self-reflection.
Buy the Book
Indiebound | B&N | Amazon | ABRAMS
Love Notes: Poems from the Typewriter Series
by Tyler Knott Gregson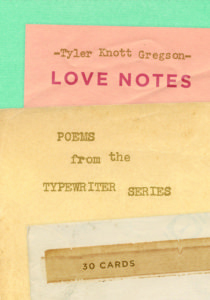 From Tyler Knott Gregson, author of the national bestseller Chasers of the Light and creator of the Typewriter Series, this book contains 30 beautiful poetry cards devoted to love. Printed in full-color on heavy stock with gold edges, each card is a spontaneous romantic gesture waiting to happen. Include one with flowers and send another by mail. Place a card on a pillow, leave one by the morning coffee, and tuck another in a coat pocket for later discovery. Selected from Tyler's most insightful pieces of work, this collection is filled with heartfelt, honest, and inspiring words from one of poetry's most popular new voices.
Buy the Book
Indiebound | B&N | Amazon | ABRAMS
I Heart You: 2 Fill-In Books (1 for You, 1 for Me)
by Abrams Noterie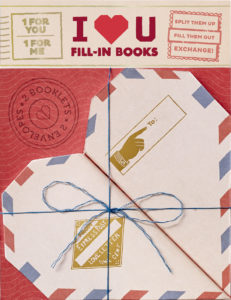 Have a heartfelt exchange with your partner or best friend. These identical half-heart-shaped booklets contain fun and thoughtful prompts that invite you and someone special to share what you love best about each other. Fill out one booklet and give the other to a loved one to fill out for you. Then exchange the completed booklets and feel the love! The package comes with two envelopes for mailing or gifting.
Buy the Book
B&N | Amazon | ABRAMS
Grove Atlantic
Neither Snow Nor Rain
by Devin Leonard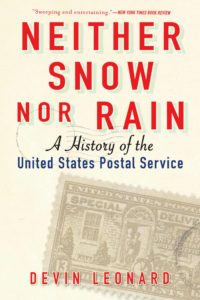 The United States Postal Service is a wondrous American creation. Seven days a week, its army of 300,000 letter carriers delivers 513 million pieces of mail, 40 percent of the world's volume. It's far more efficient than any other mail service in the world, and it has a storied history. Founded by Benjamin Franklin, it was the information network that bound far-flung Americans together, fostering a common culture. A first-class stamp remains one of the greatest bargains of all time, yet the USPS is slowly vanishing. Neither Snow Nor Rain is a rich history, full of remarkable characters, from the stamp-collecting FDR, to the revolutionaries who challenged USPS's monopoly on mail, to the renegade union members who brought the system—and the country—to a halt in the 1970s. An exciting, engrossing read, Neither Snow Nor Rain is the first major history of the USPS in over fifty years.
Buy the Book
Indiebound | B&N | Amazon
CHRONICLE BOOKS
Letters to My… Series
by Lea Redmond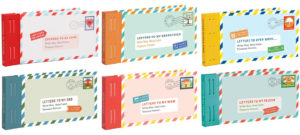 At once a priceless memento and a journey forward in time, Lea Redmond's Letters to My… series features innovative books of 12 fold-and-mail style letters, offering a unique way to capture the moment. The bound books include prompted letters to an important person in your life: your future self, your new baby, your grandchild, or your romantic partner. Each blank letter smartly folds out for ease of writing, seals up tightly, and then remains attached to the spine to be opened by the lucky recipient at some point in the future.
Buy the Book
Indiebound | B&N | Amazon | Chronicle
Belle Calligraphy Kit: Materials and Instruction for Modern Script
by Maybelle Imasa-Stukuls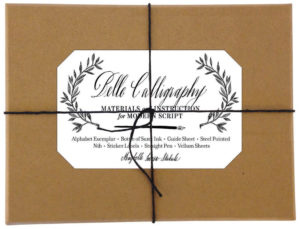 The covetable look of calligraphy is now well within reach for even the most novice practitioner. This ready-to-gift box—a brown paper package tied up with string—includes all the materials and technical guidance needed to learn calligraphy in a modern style that embraces the beauty of each person's unique penmanship. Illustrated project ideas show that script, easy as it is, makes everything irresistible.
Buy the Book
Indiebound | B&N | Amazon | Chronicle
Drop Caps: 100 Postcards illustrated
by Jessica Hische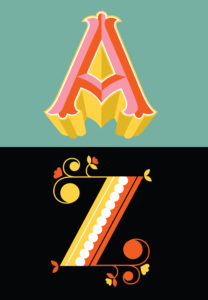 An A to Z of good design, this alphabetically oriented set of 100 postcards features the best hand-drawn letters from Daily Drop Cap, Jessica Hische's popular typography website. Bright colors and highly illustrative letters make a uniquely personal impression in the mail or on display as miniature monograms.
Buy the Book
Indiebound | Amazon | Chronicle