Excerpted from David Tanis Market Cooking by David Tanis (Artisan Books).
Buy the Book
Amazon | B&N | Indiebound | Workman
Japanese eggplants are long and slender. I like them split down the middle and smeared with a nutty, salty miso glaze, then baked until soft and nicely browned. The flavors play well together, like old friends.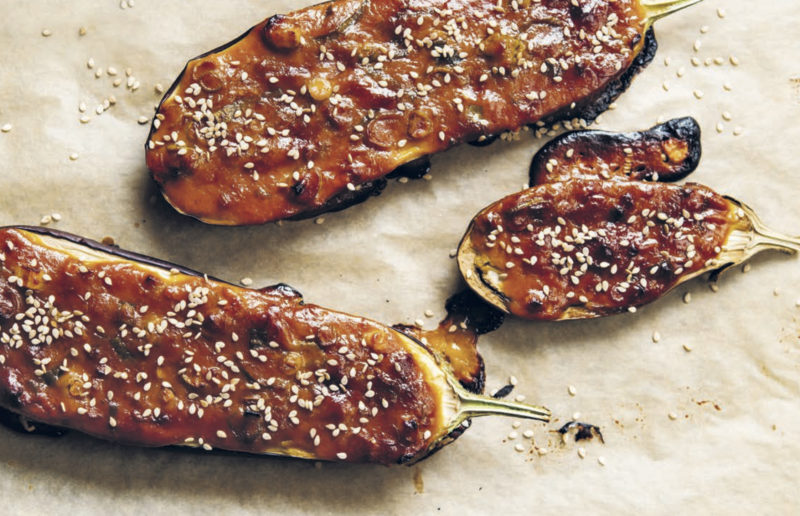 Japanese Eggplant with Miso
Ingredients
4 small Japanese eggplants Salt
1 tablespoon white miso
1 tablespoon red miso
1 tablespoon sake
1 tablespoon mirin
2 teaspoons soy sauce
1 teaspoon toasted sesame oil
2 teaspoons grated fresh ginger
1 tablespoon sugar
2 large egg yolks
2 scallions, thinly sliced
Toasted sesame seeds for garnish
Instructions
Heat the oven to 450 degrees. Split the eggplants lengthwise in half, leaving the stems attached. Sprinkle the cut sides lightly with salt and place cut side up on a baking sheet.
In a small bowl, stir together the white miso, red miso, sake, mirin, soy sauce, sesame oil, ginger, sugar, and egg yolks. The mixture will have the consistency of a thick batter. Spread it generously over the entire surface of the cut sides of the eggplants.
Place the pan on the top rack of the oven and bake for 15 to 20 minutes, until the eggplants are tender and the miso coating has begun to bubble and brown. If necessary, run the eggplants under the broiler for a minute or two. Garnish with the scallions and toasted sesame seeds. MAKES 4 TO 6 SERVINGS