The perfect family-made cheesesteak nachos recipe.
The beloved and well-known cheesesteak, now in nachos version! The recipe below is excerpted from Nachos for Dinner. Copyright © 2021 by Workman Publishing.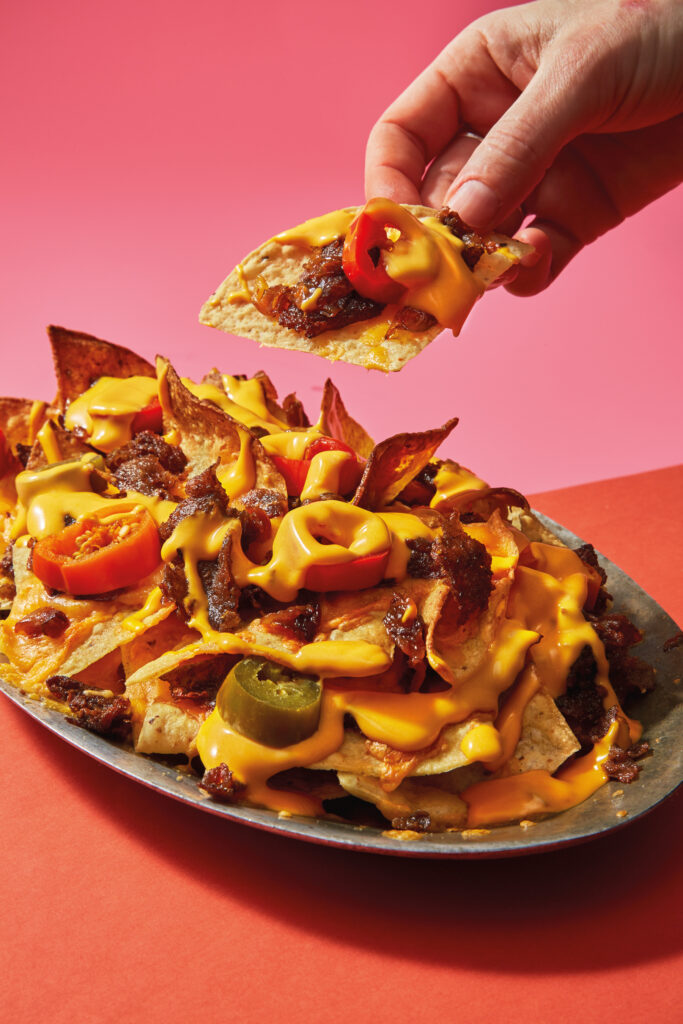 Cheesesteak Nachos
Makes 4 servings for dinner, or 8 as an appetizer. Takes about 1 hour.
Cheesesteak flavors lend themselves to nachos really well. The cheese can be a hot topic to cheesesteak purists—some say Cheez Whiz, others say provolone; some say mushrooms or peppers are acceptable, others absolutely not—so I tried to tread carefully with this recipe. We start with cheddar as a base and top the nachos with drippy Cheez Whiz to honor what some would argue adds that true Philly flavor. Caramelized onions are necessary for me in a cheesesteak, but I also love to add pickled peppers for a little brightness.
INGREDIENTS
2 tablespoons unsalted butter
2 large yellow onions, peeled and diced
1 pound shaved steak
1 tablespoon vegetable oil (optional)
Kosher salt and freshly cracked black pepper
1 cup Cheez Whiz
1 bag (12 ounces) tortilla chips (about 90 chips)
1 1/2 cups (6 ounces) shredded cheddar cheese
1/2 cup pickled peppers slices
INSTRUCTIONS
Melt the butter in a large frying pan over medium-high heat. Add the onions and stir to coat with the butter.
Cook the onions, adjusting the heat as needed—up if they aren't browning enough or down if onion bits start to burn on the bottom of the pan—until they are a deep brown and reduced in size, about 30 minutes. Remove from the pan and set aside.
Turn the heat up to high and add the steak to the pan (with the vegetable oil if needed). Season with salt and pepper. Cook, stirring often and using 2 spatulas to break up the meat, until browned and cooked through, about 10 minutes. Remove from the heat.
Preheat the broiler to high with a rack about 4 inches from the heat.
Meanwhile, gently warm the Cheez Whiz in a small saucepan over low heat or in a bowl in the microwave in 10-second increments.
Arrange the tortilla chips evenly on a sheet pan, overlapping them as little as possible.
Sprinkle the cheese on the chips, distributing it evenly. Next add the steak, followed by the onions and then the pickled peppers. Drizzle the Cheez Whiz over all.
Broil until the cheese has melted and the chips are starting to brown, 3 to 5 minutes. (Watch carefully to make sure they don't burn.) Remove from the oven. Serve hot.
More About Nachos for Dinner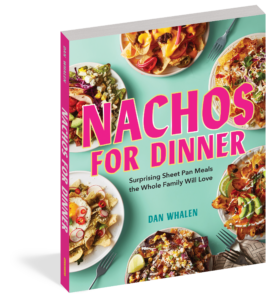 Crispy Base + Melty Sauce + Flavorful Topping = Nachos make a perfect sheet pan dinner!

It's like a dream come true! First, because you now have an invitation to eat a plate of nachos as a real meal, and second, because here are dozens and dozens of recipes and ideas to transform this beloved snack into a nourishing sheet pan dinner. Plus dessert.
Written by the irrepressible Dan Whalen, Nachos for Dinner combines the mad-genius spirit of his previous books, 'Smores and Tots!, with the practical brilliance of Sheet Pan Suppers. First Whalen breaks down the nacho's intrinsic appeal to its three essential components—a crispy base, a melty sauce, and a flavorful topper. And then he gives you the three flavor profiles—a lot of umami, a little heat, and something bright-tasting, whether pickled or fresh. From there the world is your nacho plate.
Of course there's the chips-and-cheese classic, but then the nachos veer decidedly into dinner, with favorites from every part of the meal from French Onion Nachos, Buffalo Chicken Nachos, and Cobb Salad Nachos to Fish Taco Nachos, Banh Mi Nachos, and Shrimp and Grits Nachos. And there are plenty of not-chos (that is, nachos that use other ingredients for the chips)—like Lasagnachos, Scallion Pancake Nachos, and Pretzel and Brat'chos. Even Apple Pie Nachos for dessert.