Excerpted from John Holl's Dishing Up New Jersey. 
Soda bread is taken seriously in my family. So much so that when my mother was growing up in the Bronx, various family members would bring their own versions to parties, trying to unseat the then current champion, Aunt Sally. My mother, Mary, received a recipe from a neighbor, Mrs. Rynne, and over time made a few adjustments. When she brought a loaf to the next family party, this recipe became the family favorite. It's been shared inside and outside of our family for years, and I'm so happy to carry on my mother's memory by sharing this recipe with you.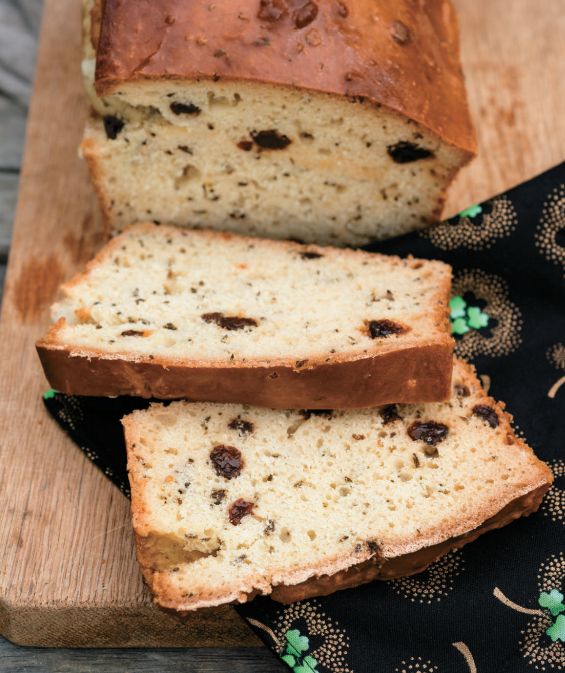 Irish Soda Bread
Makes one loaf
Ingredients
4½ cups all-purpose flour
¾ cup sugar
2 teaspoons baking powder
1 teaspoon baking soda
2 cups milk
1 egg, beaten
2 tablespoons sour cream
½ cup raisins
3 tablespoons caraway seeds, or to taste
Cream cheese or butter, for serving (optional)
Instructions
Preheat the oven to 350°F. Grease a loaf pan.
Whisk together the flour, sugar, baking powder, and baking soda in a large bowl. Add the milk, egg, sour cream, raisins, and caraway seeds. Mix by hand until thoroughly combined; the dough should be sticky.
Transfer the dough to the prepared pan and bake for 75 minutes, until the top is golden brown and a toothpick inserted into the center comes out clean.
Let cool in the pan. Then slice and serve with cream cheese or butter, or simply on its own.
About the Book:
New Jersey native John Holl searched from Sussex County to Cape May to find the best recipes New Jersey has to offer, and the result is this rich and unique cookbook celebrating the foods, flavors, cultures, and traditions of the Garden State. These 150 recipes include dishes featuring New Jersey's own produce—tomatoes, corn, cranberries, blueberries, apples—along with deep-fried boardwalk treats, late-night diner bites, and recipes contributed by casinos, bison and dairy farms, food trucks, old-school delis, famous bakeries, and more. You'll find Pork Roll Surprise, Sautéed Ricotta Gnocchi, Cucumber Gazpacho, Ukrainian Holubtsi, Radish Bread, Dry Vegetarian Curry, Funnel Cake at Home, Tomato and Onion Salad, Thai Fish Cakes, Jersey Green Clam Chowder, Sunday Gravy, Saltwater Taffy, Traditional Amish Chili, Classic Lawrenceville Mac & Cheese, Kielbasa and Sauerkraut, Jersey Disco Fries, Jamaican Jerk Meatballs, Fresh Jersey Corn Cakes, Honey Thyme Caramel, Black and Blue Cobbler—and a classic Taylor Ham, Egg, and Cheese Sandwich. Beautifully photographed, this collection is the ultimate tribute to New Jersey's best.
Buy the Book
Indiebound | B&N | Amazon | Workman