Excerpted from Six Seasons by Joshua McFadden (Artisan Books). Copyright © 2017. Photographs by Laura Dart and A.J. Meeker. 
Buy the Book
Indiebound | B&N | Amazon | Workman
Beautiful on its own as an alternative for straight mashed potatoes, this recipe can be a launch pad for many other dishes, from gratins to soups.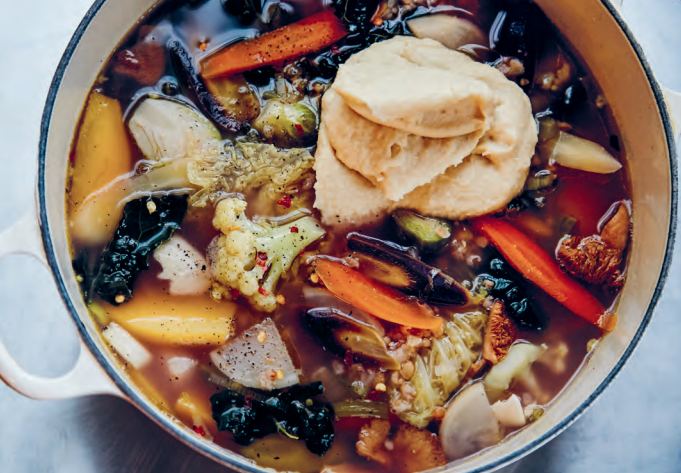 Mashed Celery Root with Garlic and Thyme
Ingredients
1½ pounds celery root
1 cup whole milk
6 garlic cloves, smashed and peeled
1 bay leaf
4 sprigs thyme
Kosher salt and freshly ground black pepper
2 tablespoons unsalted butter
Instructions
Using a sharp paring knife, cut away all the tough exterior of the celery root; if there are dark fissures remaining, cut those away, too. Cut the cleaned root into chunks.
Put the celery root in a medium saucepan and add the milk, garlic, bay leaf, and thyme. Season with salt and pepper. Bring to a simmer, partially cover, and cook until the celery root is very tender, about 20 minutes (taking care that the milk doesn't boil over). At this point, the milk will look curdled, but don't worry.
Remove and discard (compost, please) the bay leaf and thyme. For a smooth texture, transfer the celery root and liquid to a food processor, add the butter, and puree until smooth. For a chunkier texture, add the butter and smash the celery root with a potato masher or a wooden spoon to the degree of chunkiness you like. Taste and season with more salt and pepper, if needed.