A New Take on Grilled Cheese
One of the most beloved American foods is grilled cheese, but what if we told you that there's so much more to this iconic sandwich than two pieces of bread and a thick slice of cheese? Umami Bomb, by Raquel Pelzel, puts a spin on the classic by introducing umami-rich ingredients—caramelized onions and miso butter—into the mix. With a savory taste that is both sublime and delicious, this grilled cheese recipe will have you seeing the comfort food in a whole new light.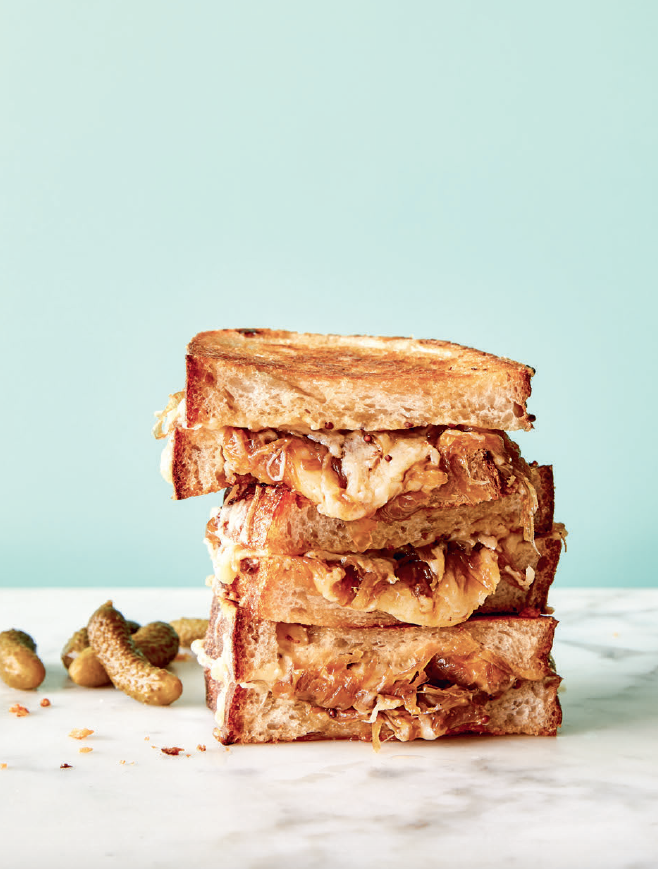 What You Need:
4 tablespoons (½ stick) unsalted butter, at room temperature
1 tablespoon extra-virgin olive oil
1 large yellow onion, peeled, halved, and thinly sliced
½ teaspoon kosher salt
1 tablespoon rice vinegar
1 heaping tablespoon miso paste (prefer white miso, but a darker miso works, too)
1 tablespoon wholegrain mustard
4 slices good-quality sandwich bread
1 cup grated Gruyère cheese (or ½ cup grated Gruyère with ½ cup grated Gouda for extra umami)
Cornichon pickles, for serving (optional)
What to Do:
Melt 1 tablespoon of butter in a large nonstick skillet set over medium-high heat. Add the oil, onion, and salt and cook, stirring often, until the onion is soft and browned in spots, 8 to 10 minutes. Stir in the vinegar and turn off the heat. Transfer the onion to a small bowl and set aside (don't wash the pan).
Mix 1 tablespoon of the remaining butter with the miso paste and mustard in a small bowl. Spread one side of each bread slice with the remaining 2 tablespoons of butter. Spread the other side with the miso butter. Place two of the bread slices, plain buttered side down, in the pan. Divide the cheese and onion evenly between them and top with the other bread slices, plain buttered side up.
Cook over medium-low heat until the bread is golden brown, 4 to 5 minutes (do not press the sandwich down with a spatula—just let it be). Flip the sandwiches over and cook on the other side until the bread is golden brown and the cheese is melted, 3 to 4 minutes longer. Transfer to plates and serve immediately with pickles. Lots of pickles.
More About Umami Bomb:
"Pure vegetable magic!"—CARA MANGINI, chef and author of The Vegetable Butcher
 
Ingeniously built around the use of eight umami-rich ingredients—aged cheese, tomatoes, mushrooms, soy sauce, miso, caramelized onions, smoke, and nutritional yeast—these 75 recipes are bursting with the sublime, savory fifth taste.
Turn mushrooms into "lardons" for a bold take on Southern black-eyed peas and greens. Caramelize onions to use in the best grilled cheese ever. Add a secret spoonful of soy sauce to the frosting of your next chocolate cake—the soy taste disappears but leaves behind an unexpected depth of flavor. Part of the brilliance of Umami Bomb is how the recipes layer these key ingredients to amplify their effect—like adding miso to an already cheesy cacio e pepe sauce for pasta so savory and delicious you'll do a double take.
Buy the Book
Amazon | B&N | Indiebound | Workman