Excerpted from The Gardening in Miniature Prop Shop by Janit Calvo (Timber Press).
Buy the Book
Amazon | B&N | Indiebound | Workman
Glowing jack-o'-lanterns, creaking porches, cobwebdraped windows and doors, and kids laughing and scaring each other willy-nilly are among the sights and sounds that make our spines tingle every October. Halloween is fun for everyone. But when it comes to the garden, full-size or miniature, there is only one very scary thing to make: a haunted graveyard.
Halloween in a miniature garden has a spirit all its own. Tiny, cobweb-covered gravestones and skeletons creeping around little pumpkin patches beckon everyone to come in for a closer look at the scene. You'll definitely see laughs and smiles from everyone, and maybe a few shivers. Be sure to put the garden beside the front door at eye level to keep the trick-or-treaters amused while they wait for their candy, if only for a moment. You will need an indoor one for your party, too.
Decorating with Decay
A Halloween garden is where your collection of faded and broken miniature garden accessories will come in handy. Just about anything that looks like it has seen better days can show up in a miniature graveyard, such as an old boot or a headless garden statue. Both could easily be found discarded in a corner of a cemetery. Any abandoned object that we regularly use, like clothing, a bottle, a toy, or a garden tool will start the story and have the viewer thinking, "Weird, what is that doing here?"
Scare up Halloween decorations in your usual haunts, but be sure to cruise the seasonal aisles wherever you shop; you might be surprised at what you will find. Six-inch-tall skeletons strung as a garland and skull-bead bracelets meant for costumes can be taken apart and used in a miniature garden. When you are in your favorite fabric or craft store, head to the button section and you'll find a wealth of ideas that can be mounted on lollipop sticks and transformed into spooky yard art.
For realistic, in-scale miniature pumpkins, gravestones, black cats, and other resin decorations, visit your favorite miniature garden or dollhouse store. Accessories not necessarily meant for Halloween can be adapted to fit perfectly into Halloween scenes, too. In this example, the white metal picket fence surrounding the cemetery was repurposed from a previous garden, beat up, painted, and made to look rusty to give it the appearance of having been there for decades. A tiny piece of fabric found on one of the fence pickets offers more intrigue, as if someone left the scene in a hurry.
When you're placing the tombstones, put them in a bit crooked. If you want color in the scene, add pumpkins and squashes but pile them haphazardly. It's a haunted scene, so who knows what goes on there at night?
For more easy-to-find fodder for the scene, gather stones for miniature boulders to place in the back of the garden bed; they'll instantly add age and permanence to the vignette. Use a mossy branch as an old
decaying tree trunk, or a few pieces of driftwood nestled in the soil. Add bits of moss to corners or wherever you need to fill in a bare spot around a gravestone. Make it less than perfect; after all, ghosts and zombies are terrible landscapers.
Planting Halloween
This project is an excellent example of how a dormant garden can temporarily be used to make a garden with another theme. Once the occasion is over, like Halloween, just remove the accessories. The garden in this project is an older miniature garden with dormant bedding plants. The understory was bare, leaving an area for a cemetery. The rich, gray color of the junipers is the perfect shade for the occasion, and the tall 'Compressa' juniper holds the ghosts high, making it seem like they are flying.
The cemetery looks like it is part of a bigger graveyard thanks to the Irish moss, which is carefully divided up in the right pattern to look like lawn, with enough space left for gravesites. A different type of moss tops the mounded graves to distinguish them from the lawn, and a row of stones around each grave helps define them. Another frightening plant that you can use for your Halloween scene is corokia, a small shrub with a predominant zigzag branching habit and tiny leaves that looks like it came straight out of a fairy tale's haunted forest. Other plants that can be used for creepiness are carnivorous plants. Venus flytraps are the most wellknown, but sundews, pitcher plants, and bladderworts have wonderful structure, texture, and colors.
A Spooky Ghost
Ghosts are classic Halloween spirits, and no selfrespecting cemetery would be without at least one ghost. This ghost is made from tulle that was treated to hold its shape and to make it suitable for outdoor use. Tulle is a fine netting often used for wedding decor, and it gives this ghost an ethereal look. You can find tulle in almost any craft store that has a wedding section, and it's available in different ways, usually on a roll or in precut circles (used for bouquets). If you can't find tulle, any type of light fabric will work for this project; feel free to use patterns and colors that match your theme to have a bit of campy Halloween fun. This ghost can be made to any scale you want.
You can make your ghost stand up by putting it on a rod, or attach it to dark green oral wire looped around the trunk of the tree so that it looks like it's flying. Create a host of ghosts to go in your full-size garden for more laughs.
Tools and Materials
White tulle
Ruler
Scissors
Wire cutters
28-gauge wire
Plate or bowl
Paintbrush
Mod Podge for Outdoors
Water
Instructions
Cut two pieces of tulle roughly 6 × 6 inches square. Cut it haphazardly around the edges to make them a bit uneven. Cut a 12-inch piece of wire and put it aside.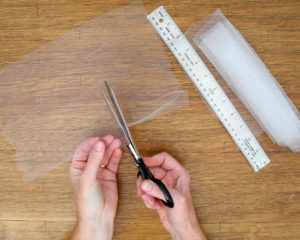 Gather the center of one of the pieces of tulle into a ball and place in the center of the other piece of tulle. Gather the outer piece of tulle around the inner piece to create the head of the ghost.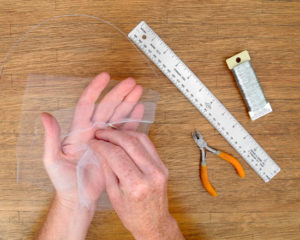 Pinch the neck of the ghost together tightly while you circle the wire once around the neck and twist the wire around itself to fasten it. Leave the ends of the wire alone.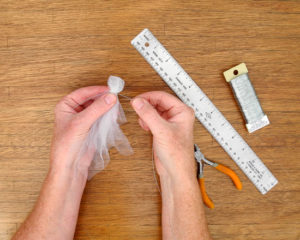 Dip the ghost in water. Using the paintbrush, put a couple of dollops of Mod Podge on the tulle and work it through the fabric with your fingers.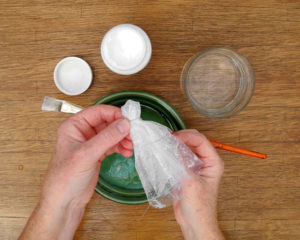 Wrap the wires loosely around the ghost's body to keep the tulle from splaying out too much while it dries. Let the tulle dry completely. Leave the wire uncut if you are hanging your ghost in a tree, or cut the ends of the wire close to the neck and twist them together tightly so that they don't poke out. Now the ghost is ready to haunt the garden.