Everyone knows that New York is an international city. So it follows that—outside of Paris—it's the next-best town in which to celebrate Bastille Day, France's national holiday. Today, among the many opportunities for reveling, Francophiles can get their fix at the Cercle Rouge street fair in TriBeCa. The street outside Cercle Rouge restaurant will host bands, magic shows and face painting for kids, and a pétanque tournament (a game similar to bocce, the objective of which is to throw hollow metal balls so they land as close as possible to a small wooden ball called a cochonnet).
"Quel dommage!" ("What a pity!") you may sigh. "I reside far from New York. What can I do to maximize my enjoyment of this holiday?"
Well, we have an easy answer: Throw your hat in the ring for a chance to win a Cuisinart Elite Collection Food Processor! All you have to do is cook up one dish from the following menu from Richard Grausman's French Classics Made Easy. Then blog about it and send us a link to your blog. Even better: The first 100 bloggers to post about their experience will receive a free copy of this exciting new cookbook that teaches home cooks how to master traditional French fare with maximum flavor and minimal fuss. (We've already heard from the bloggers at www.BethFishReads.com, www.bookingmama.net, www.davidschiller.com, www.kitchensimplicity.com, and www.thecolorsofindiancooking.com!)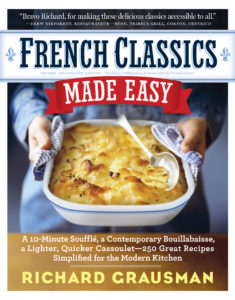 Winning your own copy is as easy as un, deux, trois: Cook up at least one of the recipes from the book (below), write about the experience on your blog, and email LauraF@workman.com with the link to your piece (either on a blog or on Facebook) and your mailing address and phone number. Plus, let us know if you'll be taking us up on the challenge in our comments section! The deadline for submissions is July 31, 2011.
Richard Grausman himself will judge the posts based on clarity, writing style, and fun had—the livelier, the better! On August 15, we'll announce the Blue Ribbon winner of the Cuisinart Elite Collection Food Processor on our blog and post links to all the blogs who participated. The first 100 bloggers to send in their post will receive a copy of French Classics Made Easy!
Le menu de French Classics Made Easy:
Watercress Soup
Basque-Style Sauteed Chicken Breasts (Vegetarian option: Ratatouille Omelet)
Lime Mousse
Marie Antoinette once famously said, "Let them eat cake." We at Workman say, "Let them eat Lime Mousse…and Boeuf Bourguignon…and Quiche Lorraine…and Chocolate-Almond Macaroons…" And all the other sublime delights found in French Classics Made Easy!
[scribd id=59377352 key=key-20l0djf7b2s4ex4cepof mode=list]