Excerpted from Alison Cayne's The Haven's Kitchen Cooking School (Artisan Books). 
French families have some version of this chocolate cake lodged in whatever little corner of the mind is responsible for nostalgia. Pop it in the oven and let the heavenly aroma waft out of the kitchen while you're eating dinner.
My friend Gratianne adapted her family's recipe with almond meal (ground-up almonds), and I love the nutty, marzipan-like flavor it lends. But the recipe is also just fine without it.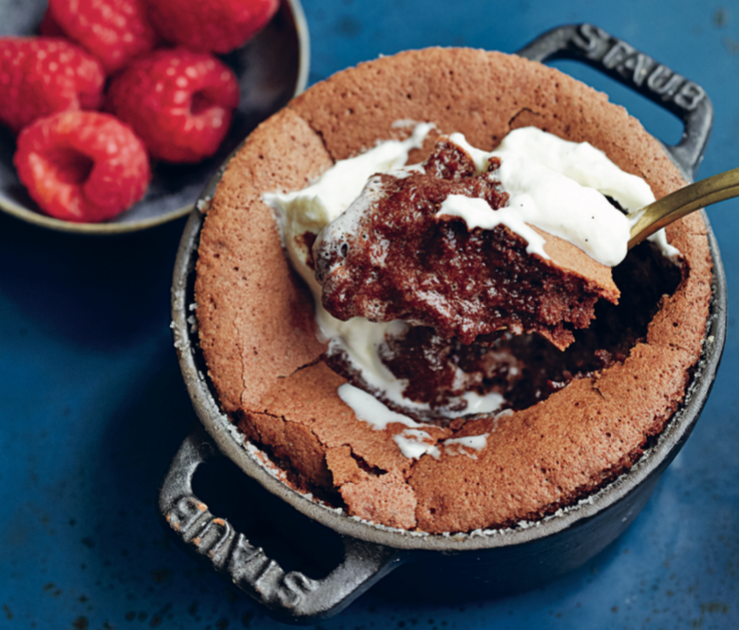 Flourless Chocolate Cake to Commit to Memory
Makes one 9-inch cake or eight 6-ounce ramekins
Ingredients
¼ pound plus 6 tablespoons (1¾ sticks) unsalted butter, plus more for the pan
8 ounces bittersweet chocolate (70% cocoa or more), chopped
5 large eggs
¾ cups sugar
¼ cup almond meal (optional)
fine sea salt
Instructions
Preheat the oven to 375°F. Butter the sides of a 9-inch round cake pan and press a 9-inch round of parchment paper onto the bottom. Alternatively, butter eight 6-ounce ramekins to make individual cakes.
In a small pot, melt the butter over medium heat, stirring occasionally. Remove from the heat and add the chocolate. Stir continually until the chocolate has melted. Set aside to cool.
In the bowl of a stand mixer fitted with the whisk attachment or a mixing bowl if using a handheld mixer, beat the eggs and sugar on medium-high speed until pale yellow and doubled in volume, about 3 minutes.
Using a silicone spatula, fold the melted cooked chocolate mixture into the whipped eggs in three stages so that the chocolate doesn't sink to the bottom and the batter remains nicely aerated.
Fold in the almond meal, if using, and a small pinch of salt, and then pour into the prepared cake pan or ramekins. If using a cake pan, set it on an even surface and give it a quick spin, which will cause the batter to climb up the sides of the pan and bake more evenly.
Bake until the top is set and dry to the touch, 20 to 25 minutes for the 9-inch cake or 10 to 15 minutes for the ramekins.
Let cool in the pan on a wire rack for at least 30 minutes before serving.
About the Book
The Must-Have Manual for Every Aspiring Home Cook
Learning to cook has never been simpler—or more delicious—thanks to The Haven's Kitchen Cooking School. Each of the book's nine chapters centers on a key lesson: in the eggs chapter, readers will learn about timing and temperature while poaching, frying, and scrambling; in the soups chapter, they will learn to layer flavors through recipes like Green Curry with Chicken. The rigorously tested recipes—including wholesome lunches, dinner-party showstoppers, and delectable desserts—will become part of readers' daily repertoires. Beautiful photographs show both the finished dishes and the how-to techniques, and helpful illustrations offer further guidance.
Buy the Book
Amazon | B&N | Indiebound | Workman