Ebook Deals
Swim to Me
by Betsy Carter
FICTION
Leaving the Bronx far behind, Delores Walker heads to a frayed Floridian roadside attraction in danger of becoming obsolete with the opening of Walt Disney's latest creation, only miles up the road. There, Delores joins a group of other aquatic hopefuls in this City of Live Mermaids, a fantastic place of make-believe where she becomes Delores Taurus, Florida's most unlikely celebrity. Bringing together an eccentric assortment of outcasts, poseurs, and underdogs, this wise and poignant novel conjures up a time in America when anything was possible, especially in the Sunshine State.
$1.99 $12.00
Amazon » Barnes & Noble » iBooks » Kobo »
Promo ends 8/31/2016
---
Eat Bacon, Don't Jog
by Grant Peterson
HEALTH & WELLNESS
In Eat Bacon, Don't Jog, Grant Petersen upends the last 30 years of conventional health wisdom to offer a clear path to weight loss and fitness. In more than 100 short, compelling directives, Eat Bacon, Don't Jog shows why we should drop the carbs, embrace fat, and hang up our running shoes, with the latest science to back up its claims.
$1.99 $13.95
Amazon » Barnes & Noble » iBooks » Kobo »
Promo ends 8/31/2016
---
One-Minute Organizer A to Z Storage Solutions
by Donna Smallin
HOME & DESIGN
If you're like most people, you have too much stuff and too little storage space. In this easy-to-use guide, Donna Smallin shows you how to create an efficient and clutter-free life using a common-sense approach to item-by-item storage. With 500 quick and effective strategies to creatively solve all of your vexing storage issues, Smallin offers proven techniques that will not only help you find a place for everything, but easily find everything you're looking for.
$1.99 $10.95
Amazon » Barnes & Noble » iBooks » Kobo »
Promo Ends 8/31/2016
---
Botany for Gardeners
by Brian Capon
GARDENING
A bestseller since its debut in 1990, this indispensable and handy reference has now been expanded and updated to include an appendix on plant taxonomy, a comprehensive index, and two dozen new photos and illustrations. An essential overview of the science behind plants for beginning and advanced gardeners alike.
$3.99 $17.95
Amazon » Barnes & Noble » iBooks » Kobo »
Promo Ends 8/31/2016
Sweepstakes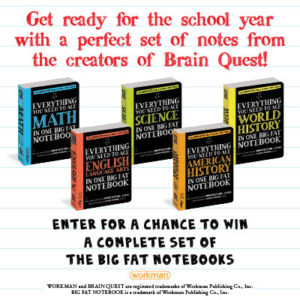 Get ready to go back to school with the new BIG FAT NOTEBOOK series from the brains behind BRAIN QUEST. Enter here for a chance to win a complete set.
NO PURCHASE NECESSARY. Open to US residents of the 50 states and Canada, age 18 years as of  September 6, 2016. Sweepstakes begins at 12:00 a.m. Eastern Time (ET) on 8/9/2016 and ends at 12:00 a.m. ET on 9/6/2016. Click Here for official rules. Void where prohibited.